Cisco recently announced plans to buy Pure Digital, maker of the popular Flip video camera. Nokia may make a netbook. Garmin is teaming up with Asus to create a cell phone.
Tech companies known as leaders in their own worlds — routers, phones, GPS — are starting to move into other already crowded fields at a time when consumer tech spending is down. It's a risk, but one worth taking, some say, with consumers benefiting from the increased competition.
"The companies doing this are market leaders in their spaces and are looking to expand, both to increase their relationship with the customer and to expand their branding," said Ross Rubin, the NPD Group's director of industry analysis for consumer technology.
Shawn DuBravac, director of research for the Consumer Electronics Association, an industry trade group, said companies are trying to "leverage their expertise, add to their bottom line and come out with innovative products that can really be game-changers in a space that's relatively new to them."
Garmin, known for its variety of GPS devices, for example, will work with Asus on two mobiles, the nuvifone G60 and nuvifone M20, smartphones "designed with location-based services" at their core, according to Garmin.
Computer makers Acer, H-P, Lenovo and Toshiba may also develop their own handsets.
Garmin and Asus say the nuvifone M20, for example, will have "the navigation capability of a premium Garmin" device, and come with "preloaded maps and points of interest — hotels, restaurants, stores, fuel stations and more."
Asus, known more in the United States for its line of netbooks, which are low-cost, ultraportable laptops, also makes phones sold in nearly two dozen countries, said Garmin spokeswoman Jessica Myers.
The pairing also makes sense because the two companies have "similar corporate philosophies," she said.
'Void in smartphone space'
But with so many cell phone brands and models to choose from, do consumers need or want yet another?
"We see a void in the smartphone space in terms of a product that can seamlessly tie together navigation with smartphone capabilities," said Myers.
Some smartphones, she said, "have navigation as a third-party (add-on) application. The nuvifone weaves navigation into all aspects — contacts, e-mail, calendar, social networking, taking a photograph, Web browsing, navigation and more."
The phones will be sold in the United States, as well as other countries, later this year. Myers said the company has not yet announced a carrier or pricing in the U.S.
Perhaps the timing for such a product is good. ABI Research said Monday "the once-booming personal navigation device market is grinding to a halt in 2009 with little or no growth expected in most regions."
However, the firm noted, "at the same time, handset-based navigation is gaining momentum," boosted, in part, "by a wave of high-profile touchscreen GPS smartphone launches."
"Apple, as a leader in the MP3 space, moved into the phone space because of the competitive threat to the iPod" from phones that could play digital music, said Rubin. Garmin, he said, is taking similar action.
"Garmin has been a leader in the portable navigation device space, and there's a growing threat to that market from smartphones. By partnering with Asus, it can expand into the cell phone market while minimizing the investment risk."
For Asus, the benefit is "taking advantage of Garmin's location-based service expertise," which can help computer maker be better positioned to take advantage of location-based services in mobile devices such as its netbooks.
By doing this, Asus "gains access to a lot of understanding about how consumers use electronic maps and electronic navigation," said Rubin.
Cisco gets into the Flip
Cisco, which makes computer networking equipment, including the Linksys brand of routers, might seem to be an unlikely company to buy Pure Digital, maker of the popular Flip video camera.
The Flip, an easy-to-use and relatively inexpensive device, starting at $150 retail, is one of the best-selling camcorders. Wouldn't Sony or JVC be a more apt buyer?
Not necessarily, says DuBravac of CEA.
"Cisco is very good at moving data around and has historically focused on the enterprise market, but they're moving into the consumer market," he said.
"At the Consumer Electronics Show in January, they launched network audio products — such as their wireless home audio system and Linksys Media Hub — that allow consumers to move music around, and so they're leveraging their position" with the proposed purchase of Pure Digital.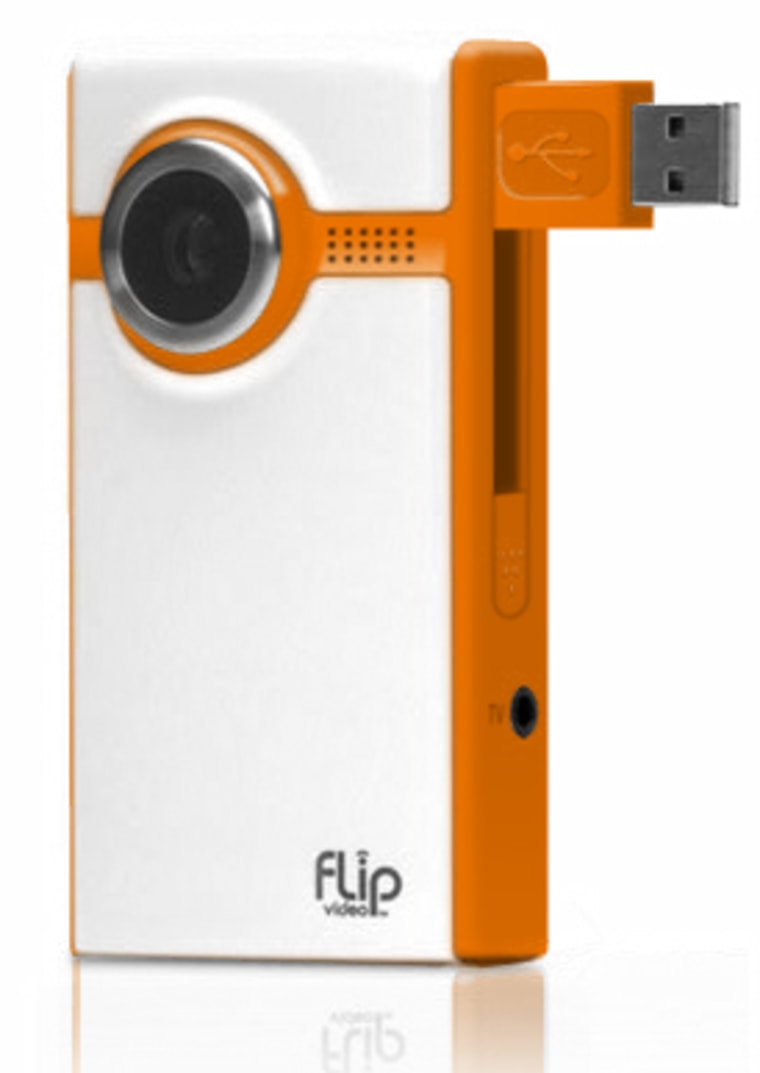 "Where there's video, there's a tremendous amount of user-generated content," with a need to "move that data around" uploading it to the Web and making it available to friends and families, DuBravac said.
UBS securities analysts, in a report last week, said Cisco's planned acquisition makes sense. Pure Digital "will add to Cisco's arsenal of products aimed at driving increased network bandwidth … As more consumers upload video content to the Web, it will also drive demand for Cisco's traditional products — switches and routers."
After months of speculation, Nokia, the world's leading phone manufacturer, confirmed recently it is "very actively" looking at making a laptop, most likely a netbook.
It wouldn't be totally foreign turf for the company, which came out with a handheld Internet tablet several years ago that had limited appeal.
The device may have been ahead of its time, before smartphones got "smarter" with more sophisticated Internet access, and before netbooks made their way into the market about 18 months ago.
Still, the netbook-laptop field is a crowded one, with many manufacturers. "There are a lot of choices," said DuBravac. "Eight months ago, nobody even used the term 'netbook,' or really knew what a netbook was. By the time we got to October, it was a term that was in common use, and it is a market that has been growing very significantly."
Leveraging expertise
Nokia's entry into the netbook field should not be a surprise, he said.
The company "has certainly played with other kinds of handheld devices. They have an extensive research-and-development program where they look at how consumers around the world are using devices. And as the mobile phone begins to look more like a computer, and the computer begins to look more like the mobile phone, they're looking to leverage that expertise."
Nokia, too, dipped into Garmin's territory with its 2007 purchase of Navteq, a maker of navigation software.
Such cross-pollination of companies and products should be a boon for consumers, DuBravac said.
"Culturally, it generates a tremendous amount of innovation, new ideas and new solutions for the consumer," he said. "And competition, of course, is always good for the consumer."