/ Source: The Associated Press
As the swelling Red River lapped within 30 feet of his back door, Carlis Kramer's property resembled nothing so much as a bustling construction site.
In a well-ordered ballet, four people loaded sandbags, four others hauled them to the house and another person stacked them into a dike.
This is how Fargo responds to the threat of record flooding: Hundreds of people from all walks of life have joined forces to shield the community from the rising river, racing to fill 2 million sandbags.
The effort has drawn football players, soldiers, high school students, even a Microsoft engineer — all fearful of enduring another disaster like the devastating floods of 1997.
"A friend of mine brought his neighbor's kids, and friends of family bring boyfriends and girlfriends," Kramer said.
The river has been swollen by heavier-than-average winter snows, combined with an early freeze last fall that locked a lot of moisture into the soil. The threat has been made worse by spring rains.
The river was expected to crest in Fargo late Friday. As sandbagging continued in Fargo and neighboring Moorhead, Minn., residents' hopes were raised by word of a lower-than-expected crest about 30 miles upstream.
The 18-foot crest forecast for Wahpeton, N.D., and its cross-river neighbor, Breckenridge, Minn., was well within both cities' flood protection.
Two hands and dragging bags
In Fargo, Noah Addy was among dozens of volunteers who gathered around huge sand piles at the Fargodome indoor football stadium to shovel sand into bags.
While most workers needed two hands to drag the bags onto piles, the muscular Addy tossed them like they were pillows.
A native of Ghana, he moved to Fargo about eight years ago for college. Now an engineer for Microsoft, he did not hesitate when the company offered its Fargo employees time off to help.
"I didn't experience the 1997 flood, but everybody told me how bad it was, so I feel that helping is the right thing to do," Addy said.
Not far away, near a home in south Fargo, Phil Hansen handled sandbags as easily as Addy.
Hansen grew up in North Dakota, then went on to play pro football for the Buffalo Bills. In his playing days, Hansen teamed with Bruce Smith to form one of the NFL's best pass-rushing duos.
On Tuesday, Hansen's mouth was bloody from the work.
"I bit my tongue, and I haven't stopped bleeding for two hours," said Hansen, who now lives in nearby Detroit Lakes, Minn. "It feels good to help, though."
Some people nearest the river said they would stay no matter how bad conditions got.
Michael Hagan was caked in mud as he prepared to jack up his trailer beyond the reach of floodwaters.
"No one's going to run around here," he said. "They'll stick around and help each other out. That's how it works around here."
The prospect of staying throughout the flood actually brought a smile to JoAnn Gray's face as friends and neighbors helped fill sandbags in her front yard.
"In '97, I had three kids in diapers," and had to leave as floodwaters approached. This time, her family, friends, and neighbors filled sandbags until midnight, with her children doing some of the work.
Kids help, pack their bags
Still, Gray became somber when discussing what would happen if the dike failed. "My kids have their bags packed," she said.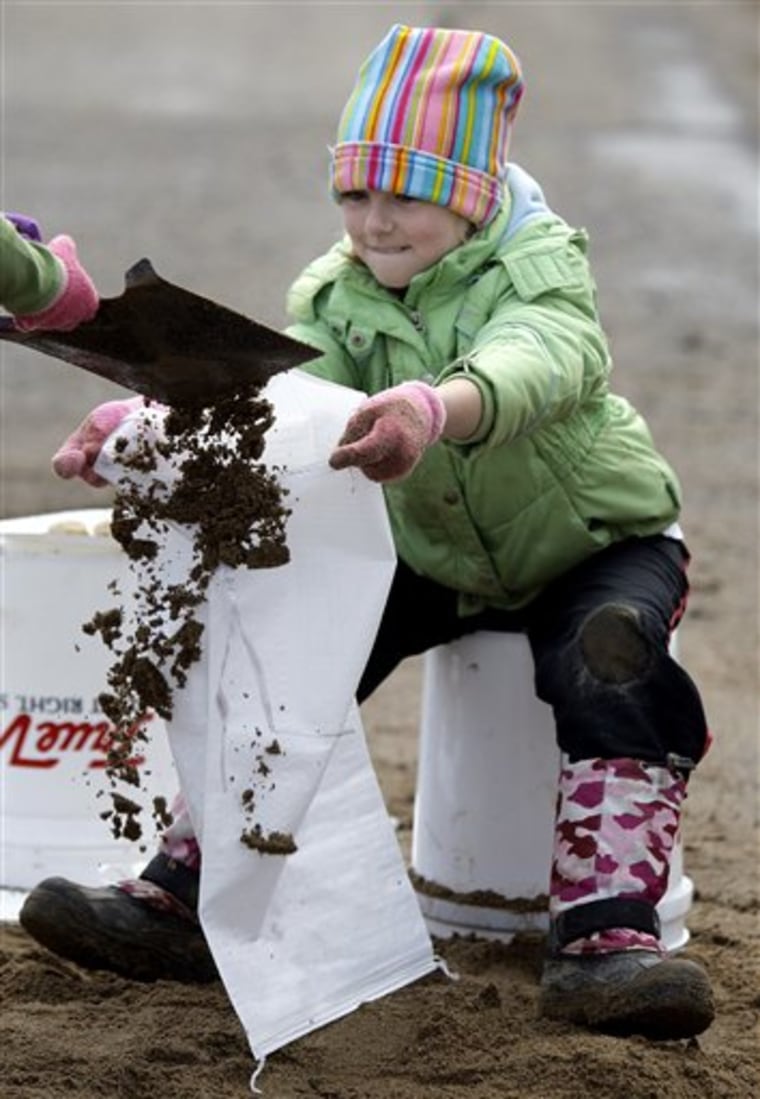 Out-of-towners flocked to the Fargo area, looking for some way to help. From Grand Forks, the town hardest hit by the 1997 floods, came hundreds of high school and college students.
Pam and Mark Moret came from Minneapolis to help sandbag in her old Fargo neighborhood.
"We came up in 1997. So I guess we come up and help sandbag every 12 years whether we need it or not," Pam said.
The Morets were sandbagging behind the house of Scott McLaughlin, whose well-manicured lawn had turned into a muddy mess after being trampled by a sandbag-assembly line of about 50 people.
He said there were volunteers from Minneapolis, Grand Forks, N.D., and St. Cloud, Minn., most of whom he did not know.
"It's just unbelievable how the people have turned out to help strangers," McLaughlin said.
Kramer, the Fargo homeowner, said the 1997 flood created bonds between residents that could help save Fargo from another disaster.
When he moved into his home in 1992, he went four or five years without even knowing his neighbors. Then the flood struck.
"It's funny how you bond and people don't forget," he said.