/ Source: a href="http://www.washingtonpost.com/wp-srv/front.htm" linktype="External" resizable="true" status="true" scrollbars="true">The Washington Post</a
As a group of far-right Jewish activists prepared to march on this Arab Israeli town Tuesday, the demonstrators said they just wanted to wave the Israeli flag and exercise their freedom of speech.
But Arab residents drew a different message from the protest, one that called into doubt their status as full citizens of the Jewish state.
"Don't they believe this is part of Israel?" asked Mohammed Abu Saleh, who works with one of the country's handful of small Arab political parties. "This has been part of Israel for 60 years. It seems like they are putting a question mark over it."
It's a question Israeli Arabs worry will grow even more pointed in the days ahead. Incoming Prime Minister Binyamin Netanyahu is deeply skeptical of the U.S.- and European-sponsored peace process, and of the idea of granting Palestinians in the West Bank and Gaza Strip a state of their own. Long pulled between their citizenship and their kinship, Israeli Arabs are concerned that the collapse of peace negotiations could deepen their sense of alienation from the Jewish majority.
Distrust
Netanyahu's likely foreign minister, Avigdor Lieberman, is regarded here with deep distrust, and his expected presence in the incoming government is taken as a sign that the Israeli Arab community will be under scrutiny.
Lieberman has advocated the idea of a loyalty oath, for example, and although he says it is for all Israelis, he has made clear that he wants to test the allegiances of the 20 percent of the country that is of Arab descent. He has also talked of establishing a Palestinian state not on the basis of borders that existed before the 1967 Arab-Israeli war but on the basis of land swaps intended to substantially reduce Israel's Arab population: Jewish settlements in the West Bank would be exchanged for places, such as Umm al-Fahm, with large concentrations of Israeli Arabs.
It may be mere campaign rhetoric -- there is little sense that Lieberman's will be the guiding voice on key policy issues -- but it has touched a nerve.
The Umm al-Fahm municipal hall is decorated with planning maps that illustrate the city's hopes of becoming a gateway between two states, Israel and Palestine, that are at peace. Local leaders envision Umm al-Fahm, located near the West Bank, as a border town where the two peoples could meet.
'It is going to be more difficult'
Residents speak of the ease with which they travel to the Israeli coast and to the Islamic holy sites in Jerusalem, privileges of Israeli citizenship that they would not want to surrender. These descendants of families that stayed through the conflict that led to Israel's creation in 1948, bristle at the suggestion that they do not belong here.
"It is going to be more difficult. The right wing -- the reactionary right wing -- will be in this government, so we're preparing ourselves," said Raja Agbaria, a member of the Umm el-Fahm town council.
The Tuesday protest was conducted under heavy police protection and with the sanction of the Supreme Court, on free-speech grounds. Israeli police had opposed the gathering because of the potential for violence. The protest was organized by followers of the late Rabbi Meir Kahane, who championed removing Arabs from Israel by force if necessary.
Kahane, killed in 1990 in New York, was a polarizing figure, and his Kach party was outlawed by Israel a few years after his death. He tried to visit Umm el-Fahm in 1984 with hundreds of supporters in an avowed attempt to intimidate residents to move, but was thwarted by police and a large counter-demonstration.
Tuesday's event was a less intense echo. The group of demonstrators, led by former Kahane aide Baruch Marzel, marched for about 30 minutes on the outskirts of town. They carried the Israeli flag, but police forbade any placards or banners.
Yet the protest still prompted a stone-throwing crowd of Arabs to gather in the streets, waving Palestinian flags. The subsequent clash injured 15 police officers and about as many local demonstrators.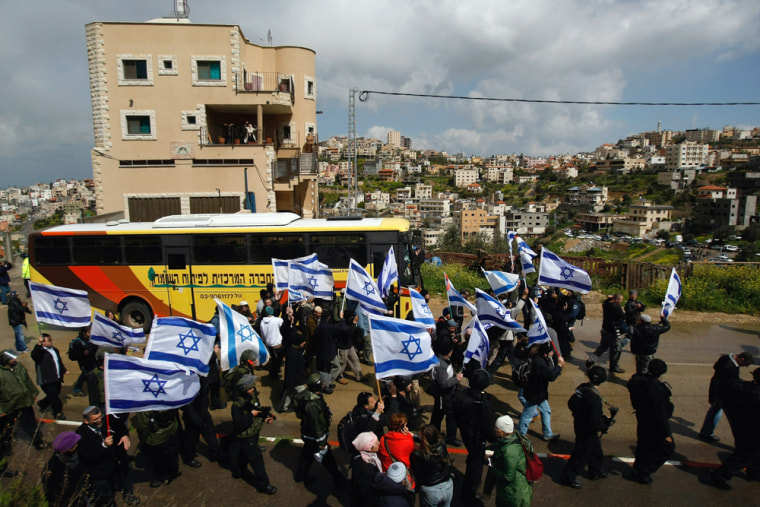 "The goal of the march is to make clear to a bunch of unrulies in the Arab sector who is the owner of the state of Israel," said Itamar Ben-Gvir, a former Kach activist and an organizer of the demonstration. "Some parts of this sector do not understand that this is the state of Israel and this is a Jewish state."
Local Arab residents, many of whom identify themselves as Palestinian citizens of Israel, were quick to note that the same Israeli police force that formed a cordon to protect Marzel's group had, over the weekend, shut down a series of Palestinian events meant to celebrate East Jerusalem as the "Capital of Arab Culture" for 2009.
Deep doubts
DAt a downtown cafe on Monday, bus driver Raid Issa and his friends pondered what would happen if they tried to carry their version of Marzel's message to Jewish settlers living in the West Bank.
He said he doubts they would get very far.
"If there was a group that would gather and go to Kiryat Arba, they'd stop us," said Issa, 41, referring to a Jewish settlement near Hebron, a city where religious tensions run high and where Kahane's followers have long congregated. "These are people coming to incite us, to try to get us out of our homes."
Special correspondent Samuel Sockol contributed to this report.