/ Source: The Associated Press
Home prices sank by the sharpest annual rate on record in January, and the pace continues to accelerate, but there were a handful battered metro areas where price declines slowed, according to data released Tuesday.
The Standard & Poor's/Case-Shiller index of home prices in 20 major cities tumbled by a record 19 percent from January 2008. It was the largest decline since the index started in 2000. The 10-city index dropped 19.4 percent, also a new record.
All 20 cities in the report showed monthly and annual price declines, with 13 posting new annual records. Prices dropped by more than 10 percent in 14 cities. Faring better were Dallas, Denver and Cleveland, with annual price declines of around 5 percent.
"There are very few bright spots that one can see in the data," David Blitzer, chairman of S&P's index committee, said in a prepared statement. "Most of the nation appears to remain on a downward path."
In the Cleveland, Los Angeles, Las Vegas and Washington D.C. metro areas — all ravaged by foreclosures— annual price declines eased somewhat. Meanwhile, six cities, including Minneapolis, Charlotte, Seattle and New York, showed smaller price declines in January compared with December.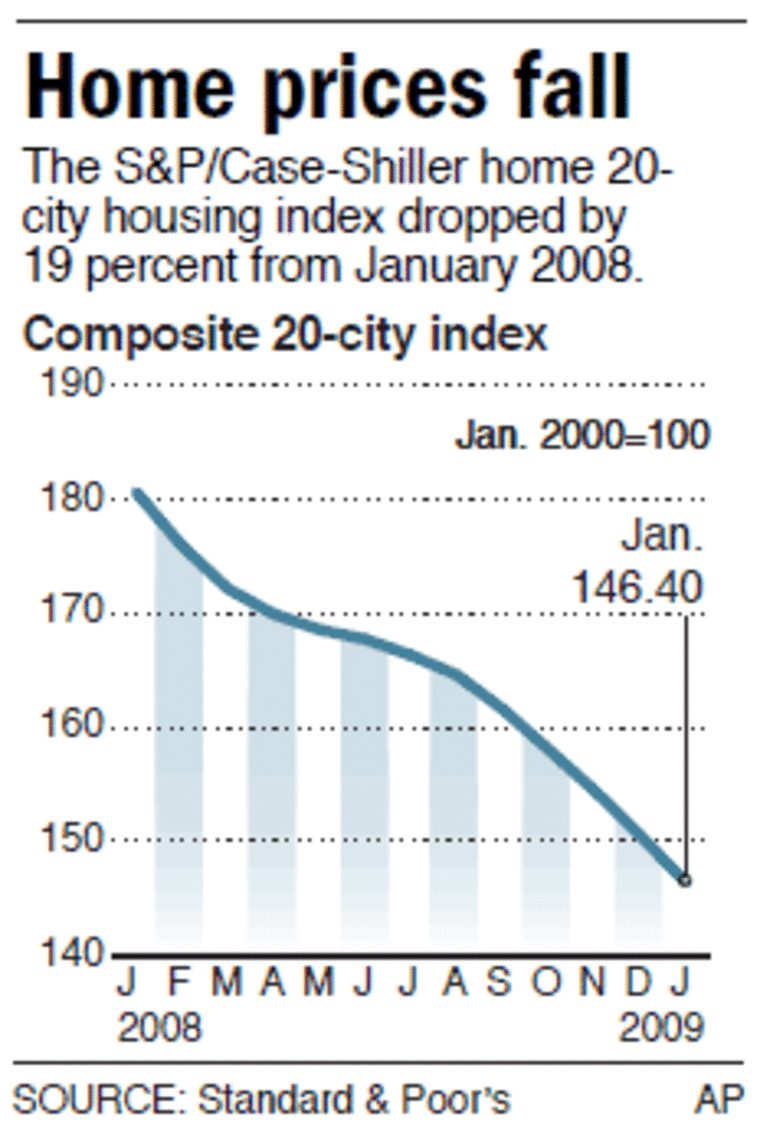 Last week, the National Association of Realtors said sales of previously occupied homes unexpectedly jumped in February by the largest amount in nearly six years as first-time buyers took advantage of deep discounts on foreclosures and other distressed properties. Some economists say that could help moderate declines.
"We still think there is a good chance the rate of (price) decline will slow through the spring as existing home sales stabilize and perhaps pick up a bit, but foreclosures are weighing heavily on prices," wrote Ian Shepherdson, chief U.S. economist at High Frequency Economics.
Prices in the 20-city index have plummeted 29 percent from their peak in summer 2006, while the 10-city index has fallen 30 percent. Prices have sunk back to levels not seen since late 2003, and analysts say the ultimate drop in prices could easily be 35 percent or greater in some metros.
To provide some relief, Congress in February passed a new $8,000 tax credit for first-time homebuyers and President Barack Obama is directing $75 billion to a new foreclosure prevention plan. But the success of those efforts could well depend on how far the U.S. economy falls.
Some slivers of hope about the economy buoyed consumers in March and consumer confidence crept upward for the first time in four months, the Conference Board said Tuesday.
"We have seen some signs of improvement in the economy, but they are subtle," said Bernard Baumohl, chief global economist at the Economic Outlook Group.