/ Source: The Associated Press
Perched on the edge of this wind-swept Southern California island, archaeologist Jon Erlandson watches helplessly as 6,600 years of human culture — and a good chunk of his career — is swallowed by the Pacific surf.
It was not long ago that this tip of land on the northwest coast cradling an ancient Chumash Indian village stretched out to sea. But years of storm surge and roiling waves have taken a toll. The tipping point came last year when a huge piece broke off, drowning remnants of discarded abalone, mussel and other shellfish that held clues to an ancient human diet.
"There's an enormous amount of history that's washing into the sea every year," Erlandson said matter-of-factly during a recent hike. "We literally can't keep up."
The sea has long lashed at the Channel Islands, also known as the North American Galapagos — stripping away beaches, slicing off cliff faces and nibbling at hundreds, perhaps thousands, of cultural relics.
Past coastal erosion for the most part was a natural phenomenon, but the problem is feared to grow worse with human-caused global warming and higher sea levels.
In a race against time and a rising tide, Erlandson and other keepers of history are hurrying to record and save eroding artifacts, which hold one of the earliest evidence for human seafaring in the Americas.
"We're just hoping there's something left," he said.
Around the globe, climate change is erasing the archaeological record, already under assault from development, grave robbers and illegal trade. Most at risk are prehistoric burials entombed in ice and ancient settlements hugging ever-shrinking coastlines.
A warming planet is speeding the melting of polar ice, threatening to expose frozen remains like Scythian warrior mummies in Mongolia. Thawing permafrost is causing the ground to slump on Canada's Herschel Island, damaging caskets dating to the whaling heyday. Accelerated glacial melting may flood pre-Incan temples and tombs in the northern Andean highlands of Peru.
Meanwhile, sea level rise fueled by global warming is expected to hasten the disappearance of historic coastal villages. Vulnerable places include Alaska's early Eskimo hamlets, Egypt's monuments of Alexandria and about 12,000 seaside sites in Scotland including the Neolithic settlement of Skara Brae.
'History is disintegrating'
"There are whole civilizations that we risk losing completely," said C. Brian Rose, president of the Archaeological Institute of America. "History is disintegrating before our very eyes."
The past is fast fading on the Channel Islands, a chain of eight largely undeveloped islands just off the mansion-studded Southern California coast. Though five of the islands make up the Channel Islands National Park, they are not protected from the sea's fury.
In 2005, the U.S. Geological Survey found that half of the 250 miles of shoreline studied on the Channel Islands were vulnerable to sea level rise. The most at-risk were the San Miguel and Santa Rosa coasts, home to thousands of archaeological relics from house pits to trash heaps to random scatters of stone anvils and burned rocks.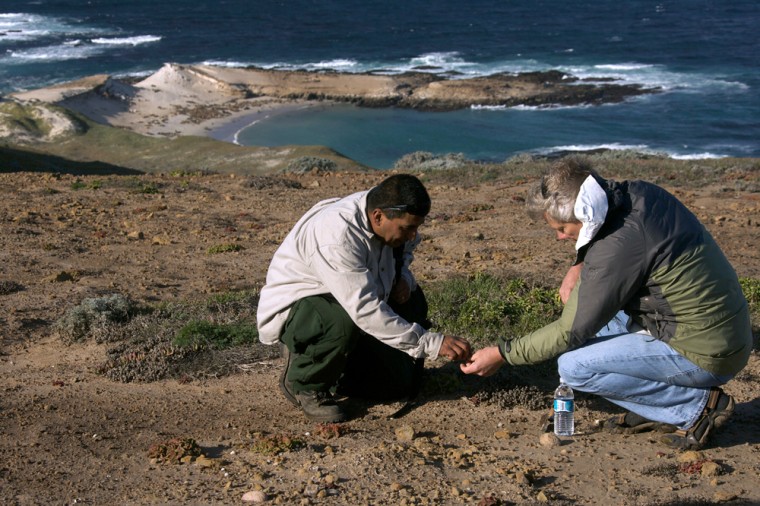 Deciphering the rich cultural resources on the Channel Islands may help fill in the scientific gap in the study of how humans peopled the Americas.
Scientists long theorized the first bands of Americans arrived from Asia by following big game herds over a land-bridge between Siberia and Alaska some 13,000 years ago. Once in North America, the story goes, they trekked south through the interior.
In recent years, a new thinking has emerged suggesting the first immigrants arrived by boat and followed a coastal route into the New World.
Archaeological evidence suggests Indians from the mainland plied the Santa Barbara Channel and inhabited the Channel Islands for about 13,000 years until the early 19th century. The islands are littered with one of the longest records of maritime hunter-gatherers in the Americas.
Since the beginning of time, wind and water have pounded the Channel Islands, causing bluffs to retreat and submerging native artifacts. The worst destruction tends to occur during the heavy rains of El Nino, a periodic warming of parts of the tropical Pacific Ocean.
In the past century, global sea levels crept about 7 inches higher due to warmer waters expanding and runoff from glaciers and ice sheets. Continued global warming driven by the spewing of heat-trapping greenhouse gases is expected to cause oceans to rise by about 39 inches by 2100.
During the last interglacial period about 125,000 years ago, sea level was estimated to be at least 20 feet higher. Waves carved stepped terraces on the Channel Islands. There were no humans back then — only saber-tooth cats, pygmy mammoth and other beasts — unlike the current interglacial period that started about 12,000 years ago and overlapped with the Chumash culture.
Anthropologist Jeanne Arnold of the University of California, Los Angeles, who has conducted extensive work on the Channel Islands, said archaeological sites are not a renewable resource.
"Once it's gone, there's a lot we can speculate, but we can never say for sure," she said.
On a recent expedition to San Miguel Island, Erlandson, a University of Oregon archaeologist, and his team fanned across the 9,500-acre island to survey endangered sites. Armed with trowels, dustpans and sifting screens, they looked like a coastal Indiana Jones bunch.
Nearly 700 known archaeological sites are scattered around San Miguel, an island cut by gullies, ravines and sand dunes that is the westernmost Channel Island. Untold other sites have yet to be discovered. The oldest recorded sites on San Miguel are about 11,500 years old.
The Chumash built homes out of driftwood and whale ribs atop cliffs where they had easy access to fishing and water. They hunted seals and sea otters, fished in kelp beds and collected mussels, abalone and urchins. Near the temporary camps and crowded villages were shell middens where they dumped leftovers.
"They look like trash pits of someone eating at a Red Lobster," said archaeologist Todd Braje of Humboldt State University, who was on the trip.
To scientists, the middens hint of long-ago feasts that shed light on the past environment and dietary habits of the Chumash. No two middens are exactly alike and the more that can be saved, the better researchers can reconstruct ancient lives from haphazard clues.
Their first stop: a badly eroding peninsula on the northwest coast, the site of an emergency excavation.
Fishhooks found
Though a sandy section washed away the previous winter, the archaeologists battled high surf to peer at middens to the north and south. Farther out on the tip where elephants seals and sea lions sunned themselves, they dug small square holes and collected fishhooks made out of shells and animal bones to send back to the lab.
Last year, Braje noticed two flower pot-shaped mortars on the peninsula that a Chumash probably fashioned by a campfire. Since the artifacts were heavy and the team did not have the proper permits, they left them untouched. The sandstone mortars were nowhere to be found on the latest trip.
The team then headed to the west coast to a wave-battered point with massive exposed middens. One was so badly destroyed — scientists estimate about 10 to 16 feet of material washed away in a decade — that a large fossilized whale vertebrae stuck out. Amid the gloomy find, there was cause to celebrate: They unearthed four possible new middens estimated between 8,000 to 10,000 years old before the sea got to them.
On other days, they hiked separate ways to shrinking coastal corners, placing wooden stakes in the ground to gauge how fast sea cliffs are disappearing. Eight years ago, Torben Rick of the Smithsonian Institution did small excavations on the north coast. The pits were gone on this trip along with about 3 feet of cliff face.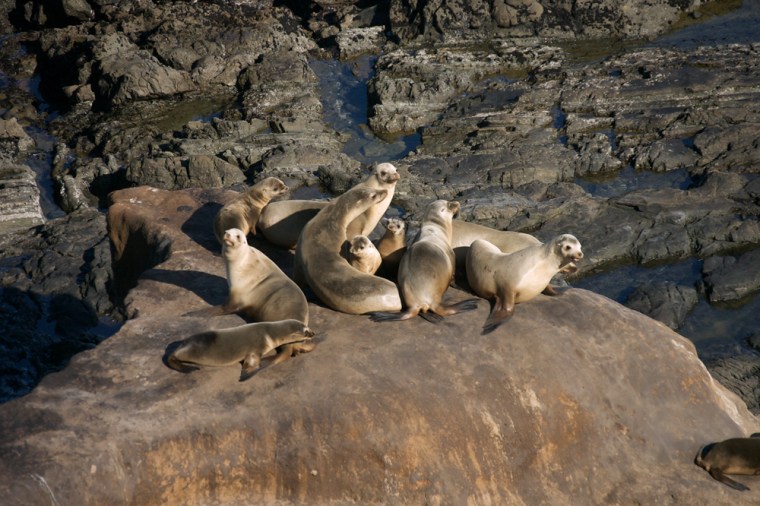 "We're never going to stop marine erosion," he said. "That's why we really have to come up with ingenious ways to salvage the sites while we can."
Scientists feel an urgency because there is a great deal that is still unknown: What happened to the Chumash homes? What kind of animal breeding took place? How do the Channel Islands fit into the story of how humans colonized the New World?
For the Chumash people who accompany the archaeologists on excavations, the sea is viewed as the "mother" — the source of life. And though the ocean may be scouring artifacts, they say, there are worse alternatives.
"Gosh you feel bad, but ... it stayed here long enough to go back to the mother. It's not sitting on somebody's fireplace. It's not in a museum," said Quintan Lotah, a Chumash monitor on the trip. "We learn what we can from it. We protect what we can. It's hurtful, but in a way it is going back to nature."
After a long day's dig, the archaeologists retired to their cramped research station and feasted on home-cooked salmon chowder and chili prepared by a sea mammal scientist also along on the trip. As they chatted, they wondered how the naked middens were holding up against the sea.