/ Source: Forbes Traveler.com
There's nothing that increases the drawing power of a religious destination like the relics of a saint. Since this spring, when the corpse of Padre Pio, a Catholic saint who died forty years ago, was disinterred and put on display in the Santa Maria delle Grazie church in Southern Italy, visitation has skyrocketed.
According to the Italian news agency ANSA, the number of pilgrims flocking to Padre's Pio's shrine is expected to approach 9 million in 2008 (compared with a previous average of six to seven million annually).
Elsewhere, our updated figures show less dramatic change. In Paris, for example, new numbers from the Convention and Visitors Office reveal that the city's most popular attraction, the Cathédrale Notre-Dame de Paris, recorded 13.65 million visits in 2006, up more than a half a million since our last report.
And data from the Japan National Tourist Office tells us that Meiji Jingu, a Shinto Shrine in Tokyo dedicated to Emperor Meiji and his consort, Emperor Shoken, drew 3.1 million visitors during the 2008 New Year's holiday alone, topping the JNTO's list of the country's most visited shrines.
We've also added a hallowed Taoist landmark to our list — Mount Tai, which served as a sacred retreat for emperors during the ancient Zhou Dynasty, and was added to UNESCO's World Heritage list in 1987. Taishan Temple lies at the foot of the mountain, and some 7,000 stone steps lead to the Azure Clouds Temple at the top. About 7 million visitors come to the mountain each year.
Others remain on our list, comprising a broad range of faiths, and attract visitors to them for an equally varied range of motivations.
The draw of religious sites
Dallen Timothy, professor in the department of geography at Brigham Young University and author of "Tourism, Religion and Spiritual Journeys" explains: "On one end of the spectrum you have religious devotees who go to [shrines] to have a spiritual experience; and on the other you have the curious who want to see a Buddhist temple, for example, and are interested just from a cultural or historical perspective."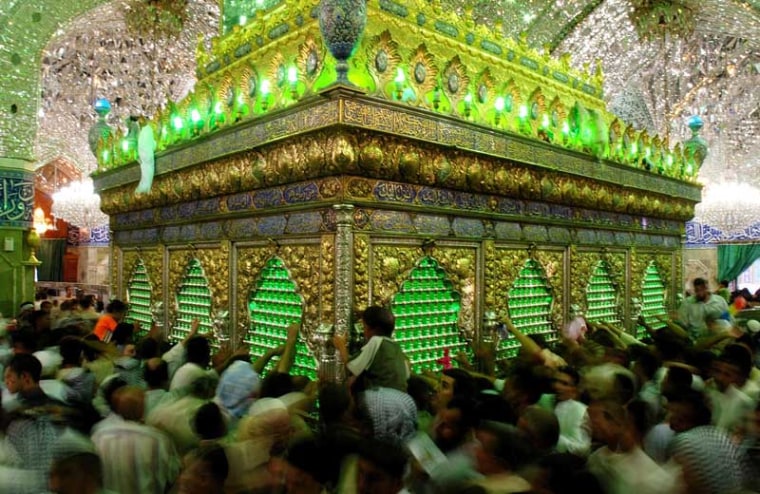 "A lot of religious organizations, and countries like Saudi Arabia and Israel, with huge groups of pilgrims, refuse to call them tourists," he says. "But the distinction between tourist and pilgrim is a false dichotomy," he argues. "Religious travel is one of the biggest forms of tourism in the world."
The Forbes Traveler list seems to confirm this: Every year, massive numbers of travelers visit the sites of saints' and prophets' tombs, or partake in annual celebrations at holy shrines. The Our Lady of Guadalupe Shrine in Mexico City, where the Virgin Mary is believed to have appeared in the 16th century to a poor peasant, estimates for annual visitation to the basilica run as high as 20 million. According to a 1999 Vatican Council report, it was the most-visited Catholic shrine in the world.
At Sabarimala, a Hindu pilgrimage center in Southern India, visitation estimates vary widely, from 5 million to claims of 60 million annually. Juan Campo, a professor in the religious studies department at the University of California Santa Barbara, was recently in Sabarimala during pilgrimage season and guesses that the actual number might be closer to 10 million.
"It's a large shrine located in the mountain area," he says, "and people come there primarily from south India. But you also have South Indians who work abroad, and they'll return home to participate in the pilgrimage. It's a constant influx of people."
'A sacred experience'
Campo also studies pilgrimages to Guadalupe and Islam's holiest site, Mecca, in Saudi Arabia. No matter the differing faiths, nearly all pilgrims "will say that at some point [they had] an experience of intimate contact with the divine — some sense of a sacred experience that they remember very clearly."
Holly Hayes, a self-described "religious historian who loves to travel," is the founder and editor of the web site "Sacred Destinations," and while she says her interest in holy places is more cultural and architectural than spiritual, she remembers an almost metaphysical moment while visiting the Cologne Cathedral in Germany.
"It was Christmas Mass there," Hayes recalls, "and the huge nave was packed full of worshippers bundled up in their winter coats. Watching the solemn processions and listening to the Latin readings in the magnificent medieval surroundings, I felt transported back in time, as if I were participating in a small way in a very long, unbroken tradition of faith and history."
At other holy places, the interest for pilgrims is more physical than metaphysical. In Lourdes, France, where in 1858 a 14-year-old girl reported multiple visions of the Virgin Mary, millions of visitors seek the healing powers of a nearby spring, which bears the message, "Wash your face, drink this water and pray God to purify your heart."
Suzanne Kaufman, professor of history at Loyola University of Chicago and author of "Consuming Visions: Mass Culture and the Lourdes Shrine," says, "When one visits Lourdes today, one is confronted with two remarkable sites: crowds of desperately sick pilgrims drinking, bathing and praying at the Catholic shrine, and equally large numbers of customers shopping at hundreds of piety shops that line the major boulevards leading to the pilgrimage site."
The essence of pilgrimage
Kaufman says the mass-marketing of Lourdes was in full force even a hundred years ago, when "the Augustinian Fathers of the Assumption, a Paris-based religious order, made Lourdes the site of their national pilgrimage. With the help of the railway and the Catholic popular press, the Assumptionists transformed Lourdes into a site of mass pilgrimage, bringing hundreds of thousands of devout Catholics to the shrine."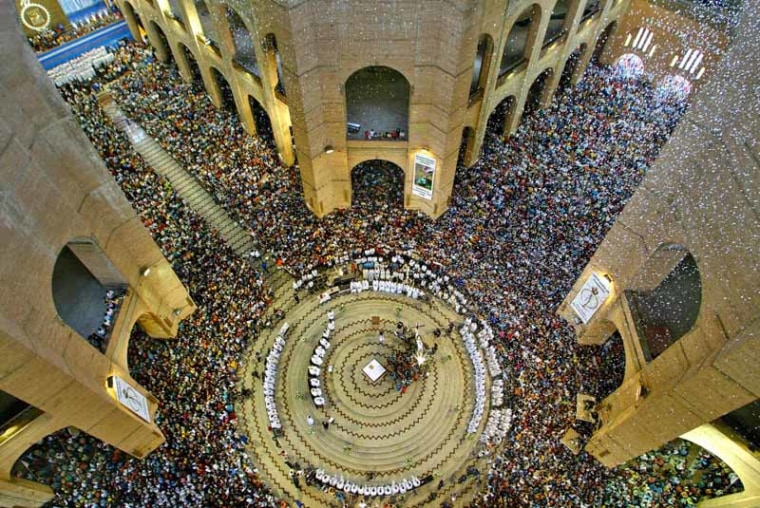 The ease and luxury of transportation, of course, is part of what distinguishes the modern pilgrim from faithful journeyers in the past, who may have trekked long distances on foot to pay homage to their god.
"The word 'travel' comes from ancient word 'travail,' which means hardship," explains Timothy. "It used to be that the trail or pathway was more important than the destination. The original notion of pilgrimage, regardless of religious tradition, was that getting there was more important than the destination."
Today, Muslims can book five-star Hajj packages and Christians can join luxury cruises in Greece to follow in the footsteps of St. Paul. Religious destinations and pilgrimages have become more commodified. Says Timothy, "Every religion does it."
But while the journey aspect of pilgrimage may be greatly diminished, Hayes says, "I'm not sure this means the essence of pilgrimage has been lost in modern times. If a medieval pilgrim were offered a trip to their destination on an airplane — even in economy class — I find it hard to believe many of them would refuse. That's because, I would argue, the most important thing is to visit the shrine, to be close to the holy and the supernatural."