/ Source: Forbes Traveler.com
For centuries the brawniest and bravest have been lured to the American West.
Cowboys and their oft-portrayed archenemies, Indians, etched a near mythological landscape into our minds that we have yet to shake. The cacti-studded desert, virgin forest-blanked hills, and jagged mountain peaks sit under an overly spacious sky while plus-sized packs of buffalo and larger-than-life mammals roam the vast emptiness.
A lot has changed since those heady days, but many remnants of this much romanticized culture remain. The question is: Where does one get the best of the West?  Where are the dude ranches, verdant national parks, untrammeled deserts, one-horse towns, and, if you're lucky, a few cowboys?
"Movies have really contributed to our romance of the West," says David Scott, who, along with his wife, Kay Scott, penned the popular book "The Complete Guide to the National Parks." "They've portrayed these [Westerners] as brave risk-taking people who did things that people today can only dream about."
It's no surprise that the Scotts' favorite destinations in the West represent this bucolic, yet sometimes difficult life of yore. The Triangle X Lodge in Wyoming is one of their favorite western destinations list for its uniqueness and its authentic rustic feel. "It's the only dude ranch in a national park," says David Scott, referring to Grand Teton National Park. Best of all, guests get their very own horse. "They organize daily itineraries that include you and the horse," Kay Scott adds. "And then when it's time dinner time, they ring a bell and you leave your private cabin and everyone eats together."
Samantha Brown knows a thing or two about capturing the Old West spirit. The host of the popular Travel Channel show, "Passport to Great Weekends," Brown has criss-crossed the region several times and never fails to come back with a philosophical outlook. "When you travel abroad, it's easy to look at the U.S. and say you're such a young country," says Brown. "But geologically, it's a billion years old. I just get so much strength from looking at the mountains and trees and the landscape. It's all so unbelievably overpowering and makes you realize that who we are as Americans goes much farther back than we think."
One of Brown's top must-see picks is, like the Scotts' favorite place to bed down, a Wyoming dude ranch. The Hideout at Flitner Ranch is a working dude ranch with a luxury accent. "I loved it mainly because it wasn't a dude ranch in the respect that it's forced entertainment," says Brown. "It's a working dude ranch and it's been that way for 100 years. You help real cowboys do their real job of cattle driving, roping and ferrying."
The ranch, which only accommodates 32 guests at a time, is not like any other working dude ranch. That is, if working dude ranches had Le Cordon Bleu-trained chefs in the kitchen. The 300,000 spacious acres that the ranch sits on make for plenty of cowboy fun.
But for western aficionados who really want to get their hands dirty, Brown suggests the Lodge at Sun Ranch, an eco-lodge located in the plush Madison River Valley in Montana.
The lodge, which caps its number of guests at 16 at a time, takes pride in putting its guests to work in ways that nurture the local environment.
Brown, for example, protected cows. "I slept out in the cattle pasture in a luxury tent," says the travel TV host. "Wolves come down and want to eat the cattle, but when they pick up a human scent, they stay away. This keeps the cattle safe, the wolves away, and thus keeps the farmers from shooting the wolves."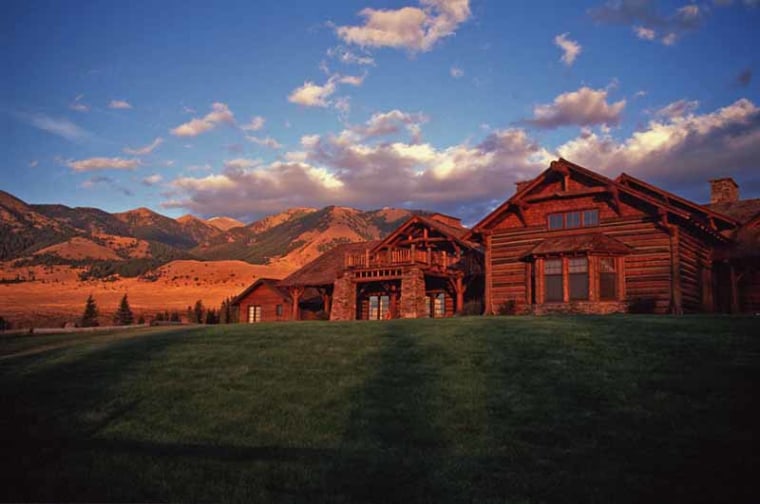 Lisa Dunford, co-author of the Lonely Planet guide to the Southwestern United States, says it's impossible to pick just one dude ranch. Which is why one of her favorite spots is Bandera, Texas, the self-proclaimed "cowboy capital of the world."
This Texas Hill Country town is loaded with ranches and lodges, each of which Dunford says has its own style and feel. "Some have bunkhouses and cowboy breakfasts with biscuits cooked in cast-iron over an open fire, some are more couple- and serious riding-oriented with luxury cabins and permits to ride on federal lands adjacent. Many have tons of activities for kids — hay rides, roping lessons, swimming in the creek."
If that's not enough, the town has an authentic vibe as well. "It's truly rustic and my kind of place," adds Dunford. "With weathered grey buildings and two honky tonks with live music; Arky Blue's Silver Dollar still has the table where Hank William Sr. carved his name."
Another Cowboy-centric town that tops Dunford's list is Kanab, Utah. Referred to as "Little Hollywood" by locals because of all the westerns shot here in the 1940s and '50s, this 3,500-person town seems like it was made for the movies.
"I love the town's kitsch," says Dunford. "Most main street buildings have old wooden false fronts and store names like Denny's Wig Wam."
And if you haven't had enough, you can drive out into the desert to see the "ghost town" remains of real settlements, and those built for shows like "Bonanza."