/ Source: Forbes Traveler.com
Although America has always had its taverns and inns serving food ever since the Pilgrims got here, the restaurant as we know it—a place where you can sit at your own table, have your own waiter, and order from a menu—is of rather recent origin. None is more famous than Boston's Durgin-Park café, still serving much the same kind of New England fare, although you'll sit just as they did when it opened in 1827, at common tables with visitors from all over the world.
Full-fledged restaurants began to open in Paris after the fall of the monarchy (the royal cooks needed the jobs), but the word "restaurant" doesn't even appear in American print until 1824 when novelist James Fenimore Cooper made note of the "renowned Parisian restaurants."  Seven years later, however, a Swiss sea captain named Giovanni Del-Monico brought the concept to New York's Wall Street area and named it after himself, Delmonico's.  Its success made him and his family rich, and he opened successive Delmonico's further and further uptown, the last at 44th St. and 5th Avenue. The second of these, opened on Beaver Street in 1832, is to this day one of the most popular restaurants in lower Manhattan.
By then the restaurant had become synonymous with fine dining, and just about every important personage in New York and famous visitor to the city, including Charles Dickens and William Thackeray, dined at "Del's," as its competitors, like Rector's and Louis Sherry, became equally notable for the grandeur and scale of their décor and cuisine.
Other restaurants took their lead from the New York model, and in 1840 Marseilles-born Antoine Alciatore opened Antoine's Restaurant on New Orleans' Rue St. Louis in 1840, becoming so much a fixture of the city's social life—surviving the Civil War, Prohibition, and Hurricane Katrina—that local food writer Gene Bourg contends, "New Orleans without Antoine's would be like Giza without the Great Pyramid."  It was at Antoine's that dishes like oysters Rockefeller were created, and generations of New Orleanians claimed not only their favorite dining rooms but the same waiters over decades.
As American expanded westward so did the restaurant concept, most often in grand new hotels like the Palmer House in Chicago, the Sinton Hotel in Cincinnati, the Planters Inn in St. Louis, and The Brown Palace Hotel in Denver, which opened in 1892. Still the best hotel in the city, with four stars from the Mobil Travel Guide, The Brown Palace has maintained the glorious Gilded Age décor of its Palace Arms restaurant, a richly paneled, sumptuous place whose wine cellar has a "Best of Award of Excellence" from Wine Spectator. Every U.S. president since Teddy Roosevelt, except Coolidge, has visited The Brown Palace.
Jack's has been on Sacramento Street in San Francisco's Financial District since 1864 and was one of the few buildings to escape destruction from the 1906 earthquake. It is now owned by French chef Philippe Jeanty, who has attached his name to it as Jeanty at Jack's, but has kept the beautiful Belle Epoque décor and serves many of the classic French dishes the restaurant was known for.
Ethnic restaurants—German beer halls, Jewish delis, Italian pizzerias, Mexican chili parlors—proliferated at the end of the 19th century,  including many that are still going strong, like Barbetta (1906),  Gargiulo's (1907), Katz's Delicatessen (1888), and Heidelberg Restaurant (1936), all in New York; Frank Pepe Pizzeria Napoletana (1925) in New Haven; Locke-Ober in Boston; and El Cholo, which debuted in Los Angeles in 1923 as one of the first Mexican  eateries to attract a Hollywood celebrity crowd. The L.A. Times has said, "the El Cholo restaurants have pretty much defined Mexican restaurant food in the Southland, and, by extension, most of the rest of the country." The original, on South Western Avenue, has pretty much kept most of the décor and all of the leafy garden ambience of those days, and finely honed the hospitality for which it has long been famous. You may still find stars like Jack Nicholson, Warren Beatty, Nolan Ryan, Elizabeth Taylor, and Tom Hanks dropping by for the margaritas and enchiladas.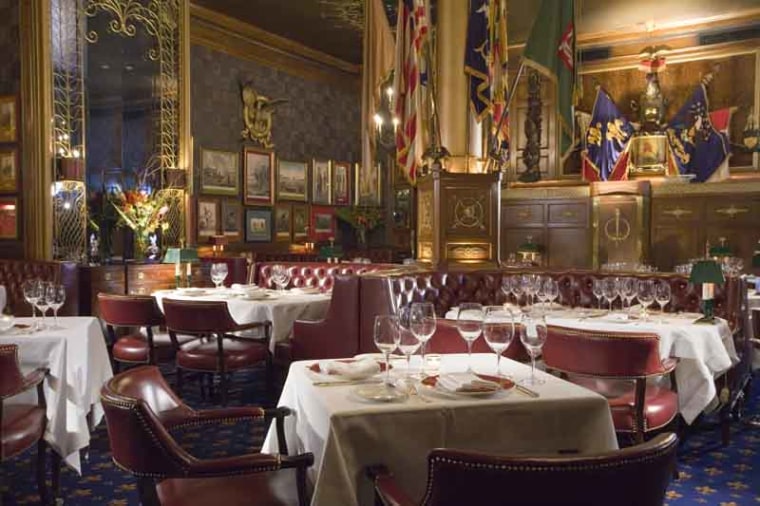 Prohibition crippled fine dining in America throughout the 1920s, when most of the grand dining halls like Louis Sherry's and Rector's went out of business for lack of a drinking clientele.  In their stead came the speakeasies, most of them seedy places serving dreadful food and bad booze. One exception was the notorious '21' Club in New York, which catered to New York society, show biz, and politicians—Mayor "Beau" James Walker entertained showgirls in the private wine cellar.  The liquor was the best money could smuggle in and the food, while outrageously expensive, among the finest in New York. Today '21' is thriving at its original location on West 52nd Street, its colorful jockey statues still stand on the stairs out front, its Remington paintings and sculptures are still arrayed, and its great bar room still hung with corporate toys. Scenes from "All About Eve", "Sweet Smell of Success", and "Wall Street" were filmed here.
Of course, many of the grandest restaurants are in historic American resorts, which once catered only to the very wealthy but which now have large family clientele, and numerous restaurants for every taste. The Breakers, which opened in 1896, in Palm Beach is as spectacular as any resort in the world, with its magnificent verandah and long colonnaded hallways, and its superbly ornate award-winning L'Escalier dining room, which has one of the greatest wine cellars anywhere.
Much smaller—just 23 rooms—is the Hotel Maison de Ville, opened in New Orleans' French Quarter in 1905.  Tennessee Williams wrote "Streetcar Named Desire" here, and James Audubon lived in one of the seven Audubon Cottages nearby. Its Bistro at Maison de Ville has a reputation for Chef Greg Picolo's easy-going French fare with a Louisiana lagniappe. The New York Post called his BLT salad one of the best meals in New Orleans.
Few resorts can match the magnificence and period style of the Grand Hotel on Mackinac Island, Mich., opened in 1887, with its 660-foot verandah, suites named after First Ladies, pristinely maintained village, and fabulous main dining room where breakfast, lunch, and dinner are served along with its  more rustic, Carleton Varney-decorated Woods restaurant, with beamed ceilings and stag's horns like a Bavarian hunting lodge, and a menu of German specialties like wiener schnitzel, pfferesteak, and tafelspitz.
Great food can be found in the most out-of-the-way places, the smallest hole-in-the-wall, and the most spectacular new Vegas casino hotel. But when you add a large dose of American history to the dining experience, you will have a sense of what it was like when sheer wonder was part of the pleasure of dining out.