/ Source: Forbes Traveler.com
Richard Scarano would like to remind New Yorkers and tourists of one simple, yet significant geographical detail:  "Manhattan is really just an island," says Scarano, owner of New York City's Classic Harbor Line. "And the best way to see the city is by boat."
City cruises can have a dowdy image: loutish booze sails or dilapidated Circle Line barges that pack passengers like livestock. But today's city sailing vessels are killing that cliché with sumptuous creature comforts. Desire medium-rare filet mignon? Crave a wave-cutting catamaran? Thirsting for expertly prepared cocktails? "It's hard to stump our bartenders," says Adrienne Thomas, marketing director for the New Orleans Steamboat Company. "New Orleans is a drinking town." Sip stiff Bloody Marys (ask for extra spicy green beans) and locally made Abita Beer (try the brawny Turbo Dog) while exploring the Mississippi aboard the Steamboat Natchez.
Modeled after 19th-century steamboats, the Natchez includes period touches such as a calliope (a steam-powered pipe organ whose whistle blast greets passengers) and antiquated docking tactics. "The captain stands on the bow and talks to people on the docks through a megaphone," says Thomas, who recommends the evening sail. "It's an opportunity to leave everything behind. After dark, it's very quiet on the river—you have the stars and the city just pops out in front of you. You have the Saint Louis Cathedral, the Audubon Aquarium, the Mississippi stretching out endlessly. Until you're out there in the middle, you can't fathom how big the river is."
While the Mississippi is ingrained in American lore, another integral waterway is the Ohio River. The commercial-shipping artery turned 20th-century Cincinnati into one of the country's first boomtowns. See the Queen City aboard BB Riverboats' Victorian-style Belle of Cincinnati, a vessel fit for hedonistic seafarers—a bar and a dance floor are found on every deck. The Belle moseys up and down the tree-lined Ohio River (fall is particularly stunning) by day and night, providing shimmering city vistas.
Another gorgeous after-dark metropolis is San Francisco. "The city and the Golden Gate Bridge sparkle like jewels. It's a constantly changing panorama," says Ward Proescher, owner of Commodore Cruises and Events, which should appeal to vino aficionados. "We're California's wine fleet," says Proescher, whose six luxury yachts include Cabernet Sauvignon, Merlot, Pinot Noir and Zinfandel. While the vessels putter around San Francisco Bay—passing by sun-loving sea lions, Fisherman's Wharf and perhaps Alcatraz too—an on-board sommelier can orchestrate a tasting of California's top varietals.
If you prefer beer, there's no better city than suds-mecca Portland, Oregon. Explore the curvy, bridge-packed Willamette River on Portland Spirit River Cruises' 150-foot Portland Spirit yacht, bedecked with marble dance floors and several bars stocked a selection of the Northwest's famed microbrews, including offerings from Deschutes and MacTarnahan's.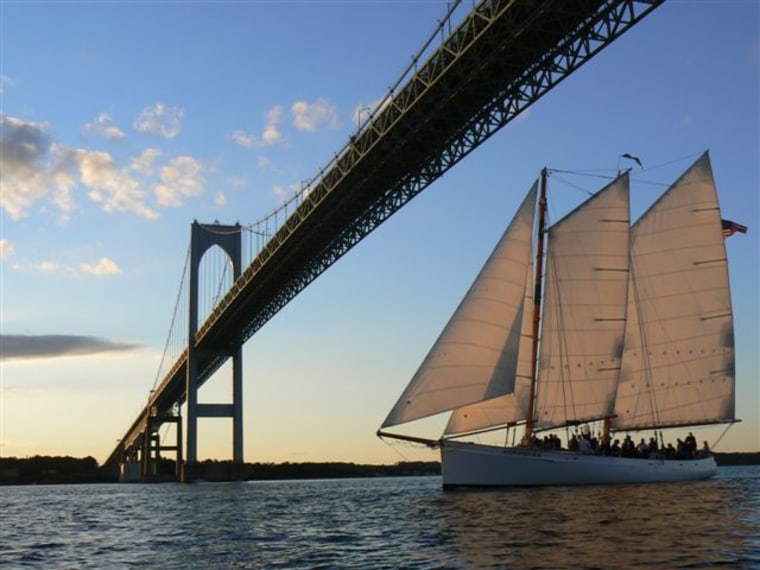 Lobster, not beer, is the lure to Maine's Portland. The coastal community is situated on scenic Casco Bay, which is filled with fishing vessels and numerous islands, ranging from the Diamond Cove resort community (the former site of Fort McKinley) to beachy Long Island, which seceded from Portland in 1993. You can reach these islands via the workmanlike Casco Bay Lines service. The ferry boats—equipped with decks, where you can savor a BYOB beer and superb views—run daily, with special charter trips including a New England-style lobster bake (complete with steamed clams and corn on the cob) at a restored summer playhouse on Peaks Island.
Down the Atlantic coastline, Bostonians can observe the city on the 91-foot Seaport Elite yacht, nicely appointed with a cocktail lounge and a white-tablecloth dining room serving grilled salmon and filet mignon. On the West Coast, San Diego-based Aolani Cruises offers whale-watching adventures (and tasty fish tacos and cocktails) on a catamaran, a featherweight vessel that slices through, rather than bouncing across choppy water.
Of course, no itinerary of urban cruises is complete without a trip around the Big Apple, ideally aboard Classic Harbor Line's 80-foot Manhattan yacht. "It's like the fast, elegant ships that ultra-wealthy families, like the Rockefellers, used to commute to the city," owner Scarano says. "It's a luxurious environment with mahogany, teak and carpeting." Within the glassed-in observatory, passengers can sip mimosas and snack on finger sandwiches, while waving hello to the Statue of Liberty.
In addition to the yacht, New York City seafarers can crack a beer and cruise the Hudson River on wind-powered schooners Adirondack and Imagine. "It's wonderful to be out on these elegant schooners," Scarano says. "It's a very lively sail—you get a puff of wind and you feel the boat take off. It's exhilarating to feel that power while getting a view that few in New York City ever see."