/ Source: The Associated Press
A woman kidnapped, raped and murdered an 8-year-old girl and stuffed her body in a suitcase that was dumped in a pond just a few miles from home, prosecutors alleged Tuesday.
Melissa Huckaby, 28, was charged with murdering her daughter's playmate, Sandra Cantu, in a gruesome crime that has shocked and terrified residents of Tracy, a Northern California city of about 78,000, 60 miles east of San Francisco.
Huckaby, who volunteered as a Sunday school teacher at her grandfather's Clover Road Baptist Church in Tracy, appeared in a San Joaquin County courtroom for her arraignment in a red jumpsuit and shackles. She trembled and cried as a judge read the charge: one count of murder with the special circumstances of rape with a foreign object, lewd or lascivious conduct with a child under 14, and murder in the course of a kidnapping.
The special circumstances mean Huckaby, if convicted, could face the death penalty or life in prison without the possibility of parole. Prosecutors have said they have not decided whether to seek the death penalty.
During Tuesday's hearing, which lasted only several minutes, public defender Ellen Schwarzenberg asked Judge Richard A. Vlavianos for a gag order in the case. Vlavianos said that question would be answered by his colleague, Judge Terrence Van Oss, who would be presiding over future hearings.
Vlavianos ordered Huckaby to return to court on April 24, when she's expected to enter a plea.
Last seen skipping outside
Sandra disappeared March 27, last seen on surveillance camera video skipping outside the Orchard Estates Mobile Home Park where she lived just five doors from Huckaby.
A 10-day search by law enforcement and the community ended April 6, when farmworkers draining an irrigation pond a few miles away from the mobile home complex found the suitcase containing Sandra's body.
Police have said Sandra was found wearing the same clothes she had on when she was last seen: a pink "Hello Kitty" T-shirt and black leggings.
They have not said how, why or where she was killed, and the coroner's office has said autopsy results are pending.
A criminal complaint said the murder occurred "on or about" March 27 but gave no other details.
Huckaby was arrested Friday, hours after she told a Tracy Press reporter that the suitcase was hers but it had been stolen the day Sandra went missing.
In the days after Sandra's body was found, police searched Clover Road Baptist Church, interviewed Huckaby's grandfather, Pastor Clifford Lawless, and took items from the family's home. Huckaby lived with her grandparents.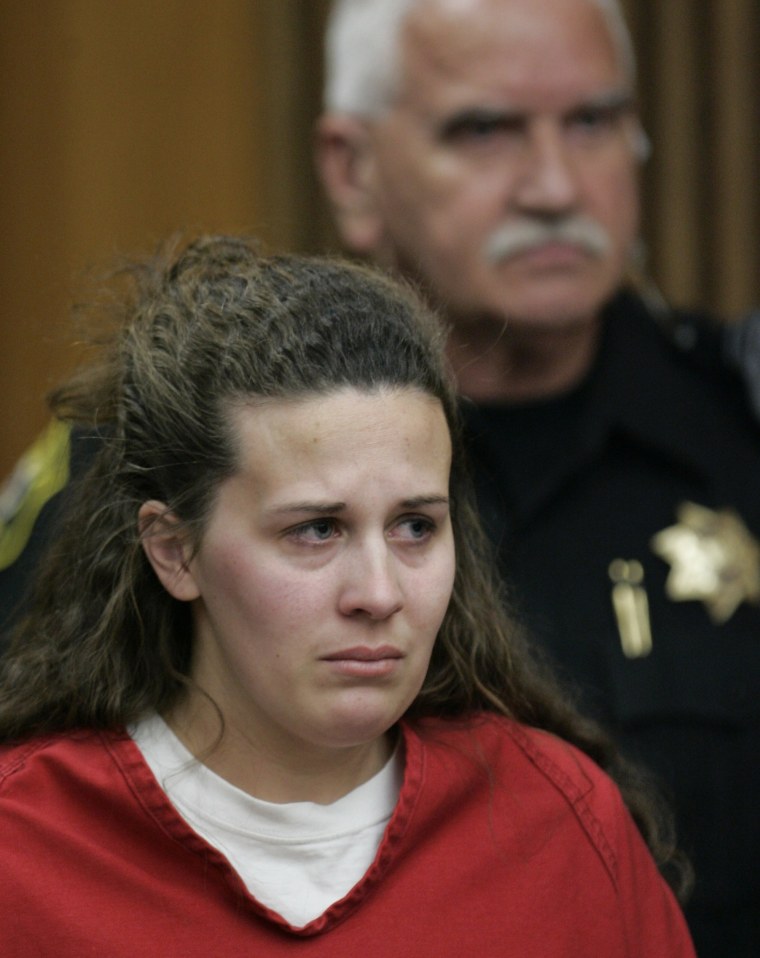 She grew up in Southern California and bounced back and forth between Tracy and Orange County after high school, said her family, who described her as a loving mother with a strong religious background.
In 2006, Huckaby was convicted of petty theft in Los Angeles County. In January, she pleaded no contest to a petty theft charge in San Joaquin County, and was sentenced to 3 years probation on the condition that she participate in a mental health program.
'We're in shock'
Relatives visited Huckaby late Monday at the San Joaquin County Jail, where she was being held without bail. Authorities were not aware if Huckaby had an attorney.
"We're in shock," said Brian Lawless, Huckaby's father. "The young lady I see on film, that's not my daughter."
Lawless said the family cried and prayed together during the visit.
The slaying had already aroused fear among parents in Tracy and particularly in the mobile home complex, where residents described a tight-knit community. News of the rape allegation heightened concern for children.
The little girl's family broke down in tears when they were told of the sexual assault allegations.
"I'm in shock. The whole thing is unimaginable," Sandra's aunt, Angie Chavez, said Monday.
A public memorial service is scheduled for Sandra on Thursday.