/ Source: Forbes Traveler.com
As cash-strapped airlines park their geriatric jets in the desert, your odds of getting a more pleasant ride aboard a newer plane are improving.
That's because the average age of a typical big airline fleet is going down just as the new generation planes break down less often, and are offering built-in features that may even reduce jet lag and other side effects of prolonged confinement in an aluminum tube.
"Airlines are finally realizing that if you build a better mousetrap, people will come," said Blake Fleetwood, of Cook/American Express Travel in New York City, which specializes in discounted premium class air travel.  He said that customers often inquire about the type of a plane they'll be flying and if it has state-of-the-art features, especially on long distance flights where an extra inch of legroom can mean the difference between comfort and misery.
Of course, no one expects a return to the glory days of air travel, when planes were decked out with three-foot-wide sleeping berths and piano lounges.
Still, bars (sans live music) are making a comeback along with other communal spaces aloft. "It's the interior architecture that drives the customer experience," said Ken Price, a cabin interiors expert for Boeing's commercial aircraft division. "If airplanes appear very open and spacious, people like them; if they feel claustrophobic, they try to avoid them."  

The world's largest airplane, the European double-decker Airbus A380, claims to have 50 percent more living space than the 747-400, the second largest in the sky.  Airbus has produced 13 of the behemoths so far, which are flying under the livery of three international airlines—Emirates, Singapore and Qantas—all of which have chosen to use that bounty of living space for added creature comforts rather than jamming in more coach seats. More legroom, snack areas and lounges, as well as wider windows and seats, all contribute to the sense of greater well-being that passengers are noticing, according to Airbus.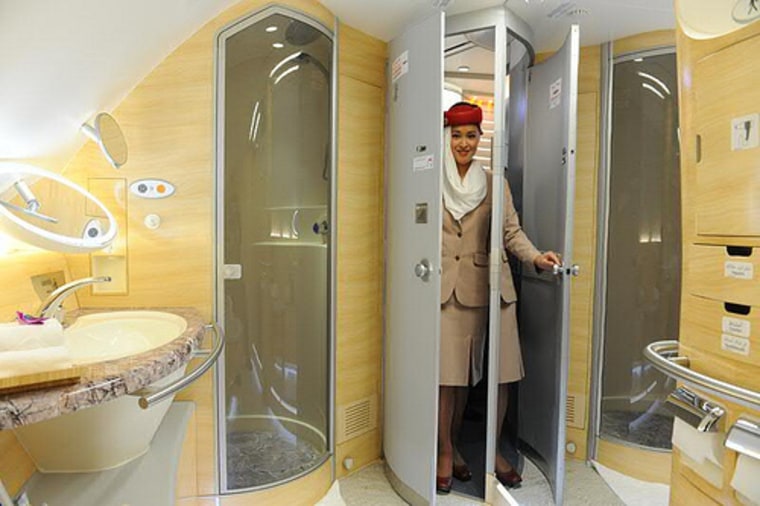 Qantas reserves the top deck of the A380 for business class and a new premium economy class—which gives fliers on the marathon L.A.-Sydney run a chance to upgrade out of coach for a fare that's closer to economy than a full business ticket. While the jet could theoretically seat up to 800 in a cattle class layout, it's flying fewer than 500 in current layouts. Emirates has even outfitted the first-class sections of its A380s with spacious restrooms featuring an unheard-of in-flight perk: a shower stall.  Never mind that this might be the most expensive dousing you've ever experienced:  Blake Fleetwood says the shower convinced one of his customers to shell out $2,000 over what he would have paid to fly first on another plane.  "That works out to about $400 a minute"—shower time is limited to five minutes to conserve precious water. Not to be outdone, Virgin Atlantic founder Richard Branson has hinted he's considering a gym, a casino, and private double-bed compartments when his airline gets the new planes.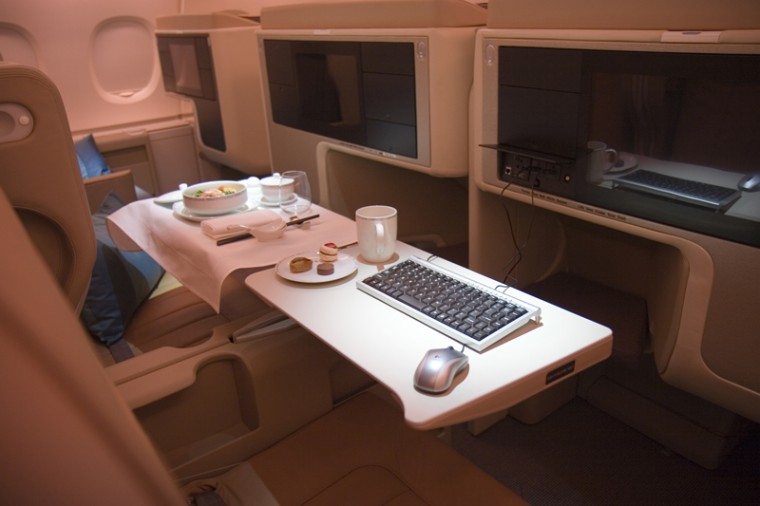 Some new aircraft features, though, aren't tied to the delivery of a new plane; they're showing up on existing fleets. Major airlines like Delta and American are joining their upstart rivals like JetBlue and Virgin America in rewiring their fleets to offer amenities like Wi-Fi access and better in-flight entertainment, such as live TV. And some airlines like Singapore are glitzing up their business-class cabins with iPod docking stations and the like. You don't have to fly first or business class to reap the benefits of many of these new advances, but you will have to pay: internet access costs about $10 to $13 a flight, about the same as at a hotel or an airport.

Even the air inside the cabin is getting attention: Boeing claims that its new 787 Dreamliner, which ANA and Qantas will start flying next year, will set the standard for improved cabin pressure, lighting and increased humidity, because the plane is the first to be built completely from composite materials, a more flexible substance than the aluminum airframes that permits a higher humidity level.  

And there's more to the space question than how far you can stretch your legs. More fliers are lugging aboard their bags as carry-ons to avoid paying fees or having them go astray so airlines are putting in larger bins. That may not have the sex appeal of showers or private bedrooms, but to long suffering fliers, it feels like a perk just the same.