Many fans of the Hubble Space Telescope call themselves "Hubble huggers," but only one means that literally.
NASA astronaut Mike Massimino is getting ready for his second space shuttle flight to the orbiting observatory, where he will serve as part of a seven-person team to upgrade the popular telescope.
"I do actually get a chance to touch the Hubble and I can hug it when I get up there," Massimino told SPACE.com in a phone interview. "Yeah, the Hubble is great."
Massimino and the other members of the shuttle Atlantis's STS-125 crew, led by commander Scott Altman, are due to lift off May 12. The astronauts plan an 11-day mission packed with five spacewalks to repair hardware and install equipment such as a new camera, gyroscopes and batteries. The upgrades should extend the observatory's lifespan through at least 2013.
For Massimino, revisiting the telescope will be a trip down memory lane.
"I'm really looking forward to seeing Hubble again," he said. "I saw it seven years ago. I think it's going to be really cool and I think it's going to bring back a lot of memories, and remind me of emotions I had during the last flight that I forgot about or haven't thought about in a long time."
The astronaut also flew on the STS-109 Columbia mission to Hubble in March 2002, his first spaceflight. The upcoming Atlantis mission was originally scheduled for October 2008, but was delayed after electronics on Hubble broke.
"You're all set and ready to go, and it's like they cancelled Christmas," Massimino said of the delays."But in some ways it's been kind of nice 'cause it's given us some extra time to get things ready."
Among the last minute additions to the flight plan is the installation of a replacement for the part that failed last fall.
The seven STS-125 astronauts are taking advantage of what might be their last weeks on the ground before liftoff by rehearsing their skills for the busy mission.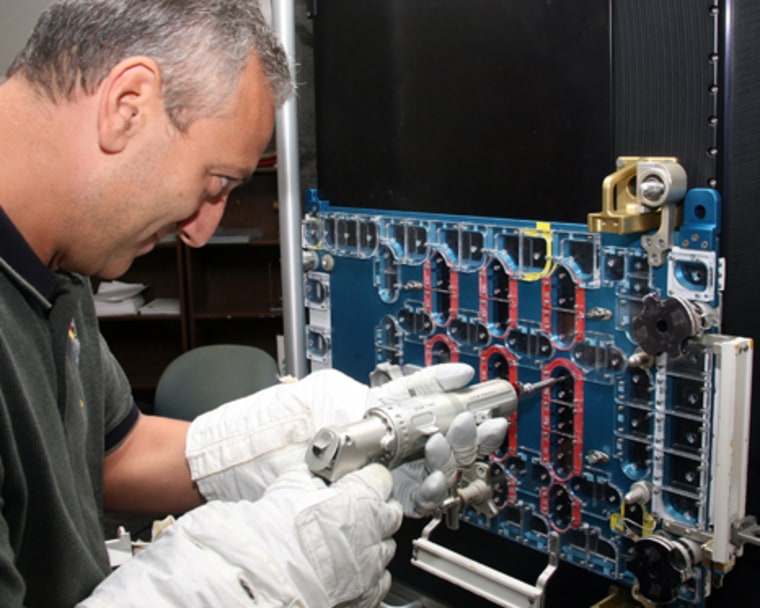 "It's going really well," Massimino said. "We just have a few things we need to brush up on, a couple final runs in the pool" where astronauts practice spacewalk maneuvers underwater to simulate the weightlessness of space. "But I think we're ready to go and looking forward to leaving the planet."
Massimino has been writing about his experiences training for the mission on Twitter. He plans to savor the events of his final visit to Hubble in a way he couldn't when he was a rookie spaceflyer.
"The first time I think I was actually a little more nervous — how I would perform in space, what would it be like," he said. "This time I know how wonderful it can be to view the Earth and the stars, and how wonderful it is to work in a spacesuit on Hubble. I really want to go back and do it again."