/ Source: The Associated Press
Ruel de Guzman seemed destined for a life at sea.
Several relatives have served in the U.S. Navy, and growing up in the Philippines, he envied the nice houses neighbors were able to buy on a seafarer's salary, much more than he could make on land.
For 20 years, the sea was good as de Guzman married, then started a family. He had risen to second mate on the MT Stolt Strength, a chemical tanker, sending home nearly $2,000 a month to support his wife Vilma, their four children and his 81-year-old mother.
"In the province, people flaunt their wealth, and so he wanted a nice house, too. His father was a tailor and his mother was a teacher. He was the first to finish school," Vilma de Guzman said. "He became a seaman to help his family."
Then on Nov. 10, Somali pirates swarmed aboard as the tanker sailed through the Gulf of Aden while hauling a cargo of phosphoric acid destined for Japan. Since then, the 46-year-old de Guzman and 22 other Filipino crew members have languished for months with scant rations, little water and constant threats as negotiations for their release drag on.
For them, a military rescue like the one that freed American Capt. Richard Phillips is unlikely because the Stolt Strength is anchored in a pirate stronghold. Their only hope is that a ransom will eventually be paid.
Can't afford ransom
While sailors from richer countries get freed relatively quickly in exchange for multimillion-dollar ransoms, those from poorer countries like the Philippines, Bangladesh and Indonesia often wait for months, stuck in the middle because the companies they work for can't afford to make a big payoff.
Almost half of the nearly 300 seamen currently held by Somali pirates are Filipinos — a Greek-owned ship was snatched Tuesday with 22 Filipinos on board, starting a fresh ordeal for a new group of families.
Vilma de Guzman was at the shipping company with other hostages' wives when her husband called last Friday for only the second time since the pirate takeover and talked with their three daughters, ages 15, 10 and 7, and their 9-year-old son.
"He told them, `Take care of mommy, take care of your siblings, love each other,'" Vilma de Guzman told The Associated Press. "He was saying goodbye to his kids just in case he does not come out of this ordeal alive."
"I know when you are a seaman, it's really a high risk. But to say that you'd be taken hostage by pirates, we never imagined that would happen to him. We continue to receive his salary. He gets a big salary, but what will we do ... if we lose my husband?"
In a sign that the on-again, off-again negotiations between the pirates and the Stolt Strength's owner, Sagana Shipping Inc., might be picking up again, de Guzman called again last Saturday, trying to track down the phone number of the Philippine company's general manager.
"He said the pirates asked them to call to put pressure on the company to pay ransom," Vilma de Guzman said, adding that her efforts to get more details were met with a chilling reply: "Don't ask too many questions because we can be heard on the speaker.'"
Getting down to business
Relatives of the hostages say that during the five months their loved ones have been held, the pirates have lowered their ransom demand from $5 million to $2.2 million. But there's no sign any payoff will come, despite the pirates' threat to haul the tanker further out to sea and use it as a mother ship to seize other foreign vessels.
Relatives blame Sagana Shipping, saying they have been misled about efforts to free the captives, and their complaints have spurred a Philippine government inquiry into the handling of the case, according to a report last month on the Web site of the maritime industry journal, Lloyd's List.
Capt. Dexter Custodio, the spokesman for Sagana Shipping, denied suggestions the company hasn't been doing enough to free the hostages, saying it has tried to negotiate with the pirates but that has proven difficult.
"They don't want to talk to us. They would just slam the phone...The main thought is it's a business and discussions will go to that — how much ransom do they want?" Custodio said.
Hostage conditions
A spokesman for the ship's London-based charter company, Stolt-Nielsen, said arguments between different factions of pirates holding the vessel has hampered efforts to free it. "These disputes have made communication with those holding the ship and crew more difficult," spokesman Martin Baxendale said Wednesday.
And while the manpower companies that contract the seamen have to pay double-pay for hazardous duty in pirate zones and carry insurance for payouts to their families in case of injury or death, it's unclear whether that is enough for a multimillion-dollar ransom, said Nelson Ramirez, president of the United Filipino Seafarers union.
As the months drag on, the crew has been kept confined on the ship's bridge with little to eat or drink and wearing only the clothes they were seized in, according to relatives.
Anything of value — including clothing, her husband's wedding ring and all the money he had saved to send home — were grabbed by the pirates, Vilma de Guzman said.
"They take a bath but can't change their clothes," she said. "He said they eat very little. My husband holds the medicines and takes care of the other crew because he has some medical training. He said, `Many of us are getting sick.'"
Mental torture
Among the ailing is 36-year-old Rodell Boretta, who was shot in the leg by a stray bullet during an argument between two of the pirates, according to his wife, Catherine, who said she feared the wound was now infected.
She and other relatives described mock executions and other psychological abuse when ransom negotiations break down.
"When the pirates and the office have a disagreement during negotiations, the hostages are asked to line up and the pirates scare them by firing their guns near their heads," Catherine Boretta said.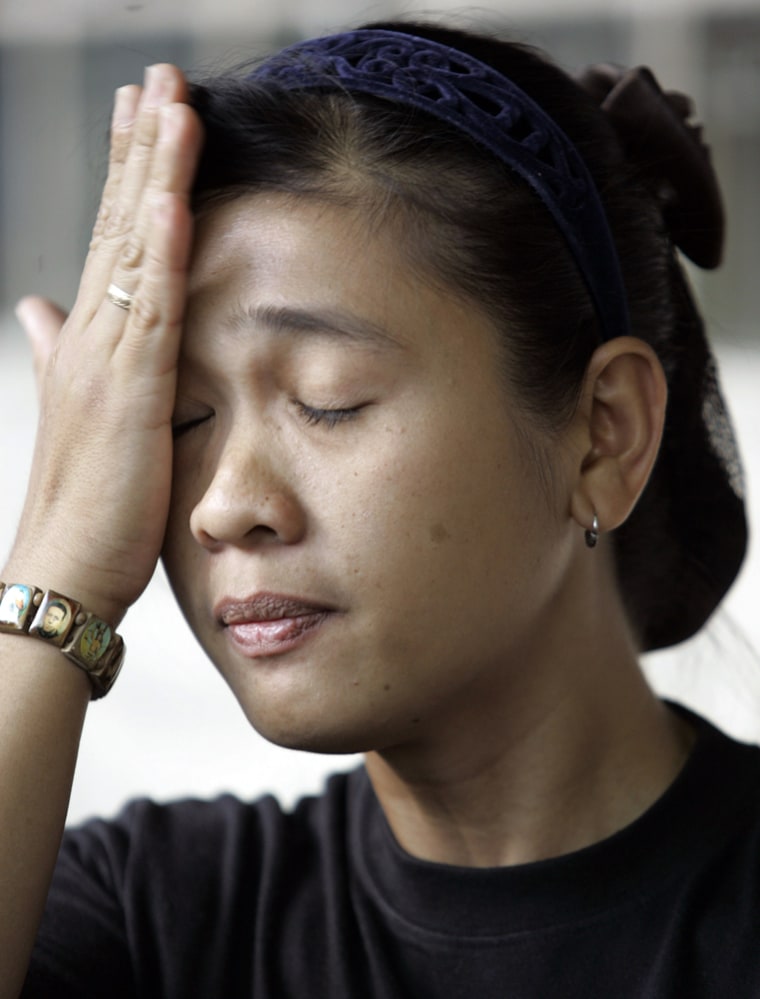 The wife of the ship's 62-year-old captain, Abelardo Pacheco, said that during the brief phone conversations she has been allowed with her husband, she hears pirate voices in the background, dictating what to say.
"The crew has been there for a long time now and are mentally tortured," Asuncion Pacheco said.
For the wife of Carlo Deseo, the ship's 31-year-old third mate and a father of 4-year-old and 5-year-old daughters, the hardest part has been the distress she hears in her husband's voice.
"We talked only twice, on Nov. 26 and last Friday," Doris Deseo said.
On Friday, "Carlo was sobbing. He asked me not to cry and wanted me to be strong. He told me that their homecoming is in the hands of their office," she said.
"The office people told us that all the hostages' accounts could be scripted and could be part of a psych war. I asked them: 'Is the crying part of the script? I know my husband, and he is not an actor.'"