/ Source: msnbc.com contributor
Teresa Bondora and her family abandoned their two-story brick home in Atlanta rather than fall behind on their mortgage and $30,000 worth of home renovation debt.
The decision was tough for Bondora, a home-schooling curriculum developer raised to believe that preserving good credit and paying bills on-time were key adult responsibilities.
"I was willing to walk away and live with someone else while we get out of debt," Bondora says. "I'm not worried about anything anymore."
Bondora isn't the only homeowner making an about-face in her approach to the stigma of foreclosure; if anything, homeowners like her see that efforts to prevent foreclosure may make them more financially vulnerable than succumbing to it and starting anew.
Despite new refinancing and loan modification programs made available under the Obama administration, mortgage experts say that many homeowners still face difficult choices in the short run. The latest options may not affect the market for a few more quarters, they say.
When the real estate market first showed signs of weakness in fall 2006 — right when the Bondoras listed their home for $170,000 — the family faced tough circumstances. They watched at least a dozen seemingly qualified buyers fail to secure financing, and as Bondora's husband, a contractor, began to see work evaporate.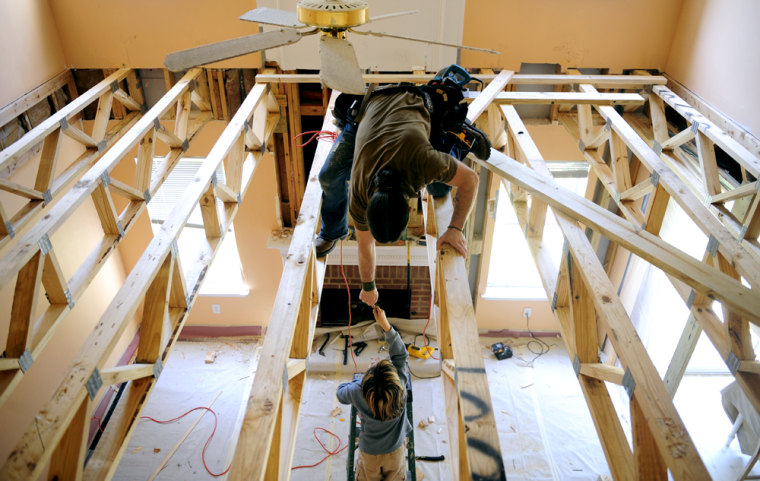 Buyers' financing troubles continued over the course of the next nine months, even when the Bondoras dropped their price to $130,000 — a money-losing proposition for the family. With credit card debt mounting and no sale in sight, they borrowed from extended family to pay bills. Bondora began suffering panic attacks.
As the summer 2007 wore on, Bondora began thinking about the possibility of foreclosure, realizing how it could happen to almost anybody in a volatile market. With credit card payments increasing, her husband's loss of work, and the home's value declining, the family was facing trouble making ends meet. Had they succeeded in a sale earlier in 2007, they would have emerged unscathed; but with a sale looking impossible, foreclosure seemed inevitable.
Her father-in-law sat her down for a frank talk and asked her what mattered more: Shedding her home and regaining her mental health and happiness, or digging herself in further by running up debt trying to preserve a shrinking asset. A talk show on foreclosures hit home.
"It dawned on me that you have to save yourself before you sink," Bondora says.
By the time her family mailed keys back to their lender during fall 2007 and moved in rent-free with friends, Bondora no longer cared about the fact she'd let her home go to foreclosure, nor did she care about the $15,000 property tax bill she got after relinquishing her property or the fact that her credit score has plummeted from about 690 to the 500s. The family escaped personal bankruptcy and will pay off their debt within 18 months.
In the hardest-hit areas of the U.S., such as California, Michigan, Nevada and Florida, new modification and refinancing options won't necessarily help homeowners because "loan to value" ratios — which compare the loan's size and the home's value — are too high to qualify for the new programs, according to Rick Sharga, vice president of marketing at RealtyTrac, the Irvine, Calif.-based distressed property research firm.
That means many more homeowners are likely to follow Bondora's example by walking away and sending "jingle mail" (house keys and a note) to their lender.
"It's likely that some people will do the math and decide to cut their losses," Sharga says.
Nationwide, nearly 804,000 homes received at least one foreclosure-related notice from January through March, up from about 650,000 in the same time period a year earlier, according to RealtyTrac. The first-quarter volume is equivalent to an entire year's worth of activity from 2005, Sharga said. He said foreclosure activity is likely to peak this year.
More than half of all home sale transactions during January and February of this year were distressed sales, according to Guy Cecala, publisher of Bethesda, Md.-based Inside Mortgage Finance. During this two-month period, 37 percent of all sales were foreclosures, and 19 percent were short sales, in which a home sells for less than the homeowner's outstanding mortgage.
What's become clear, however, is that the tough U.S. housing market has changed the way many homeowners look at debt and the stigma of struggling with it. Like Bondora, many homeowners, even now, are grappling with this question: Is it better to try to make unaffordable payments to hang on to a home that's lost value, or to take the hit of foreclosure or a short sale but preserve cash in a recession?
Jon Maddux, chief executive officer of You Walk Away, a Carlsbad, Calif.-based company that advises homeowners on the foreclosure process, says his company has helped more than 5,000 property owners walk away rather than overextend themselves during the past 15 months.
Maddux said he co-founded the company in early 2008 because most foreclosure advice urges homeowners to do anything to keep their home, but in some markets it makes more sense for consumers to get rid of it. He thinks 2009 will present a "false bottom" to the foreclosure and housing market woes and that the market may not truly bottom out until 2012.
The walk-away approach, he says, may make sense for people who bought at the market peak and are "under water" on their loan, meaning that they owe more than the house is worth. It also may make sense for people who planned all along to live in their home only short-term or who are forced to move, people who already have damaged credit, people who live in foreclosure-heavy areas, and people who stand to lose more in a short sale, especially in states that allow "deficiency judgments" in which the seller must repay lost equity post-sale. Those laws vary state-to-state. In the case of Georgia, Bondora was told though lenders had legal recourse, many at the time figured they'd never get the money back.
"Walking away is a business decision, not an emotional decision," Maddux says. "It comes down to surviving. People are realizing, 'I can't sustain this anymore. I have to cut this off before it impacts the rest of my life.'"