Ah, the 'tween years — such an awkward time. You're too old for a babysitter, but you're too young to stay home alone. You're too old for Gymboree but too young for Hot Topic. You're too cool for "Club Penguin," but your parents won't let you play "World of Warcraft."
What's a 9- to 13-year-old to do?
Well, it's your lucky day. There are no fewer than 200 youth-oriented "virtual worlds," or massively multiplayer online role-playing? games, that are either live or in development, says trade group Virtual Worlds Management.
Some of these you may have heard of — even if you left your 'tween years behind during the Carter Administration.  One of the first to market was the aforementioned "Club Penguin," an MMORPG aimed at 6- to-14 year-old kids — and that Disney bought for a whopping $700 million in 2007. "Club Penguin's" success has spawned legions of imitators — some successful, some not.
Into this crowded fray comes SuperSecret.com, which launched Monday. But its objective is somewhat unique — it lets kids play at the fantasy of growing up, says company CEO Ted Barnett.
"I think the idea of growing up, the central premise, is something that kids find exciting and no one else has thought to build," he says.
In SuperSecret.com, all players start out as a 10-year-old, no matter how old they are in real life. As you earn points, by playing little Flash-based mini-games, your character gets to age up, with 18 as the eventual goal.
As you age, you unlock certain privileges, like owning a pet, opening a bank account or, eventually, driving a car, says Barnett.
While I remember that feeling of always wanting to be older than I was, I also recall feeling self-conscious and ungainly during those formative years. But SuperSecret.com promises to erase awkwardness out of adolescence. "As we like to say, there's no acne, no mortgages," says  Barnett with a laugh.
The idea was interesting enough for SuperSecret.com to be named a finalist in GamesBeat's 2009 "Who's Got Game" competition. The panel included Kevin Bachus, co-creator of the Xbox, Jamil Moledina of EA Partners and Dean Takahashi, who blogs about games on VentureBeat. Part of the reason SuperSecret.com stood out, Takahashi says, is because of its sophisticated aging system.
"With the aging timeline, you want to earn all these points so you can age up your character, so there's a reason for you to come back and compete against other people," says Takahashi. "It had an addictive quality built into it."
That's good news for SuperSecret, which is free to play until your character hits 13, and players must start kicking in $4.95 a month. When we spoke, before the site's launch, SuperSecret.com had 250,000 regular users, which Barnett says had grown rapidly since the beta launched in mid-January.
That number is small compared to its competitors. Disney won't disclose how many registered users it currently has on "Club Penguin," but at the time of its acquisition, it counted 12 million active accounts, a number industry watchers say is now closer to 30 million. "Neopets," which is owned by Viacom, claims 52 million registered users. And "Habbo," an online community site aimed at teens, has an estimated 90 million users.
Many of these sites, like SuperSecret.com, are free-to-play, but rely on something called the "89/10/1 Rule," says John Davison, co-founder of , a Web site that helps parents navigate the many game choices for their kids. This rule, Davison says, assumes that 89 percent of your audience is playing for free, 10 percent is paying for something and 1 percent is spending a lot of money, buying new clothes or convenience items for their avatars.
When you're dealing with numbers like 52 million, he says, 1 percent is big bucks. "They alone are a big part of the engine that make these things work."
SuperSecret.com isn't the only 'tween-targeted game launching in April, though. There will be "Free Realms," from Sony Online Entertainment — the folks who made "EverQuest" —  which is planning to unleash its youth-based MMO sometime this month.
Sony Online's CEO, John Smedley, describes "Free Realms" not as "EverQuest" lite, but as a "whimsical fantasy world, with comedic elements to lighten it up. " Like grown-up MMOs, you start off by choosing a character from one of 15 "classes," or jobs. But in "Free Realms," you can start as a ninja and then switch to a postman, or a healer or a chef literally every minute if you want.  In traditional MMOs you're stuck with that paladin unless you feel like chucking 100 hours of play and starting over from zero.
Another difference: The combat elements in this game are optional. Most MMORPGs are about quests and dungeons and monster-slaying. But Smedley says they hoped to make the game a more even split between boy and girl players — which meant toning down the violent stuff.
"When combat isn't optional, meaning the monsters come and attack you when you come hear them, they're intimidating," he says. "Even for the younger boys, they don't like that. It immediately turns them off of the game."
Like the other games in this space, "Free Realms" is free to play. But if you want access to more than one character, it'll cost you $4.99 a month for a membership, and personalization items are also fee-based. So if you want to buy a pet and dress it up, or dress yourself up, you'll need an advance on your allowance.
It's going to take a pretty large- paying user base to break even on "Free Realms," which cost between $20 million and $30 million to make. But Smedley thinks "there's a lot of money to be made from this market, and that we've made an awesome game."
But should parents be concerned that 'tween-based MMOs are essentially training their kids to play "World of Warcraft?"
"When we talk to parents, they're very aware that their kids are multi-tasking, doing things concurrently that we didn't," says Davison, of WhatTheyPlay.com. "They're texting and Twittering and sharing stuff, and I think a lot of it's about talking to your kids about what's appropriate to share and what isn't."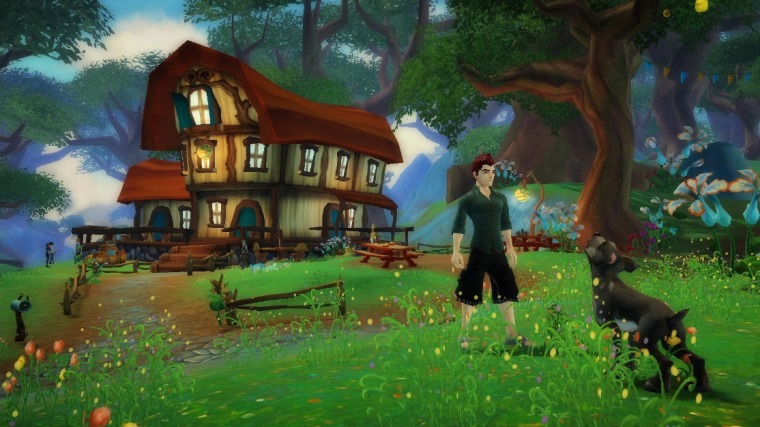 Davison points out that any good kid-targeted game takes safety very seriously — and has built-in parental controls. "You can cap the amount of time (they play), and if your kids are misbehaving, you can ban them from playing. You can even limit the ways that they communicate," he says.
Ultimately, these online worlds and MMOs are just another forum for kids to do what kids do: Hang out, dabble with self-expression and play together. Davison says the challenge for parents is to research the games and make sure you know what your kids are bringing into the house.
"The motivation on the kids' part is no different than it's ever been, it's just the tools they have now means they're casting a much broader net," he says. "And I think that's what scares parents the most."