Sight-seeing, beach-combing and eating ethnic foods top many travelers' to-do lists.
What's not on them? Being bumped from the flight.
But that's what happens to a fraction of fliers each year. Though the number is relatively small — last year, 63,612 passengers were kept from overbooked flights, or a rate of 1.10 bumps per 10,000 passengers — for those who fall victim to the practice, it stings.
The biggest 2008 bumper according to the U.S. Department of Transportation's Office of Aviation Enforcement and Proceedings, was Atlantic Southeast Airlines, which averaged 3.89 bumps per 10,000 fliers. Other chronic over-sellers included Comair and American Eagle Airlines, which averaged 3.41 and 2.44 bumps, respectively, per 10,000 customers.
American Eagle says bad weather conditions can force the airline to limit passenger and baggage weight on its built aircraft. It is currently modifying the planes so they can carry more weight and reduce the number of bumped passengers.
But overselling is behind most bumps.
It is standard practice in the airline industry — a way to hedge against passengers who skip out on reservations or to collect double fares if a prepaid passenger doesn't show up. Most of these no-shows are business customers — leisure fliers tend book trips early and show up when they say they will.
"Business people aren't sure when their meeting will end so they'll book three flights and get on the one that works for them," says Joe Brancatelli, editor of the business travel site Joesentme.com. By overbooking, airlines make sure to fill all the seats.
Usually  — thanks to complex models that factor in the destination, time of day and types of customers — the system works and everyone gets a seat. If the plane is overbooked, the airlines dangle rewards of free tickets and upgrades in front of customers enticing them to volunteer to take later flights.
But sometimes there are not enough takers, and airlines must bump paying customers — who have already checked baggage, passed security and obtained a boarding pass — to a later flight.
Fortunately, this game of musical chairs is rare.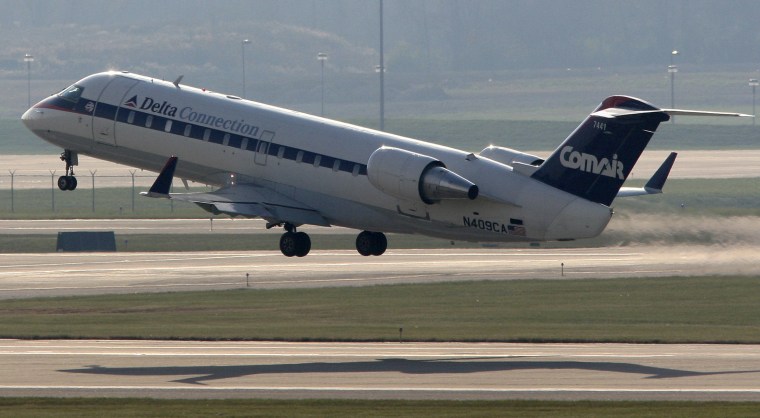 "It's about as common as a shark attack during a rainy day at the beach," says Brancatelli. "Out of all the evils perpetrated by airlines, it ranks about No. 26."
bumped the least amount of fliers in 2008 — out of 22 million fliers, only 22 were bumped according to DOT data. JetBlue says that it has a corporate policy against overselling flights, claiming that the hassle it causes fliers outweighs the financial gains. To avoid losing money on no-shows, JetBlue requires payment at the time of the reservation.
Bumping is bad for both the airline and the passengers. "No one wants to see it happen," says Seth Kaplan, a managing partner at industry publication "Airline Weekly". "The customers get delayed, and it hurts the airline's image."
But overbooking seats might actually benefit the consumer. "Any empty seats are spoilage," Kaplan says. "If the airlines don't maximize their revenues, the passengers end up paying higher fares."
The practice might help lower fares, but this is small consolation to the person who gets bumped. That's why it's important for passengers to know their rights. If bumped because of an oversold flight, you are guaranteed the next open seat on a later flight — possibly even on a competitor. You are also entitled to cash. Last May, the DOT doubled overselling penalties —airlines must pay up to $400 to a customer who has to wait 1 to 2 hours for an alternative flight, and up to $800 for a delay of longer than 2 hours.
Sounds generous but beware of ever-expanding loop-holes.
"You used to have to check in at the gate 10 minutes before the flight to be entitled to bumping compensation," says Katie Hanni, 48, the executive director of Flyersrights.org. "Since the penalties have doubled, the airlines have increased that time to 30 minutes."
Hanni, who claims to have been bumped in the past, looks to take passenger rights a step further. After a July 2007 meeting on the topic with U.S. Sen. Barbara Boxer, both Boxer and U.S. Sen. Olympia Snowe introduced the Airline Passengers Bill of Rights to Congress last January. The bill — which will prevent airlines from stranding passengers on grounded planes — is still pending.