/ Source: The Associated Press
Vice President Joe Biden pledged Friday to close gaps between family incomes and college costs to make higher education a reality for more young people.
Biden told a town hall-style meeting in St. Louis that he'll ask the Treasury Department to look into how to make family college-savings plans more effective and reliable. Many families save for college in tax-deferred plans known as 529s, and Biden said the government will consider options such as low-interest loans against those plans to help families pay for school.
"We're going to make a series of investments, investments in our families and our students," he said, noting the Obama administration's efforts to improve tax breaks for families and increase need-based grants for the middle-class and poor.
Some 300 people attended the meeting at the University of Missouri-St. Louis, where Biden was joined by fellow Democrats Jay Nixon, the governor, and Sen. Claire McCaskill, D-Mo., as well as Education Secretary Arne Duncan.
Biden hosted the meeting as part of the work of the Middle Class Task Force that he heads at President Barack Obama's behest.
To make college more affordable, the administration is seeking to extend its American Opportunity Tax Credit beyond 2010. The credit can be claimed for four years of college, running up to a maximum of $2,500 a year. It already has worked to increase funding for the Pell Grant program, which provides need-based assistance, but wants a system in place so money would automatically go to the program every year.
Biden said work should be done to consolidate student loan programs, to cut out private student lenders who currently act as middlemen on many federal student loans. He said that could save $94 billion over a decade. "We can take the $94 billion and reinvest it in more loans, more grants and more access to college," he said.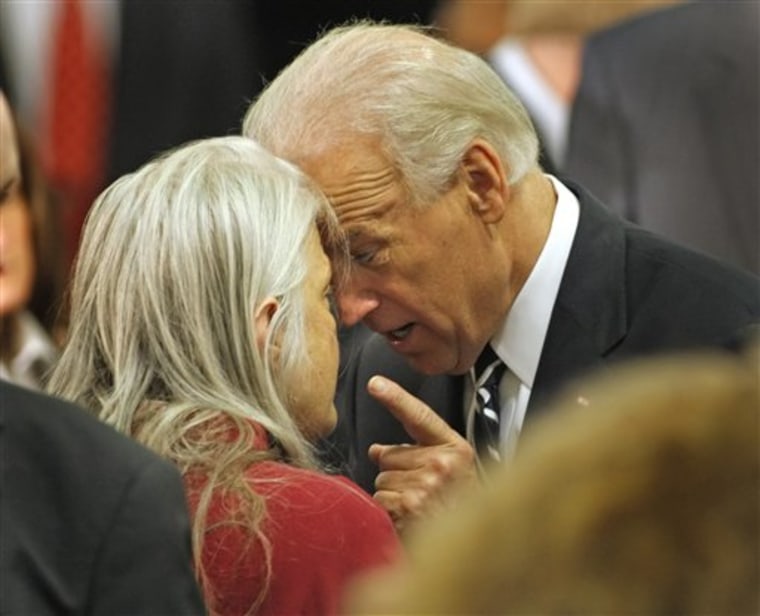 Biden said some critics say the administration is overreaching, spending too much and trying to take on too much. He said the nation must move forward as it tries to fix the recession.
Sen. Kit Bond, R-Mo., said in a written statement that he has been hearing from many Missourians in recent weeks who believe Obama and the Congress are spending too much money at a time when Americans are tightening their own belts.
"I hope while in Missouri, Vice President Biden listens to Missourians who are saying loud and clear that the administration's budget taxes too much, borrows too much, and spends too much," he said.
Biden arrived in Missouri on Thursday, visiting Whiteman Air Force Base and a transformer factory in Jefferson City, where he highlighted benefits of the federal stimulus package.