/ Source: The Associated Press
President Barack Obama says America's estranged relationship with Cuba will not change overnight. It just did — at least in tone.
Immersed for the first time in Latin American politics, Obama now is assessing whether a genuine change in relations with the isolated communist island is already under way.
While no one is talking of fundamental reform in Cuba soon — and overtures by no means lead to actions — it is clear that U.S. dealings with Havana have changed.
The White House on Saturday sought again to insert some wait-and-see caution as analysts debated whether a sudden conciliatory flurry was a breakthrough or bluster. As Obama talks of overcoming "decades of mistrust," now he must calibrate how to handle something else: hope.
When the week started, Obama lifted some travel and telecommunications restrictions on Cuba; before it ended, he was hearing Cuban leader Raul Castro admit "we could be wrong" and having chummy moments with the man he once branded a demagogue, Venezuela's Hugo Chavez.
U.S. wants real change in Cuba
At the Summit of the Americas here in Trinidad and Tobago, Cuba is the only nation in the hemisphere banned from taking part because of its undemocratic rule. The White House had called Cuba "the odd man out" and wished openly it would not dominate the event.
Turns out, Cuba's shadow is everywhere. Obama got another earful about it on Saturday when South American leaders praised him for the steps he's taken but pushed him to do even more — lift the 47-year-old U.S. trade embargo against the nation.
"We will continue to evaluate and watch what happens," said Obama spokesman Robert Gibbs. "We're anxious to see what the Cuban government is willing to step up to do."
So, too, are many anxious to see what Obama will do.
"I think both governments are saying, 'We're ready to walk through the door. I don't think they know where they want to go yet,'" said Julia Sweig, a scholar on the U.S.-Cuban relationship and director of Latin studies at the Council on Foreign Relations.
"I think this is much closer to a major breakthrough than it is to the same old, same old," Sweig added.
The U.S. wants what it considers real change — human rights, free speech, free markets, democracy. Asked if the ball is still in Cuba's court, Gibbs said: "It always has been."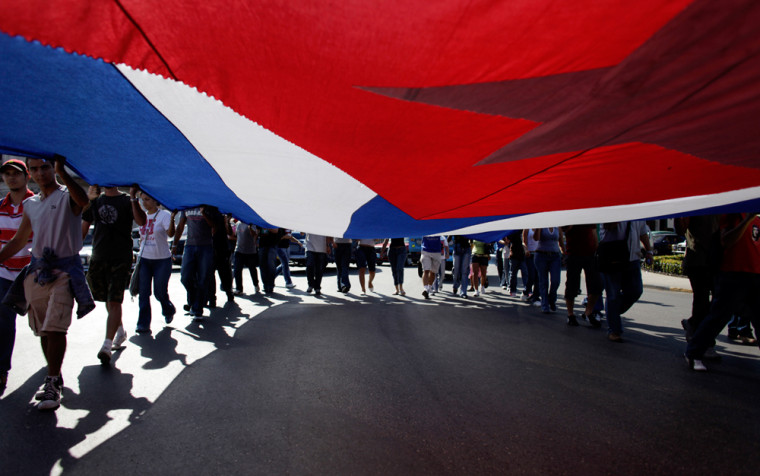 Sweig said both nations have ways to show they are, in fact, moving beyond nice words.
Castro can allow Obama's new policies to happen without putting up obstacles. The U.S. can agree to pursue communication with Cuba, perhaps through working groups of both countries that would take on issues that matter to them both, like security in the region.
Anti-Castro sentiment waning
Obama may be better positioned to make inroads than any chief executive in recent history, in part because of factors beyond his control. The Cuban-American politics that have long driven policy toward the island nation are in flux.
Fidel Castro, the decades-long nemesis of the United States and brother of the current leader, is in his twilight. And Latin America leaders are trying to come to terms with an American president who is popular even among their own Central and South American constituencies.
The Florida-based power of anti-Castro sentiment is on the wane.
An older generation of Cuban Americans is being replaced by their sons, daughters and grandchildren and by newer immigrants more interested in retaining or re-establishing ties with the old country than in punishing its aging leader.
When Obama lifted restrictions on travel and remittances for people who have family in Cuba, he wanted signals of good-faith back from his Cuban counterpart.
Raul Castro responded within hours. He said he is ready to discuss "human rights, freedom of the press, political prisoners — everything." And in a statement that nearly stunned the White House, he said: "We could be wrong. We admit it. We're human beings."
Then U.S. Secretary of State Hillary Rodham Clinton welcomed Castro's overture and said "we are taking a very serious look at how we intend to respond." The leader of the Organization of American States even said he'll ask his group to invite Cuba back.
And in the middle of it all is Obama, who was born the year the U.S. severed diplomatic ties with Cuba. He wanted to recast the relationship. It appears he did.
As Sweig said: "This is longest Cuban news cycle since the missile crisis."