/ Source: The Associated Press
Three cars bedecked in flowers and ribbons swerve around blast walls and honk through police checkpoints before screeching to a halt outside a Baghdad hotel. A brass band runs up to a shining sedan as the bride, struggling with her gown, emerges.
Confetti and rosebuds are showered over Maysa Monem and her new husband as women ululate — while inside the Sheraton's ballroom, 300 friends and family wait, along with a luxurious, 10-layer wedding cake.
The long stretch of relative calm in Baghdad is sparking a marriage boom.
Couples who put their lives on hold amid Iraq's turmoil are rushing to make up for lost time. Not only do more people appear to be hitching up, newlyweds are throwing lavish wedding parties like those that were once a mainstay of the Baghdad social scene.
During the darkest days of Iraq's sectarian violence in 2006-2007, when Shiite militias and Sunni insurgents were killing members of the rival sects, many couples put off marriages. Families were too busy mourning deaths or just dealing with the worries of day-to-day life in a war zone. And with Baghdad people hunkered down in fear, just finding a potential spouse became more difficult.
Weddings did go on, but they were small, quiet affairs to avoid notice. Wedding parties were a favorite target for suicide bombers.
Now with violence down 70 percent from a year ago, the freeze on personal lives is thawing. While comprehensive statistics aren't available, reports from a few local authorities suggest weddings have jumped dramatically.
Honeymoon plans
Shiite imam Ahmed Hirz Al-Yasiri says he certifies marriages for up to 20 couples a day in the Shiite district of Sadr City, twice the rate over the past three years. Ali al-Ukaili, a judge in a Baghdad municipal court, says he gets up to 100 marriage applications a day, compared to 70 only a short time ago, an increase he attributes to the greater security.
And newlyweds again want to make a splash. Hotel and social club owners are rushing to meet demand, and ballrooms are booked months in advance, at up to $6,900 a night — a fortune in Iraq. Sheraton manager Mustafa Abdullah says the hotel now hosts about 20 weddings a month.
Big weddings are just one of many signs of life on the rebound in Baghdad amid the calm. People no longer cower at home after nightfall. Restaurants stay open later and nightclubs have sprouted in more secular districts. Couples hold hands on Abu Nawas Street, a popular promenade along the Tigris River that had been abandoned amid the violence after the 2003 U.S. invasion.
At the Sheraton, Abdullah recalls a newlywed couple scrambling out of their honeymoon suite, wrapped only in bedsheets, when the hotel and the next-door Palestine Hotel were attacked in a suicide bombing in 2005.
Security remains a concern. With U.S. troops set to pull out of Baghdad and other cities by the end of June, the blast walls zigzagging through the capital will come down, leaving hotels like the Sheraton more exposed. There has also been a series of deadly blasts in Iraq recently, most targeting security forces north of Baghdad.
"But war or peace, the young are young, they want to get married," said Monem Abdul-Rahim, the father of the newly married Maysa.
"We have been able to invite people from all over Baghdad to come. This wasn't possible before," he said, referring to the days when moving about in the capital was a risky venture. "Life is good today. Tomorrow it could get bad again."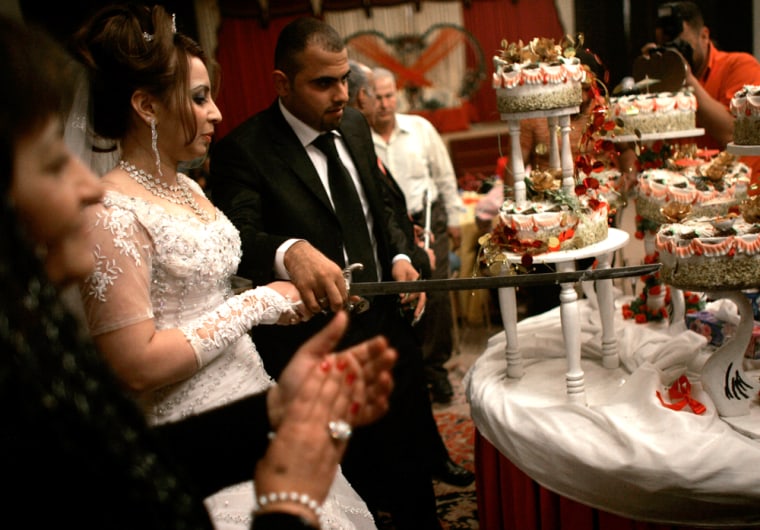 Icing on the cake
In the Sheraton ballroom last week, Maysa, a 24-year-old government clerk, and her husband, Rahim Nouri, a 23-year-old technician at a newspaper, sat on fake Louis XV armchairs on a stage before a huge heart-shaped wreath.
The reception's climactic moment was the cake, done up with papier-mache gold flowers and plastic swans and slathered in white-and-pink icing — courtesy of one of Baghdad's best-known pastry shops. The couple cut the cake with a ceremonial sword, then toasted each other with champagne glasses filled with Pepsi, in line with Islam's ban on alcohol.
Of course, Baghdad's troubles intruded: The lights suddenly went out during the bride and groom's solo dance, one of daily power outages that plague the capital. The couple paused until the hotel generator kicked in. Then the music came back on, and the male guests intertwined their arms and broke into a chobee, a traditional Iraqi dance.
Weddings are even more elaborate farther down the street at the Alawiya Club, the social club for Iraq's top elite — or what is left of it.
Membership plummeted from 50,000 before the 2003 U.S.-led invasion to 5,000 as members fled the country and the club shut down. It reopened last year, at first only for a few hours in the afternoon. Now it's open until 11 p.m. and plans to extend to midnight by year's end.
And weddings have resumed at the club.
Here, receptions are smaller than at Baghdad's hotels — but classier. The flowers and lace on the wedding decorations are real, and the three-course meal includes trays of Iraqi delicacies along with an array of grilled meats.
But even for the Alawiya, with its grass lawn and terraced patio, the dangers of Baghdad are only a mortar away.
On Saturday night, suspected militants fired mortar shells into the protected Green Zone, just across the Tigris from Alawiya. The back-to-back explosions reverberated across the river and abruptly scuttled a wedding party at the club as guests hurried home.