/ Source: The Associated Press
A university student beaten into a coma in a case that reached the highest levels of the U.S. government said Wednesday that although he's now speech-impaired, he doesn't hate the young Serb facing trial in the vicious attack.
Flanked by his parents and doctors, Bryan Steinhauer spoke in public for the first time since he was beaten nearly to death last May. The suspect in the attack near Binghamton University is former college basketball player Miladin Kovacevic, who jumped bail and fled to Serbia.
Steinhauer, 22, said at a news conference at Mount Sinai Medical Center that he's "just a normal guy stuck in a bad situation who kept a positive attitude and kept my head held high."
"Thankfully, I'm not full of hate," Steinhauer said. "If anyone could have felt bad for themselves and sulked all day, it could have been me.
The 6-foot-9, 260-pound Kovacevic was accused of assaulting the 130-pound Steinhauer in a bar, repeatedly kicking him in the chest and head.
Witnesses told police that the two men had exchanged harsh words after Steinhauer danced with the girlfriend of one of Kovacevic's friends.
The case strained relations between the United States and Serbia. Hillary Rodham Clinton intervened, first as U.S. senator and later as secretary of state, to make sure Kovacevic was prosecuted.
Kovacevic was out on $100,000 bail in June when he apparently used an illegally issued passport from the Serbian Embassy to flee to Serbia. The Serbian government has paid the Steinhauer family $900,000 as part of a deal to prosecute Kovacevic in Serbia.
Waking up with skull fractures
Steinhauer awoke from his coma in August, three months after the beating that left him with skull fractures and a severe brain injury.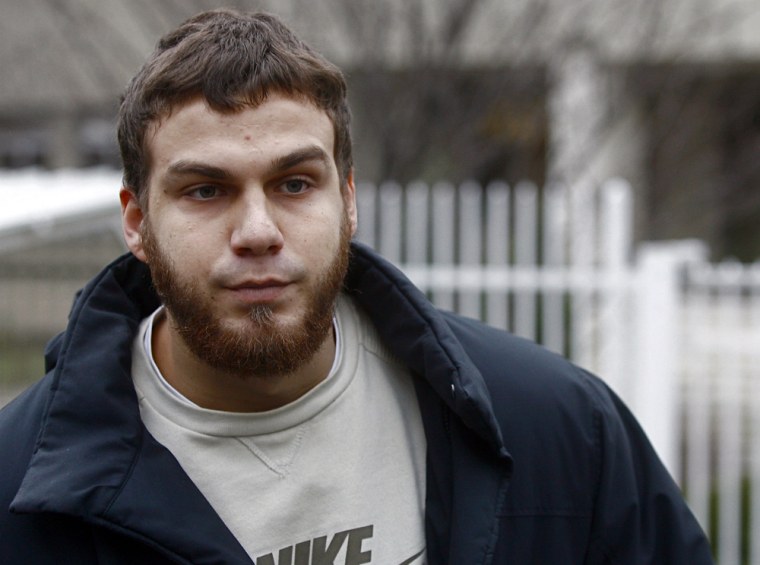 He weighed less than 100 pounds, could not speak or walk, and was fed through a tube, doctors said Wednesday.
"He had hemorrhages and contusions affecting almost every lobe of his brain," said Dr. Brian Greenwald, who led the rehabilitation.
But the young man surprised even his doctors, working hard to overcome the almost impossible odds.
Crisply dressed in a suit and tie and smiling, he thanked his medical team and his parents, planting a kiss on the cheek of his mother, Marlene Steinhauer. She sat at his side along with his father, Richard Steinhauer. Bryan is their only child.
He answered reporters' questions, he spoke haltingly and with difficulty, but his thinking appeared to be clear and he managed to joke throughout the news conference.
Doctors said they don't know exactly how much more progress he would make in his rehabilitation, but "the sky is the limit," said Dr. Kristjan Ragnarsson, head of rehabilitation medicine at Mount Sinai.
More on Miladin Kovacevic