/ Source: The Associated Press
Firefighters responded twice to a weekend yard fire that South Carolina officials believe rekindled four days later, igniting a massive wildfire that has destroyed 70 homes and continued to char 31 square miles near Myrtle Beach on Friday.
Officials said homes were still being threatened by the flames but late-day winds had yet to cause it to spread farther. No injuries have been reported but damage estimates rose to $16 million for the three-day blaze and were expected to increase.
The man being fined for setting the yard fire told The Associated Press that county firefighters who responded twice last Saturday to his small blaze should take the blame, not him. He wondered how he could be faulted for the fire re-igniting Wednesday, when it began a raging trek along the coast destroying the homes, most located about 10 miles from Marc Torchi's home.
"It was four days later," said Torchi, a 39-year-old landscaper. "How can they even come up with something like that?"
Torchi's wife said the family has received death threats since officials announced he would be fined for the yard fire and linked it to the state's largest wildfire in more than three decades. No criminal charges have been levied.
Trading blame
Forestry Commission Forest Protection Chief Darryl Jones said it's common for brush fires to appear to be out but then smolder underground and rekindle. But he said blame belongs to the person who set it.
"The fire department didn't start the fire," Jones said. "Someone lit it and somebody let it escape and that's where this all started."
Seventy homes destroyed as residents and tourists flee
Todd Cartner, a spokesman for Horry County Fire Rescue, initially said his agency did not respond to Torchi's yard fire and later said there are too many potential causes of the massive wildfire for the initial yard blaze to be linked to it.
"We are not associating this fire on Saturday as the same fire on Wednesday, even though it's in the same area. We got no calls from Saturday to Wednesday," Cartner said.
The blaze has scorched 20,000 acres since Wednesday, becoming South Carolina's worst wildfire in at least three decades.
South Carolina forestry officials say a coastal wildfire that has burned 31 square miles is now 80 percent contained.
State Forestry Commission spokeswoman Holly Welch said Friday night that firefighters had "a good day" building firebreaks and ridding the area of underbrush that could fuel the blaze.
Welch says firefighters are still worried about a few hotspots, but hope lighter winds overnight will help them even more.
Welch warns that winds are expected to pick up Saturday and says even one ember drifting past the firebreaks could send the fire back toward homes.
Damage toll rises
Eqarlier, Gov. Mark Sanford toured the area and said damage estimates had risen to at least $16 million. He said people shouldn't be looking for someone to blame, but added he would call for a review of the fire once it is out.
The fire started several miles inland and has cut a path four miles wide through tinder-dry scrubland but skipped its way through housing developments, destroying some homes while leaving their neighbors untouched. The blaze started near subdivisions and golf courses that have been carved from forest and swamps over decades. Some sections of the coastal plain have boggy bottoms where peat, if it catches fire, can burn for days or weeks.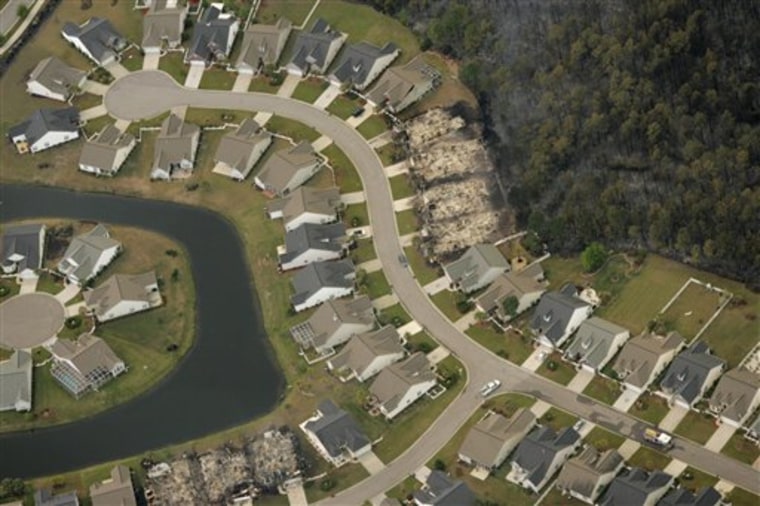 It got within 1 1/2 miles of Route 17, the main coastal road that links beachfront towns and is lined with fast-food restaurants, beachwear stores and trinket shops.
Torchi, a resident of Conway, is being fined about $760 for starting the weekend yard blaze, officials said.
Neighbors to the defense
Neighbors said the blame coming his way was absurd.
"They didn't come in with a bulldozer or anything," said Al Whittaker, 44. "Sunday, Monday and Tuesday goes by. How come nobody comes by and checks? ... How is this thing coming back on him five days later? It's one of the more twisted, insensible things I've heard."
A similar re-ignition happened in Horry County in February 2008, when a Saturday trash fire rekindled Sunday and eventually spread to 240 acres, causing more than a quarter-million dollars in damage. Fire officials had believed they doused that blaze, but wind gusts helped it re-ignite and spread.

Torchi said Friday that he has burned yard debris like pine straw in his back yard every weekend since moving to South Carolina from Staten Island, N.Y., seven years ago. He said the blaze got away from him April 18, but he couldn't have gone to bed that night if he thought firefighters hadn't extinguished it.
More on: