EPPELHEIM, Germany — With its tidy villages, orderly cities and atmospheric scenery, there are few outward signs that the German state of Baden-Wuerttemberg, home to historic Heidelberg and the famed Black Forest, is a victim of the current economic crisis.
But with the auto industry here hit especially hard — this is the home of Mercedes-Benz — things are tougher than they have been in decades. Unemployment is up 70 percent in the past year (albeit to a relatively low 5 percent total) and many employees have been forced to cut down their hours.
Misery below the surface, perhaps? Not at the bustling Fuerstenberger home just outside Heidelberg, where little has changed for the family's four children despite neither parent currently working.
"If we were in Detroit, we could worry every minute," said Sarah Fuerstenberger, 37. "But here, we're safe because of the system."
While economic forecasts are just as dire on this continent as in the United States, Germany's citizens — and, indeed, most across western Europe — can count on a broad government safety net that includes generous unemployment checks, universal healthcare and inexpensive university education to tide them over.
"The German government is really good about taking care of people; we know we won't be starving one way or another," she added.
With "Jobs Bloodbaths" in the headlines, tax money being used to bail out private banks and iconic car companies such as Britain's Mini, France's Renault and Italy's Fiat laying off thousands, news here is similar to that across the Atlantic. Unemployment is also the same — around 8.5 percent across Western Europe and the United States.
However, Europe fiercely resisted President Obama's calls for it to increase its stimulus programs last month at the Group of 20 industrial and developing nations summit in London. That's because leaders here argue that their existing social welfare initiatives are already keeping people afloat as well as stimulating demand.
Of course, these ongoing European programs come with a cost — higher taxes, which critics say can sap economic vitality.
Fewer hours, same pay
At the Fuerstenberger home, where each of the four children has their own bedroom and Wii Fit and Mario-Kart are in near-constant play, the safety net certainly appears intact.
"I hadn't even thought of the word 'recession,'" said Sarah, a Detroit native who has lived in Germany on and off since college.
Sarah, a technical writer and translator, met her German husband, Jan, while working at Volkswagen's North American headquarters in her home city six years ago.  She and her two children from a previous marriage soon left the United States for his hometown of Eppelheim, where the couple added two more kids to their brood.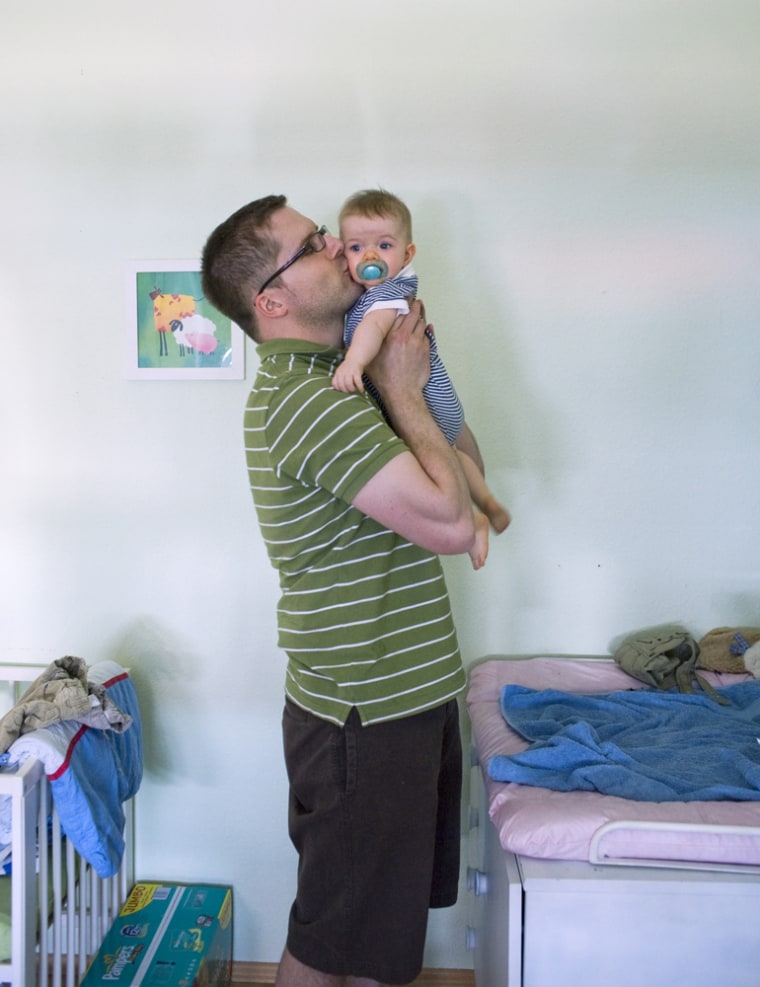 Jan, a 32-year-old a mechanical engineer who is on paternity leave before taking up a new job offer, and Sarah, who is on maternity leave from her career at software giant SAP, support all four children without help from her ex-husband.
Short-time option
Beyond the usual unemployment and health benefits, the German government has employed some creative measures to combat the recession.
At the end of last year, for instance, Jan's former employer, Borg Warner, which makes friction plates for automatic transmission systems, initiated kurzarbeit or short-time work.
"Different departments worked eight or nine hours less than the usual 40-hour week," Jan said.
Fortunately for the family, "closing days" and even "closing weeks" did not carry the same monetary losses as they would in Michigan.
"The company pays the hours you worked and the gap that's between the actual hours and the usual hours is paid by the government," he said, as the couple enjoyed a quiet evening in after putting the kids to bed.
"For us this year, it was good," Sarah added. "We had more time and it wasn't a cut in pay."
'All are happy' with kurzarbeit
The policy of kurzarbeit, which allows the government and companies to devise 18-month plans to cover most or all pay lost to reduced hours, has kept some unemployment at bay. In particular, it has allowed manufacturing giants like Siemens, Volkswagen and BASF to cut their production levels to match lower demand without having to initiate mass layoffs like those carried out across America's Rust Belt.
"It's a good instrument to use to react to the recession and still keep our good, qualified workers," said Georg Haux, a spokesman for Siemens, which had 7,000 employees in kurzarbeit in March. Haux said that with the government subsidy, the company guaranteed workers 85 percent of their normal pay no matter how drastically their hours were cut.
Across the country, more than one million people will be in kurzarbeit by summer, up from 50,000 people a year ago, according to Karl Brenke, an economic adviser at the German Institute for Economic Research.
"Nobody is against it  — not the trade unions, not the [workers' councils], no political party. All are happy," he said, adding that employees were relieved to keep their jobs and that the measure allowed companies to react quickly if production levels rose again.
Even with the policy, jobless numbers have gone up. But, despite the 70 percent rise in unemployment over the last year, only one in twenty people in this relatively prosperous state is currently out of work.
"In the case of unemployment, people have a higher income than the same group of people in the United States," said analyst Brenke.
Paternity leave
Worried that kurzarbeit was a sign of worse things to come, Jan decided to go back to a former employer, KST-MotorenVersuch, that had been eager to rehire him. To widen his employment opportunities, he decided to leave the role of test engineer and go into sales — but not before taking more than two months of elterngeld, government-paid parental leave.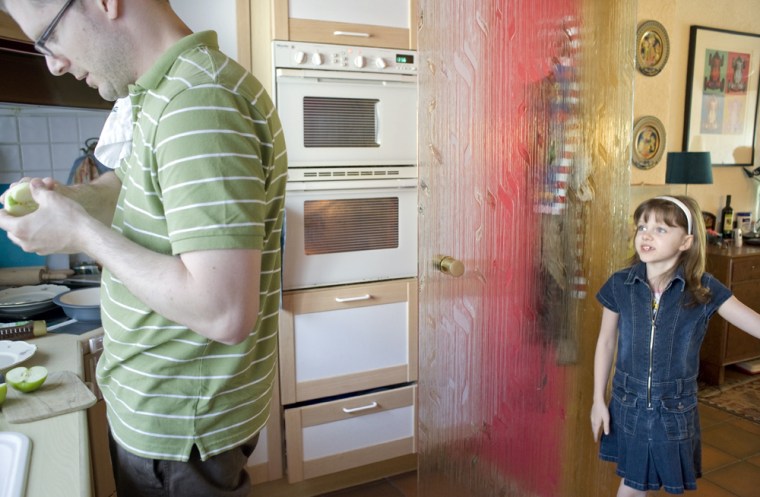 These days Jan can often be found in the kitchen, keenly following recipes from celebrity chefs, making chocolate chess sets with 9-year-old Emma and baking apple pies. He changes diapers, runs after speedy toddler Olivia, and appreciates his one-on-one time with each of his children.
In Germany, couples can divide 14 months of paid parental leave between them. Beyond that, a mother's job is secure for three years per child.
"Because we had two (in quick succession), I could take six years off and have a safe job," said Sarah, who will probably stay home until 8-month-old Noah is three.
To boost the birth rate, all families receive around 150 euros ($197) per child per month until they are in their twenties. And, under Chancellor Angela Merkel's stimulus package, families will get an extra one-off 100 euro ($131) child benefit this July.
The benefits influenced the Fuerstenbergers' family planning even before the crisis.
"I think if we were in the States, we may not have … and it sounds terrible … had the opportunity to have a fourth child that quickly or be sure we could afford it," Sarah said.
Now, hearing about Detroit's woes and her dad's fears for his General Motors' pension, she takes added solace in the financial security offered in Germany.
But, Sarah said, even with the economic security provided by the state, government-funded health insurance is the biggest relief for the family.
Universal health care
Unlike the tens of thousands of Americans who have lost their coverage along with their professions, the Fuerstenbergers can access health care irrespective of their employment status.
"We don't pay anything for any of (our) medicines, for doctor's visits, nothing," Sarah said, adding that she worried about her sister in Detroit, who had had several periods without health insurance.
"People shouldn't become poor if they need health care," said Joe Kutzin, a World Health Organization adviser, adding that a 2005 study published in the journal Health Affairs found that medical causes were at the root of about half of personal bankruptcy cases in the United States in 2001.
It's ironic, he said, given that Americans spend more per capita on healthcare than anyone else in the world.
"Despite our high levels of expenditure, the U.S. simply does not do as well as many other high income countries in preventing deaths from causes that are amenable to medical treatment," he said.
Highlighting the issue, a WHO report released in 2000 ranked the systems of 191 nations, putting France at the top and the United States down at number 37.
'Grateful' for health care, education
At their pretty row house surrounded by gardens and horse paddocks, Jan's sister, Susanne Fuerstenberger, a doctor, recalled a visit to New York City.
"It made a big impression on me," she said of seeing a young man begging on the subway with a sign saying that he needed insulin.
"I'm grateful that here I don't have to send someone away and know that they won't get the (long-term) treatment they really need."
As a profession, Susanne said that medicine was not as well paid in Germany as in the United States. She pointed out, however, that Europe's doctors do not have six-figure student loans to pay off.
When the 35-year-old studied medicine here, all students paid the equivalent of just 100 euros ($131) a semester. They now pay up to 500 euros ($657).
"Education must be equal for everyone regardless of the size of their wallet," she said. "It's one of our basic civil rights in the constitution."
Due to government subsidies, tuitions in Western Europe are considerably lower than in the United States, with many universities — especially in Northern European countries — not charging students anything, and even top-notch U.K. institutions such as Oxford and Cambridge capping their fees at 3,000 pounds ($4,374) a scholastic year. (Yale and Harvard charge around $35,000 for tuition.)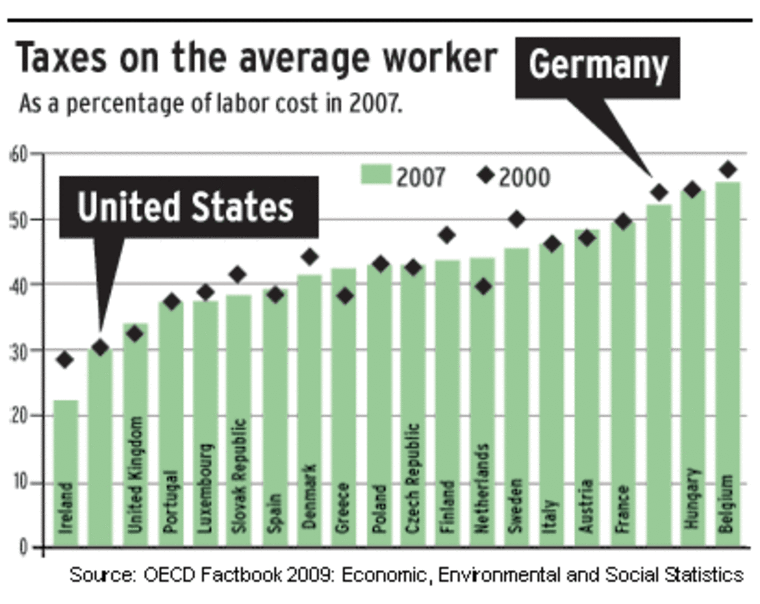 Paying for privileges
While Europe's social safety net is softening the slump, it does of course have to be paid for.
According to the OECD, the total tax revenue as a percentage of GDP is 28.3 percent in the United States, compared with 36.2 percent in Germany. 

The cost can be seen in workers' paystubs. "For example," said economic analyst Brenke, "a single worker with an average salary — about 16 euros ($21.31) per hour in fulltime work — pays about 52 percent for taxes and the social security system."
This compares to an average of 30 percent in the United States.

With her family paying roughly that amount, Sarah said, "sometimes I think it's not worth it when I look at what ends up in my bank account, but in times like these, I appreciate it."
More on: Unemployment | Health insurance | Parental leave | Taxes | Germany