It's no wonder World War II is a popular backdrop for video games, what with all the bullets flying, the Nazis marching and the international air thick with drama and intrigue. War is hell, but it sure as hell makes for some compelling storytelling and gameplay.
Believe it or not, a few savvy developers have discovered an even more hellish and heart-pounding backdrop in which to set their games: high school. That's right, these developers have discovered what filmmakers already know: High school is fertile ground for conflict-and-intrigue-laden yarn spinning. Bullets whizzing past your head? Pshaw. Just try surviving cruel cliques, brutal bullies, power-hungry principals and a really embarrassing case of acne.
As Duckie says in the flick "Pretty in Pink:" "Good Morning! Welcome to another day of higher education!"
Speaking of "Pretty in Pink" — someone went and made a computer game out of this seminal '80s high school movie. No really, they did.
As I am wont to do on occasion, I've been revisiting my gloriously tortured teen years by playing video games set in gloriously tortured high schools. (An aside to those of you still living out your gloriously tortured high school years: Hang in there.  It gets better, I swear.)
"Pretty in Pink," "LIT" and "Dangerous High School Girls in Trouble!" — these games have transformed the hormonal spectacle that is pubescent academia into the meat and potatoes of some interesting gaming (for the most part). And I, for one, am happy to know that something good can come out of all that be-zitted suffering.
Richies vs. Freaks
But first, let me just say that I pity those of you who didn't go to high school in the 1980s. The hair. The clothes. A significant portion of the music. It was all so deliciously awful! Seriously, you missed out.
Thankfully one man was able to capture and preserve the experience for all eternity. That one man was filmmaker John Hughes.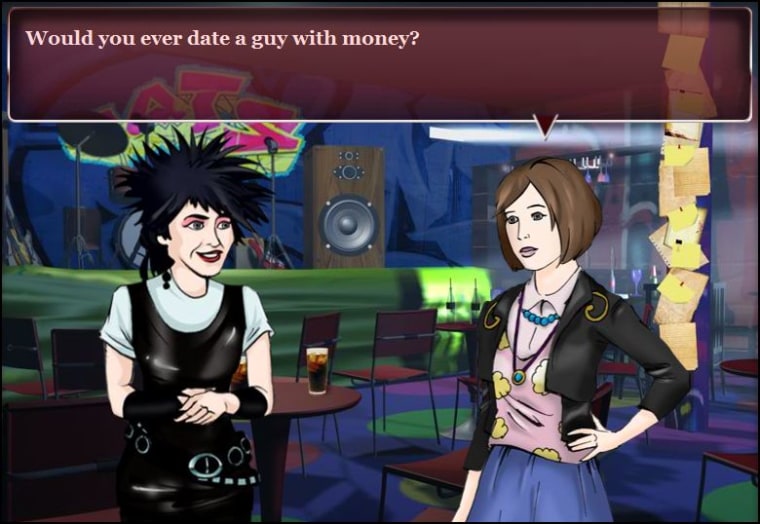 Hughes' movies — "Sixteen Candles," "The Breakfast Club," "Pretty in Pink" — specialized in exploring the highs and lows of coming of age during the decade of acid-washed jeans and permed hair. He turned tales of teen angst into movies that were heartfelt and humorous all at the same time. And for those of us who were actually living the life, oh how these films spoke to us.
Alas, the vast majority of movie-to-game adaptations are a disappointment to fans … and the new "Pretty in Pink" adaptation is no different.
"PiP" is one in a trio of high school-based casual games based on high school movies launched by Legacy Interactive (the other two games are based on "Clueless" and "Mean Girls"). And, unfortunately, it's the biggest disappointment of the high school games I've played, like, ever.
As you may recall, "Pretty in Pink" tells the story of Andie (Molly Ringwald), a poor-side-of-the-tracks girl who falls in love with a rich-side-of-the-tracks guy named Blane (Andrew McCarthy). The movie dabbles in themes of love, friendship, the destructive nature of socio-economic hierarchies and the fine art of seamstressing.
You may also remember that Andie ends up with Blane as the film closes … rather than with her adoring and dapper-dressing guy pal Duckie (Jon Cryer). For many of us, this seemed like a totally laaaaaame way to end things since Duckie was so so SO much more clever, interesting and awesome than Boring Blane.
And here lies the only reason to play "Pretty in Pink" — at long last, you can change the way the story ends. Blasphemous? Quite possibly. But I prefer to think of it as righting one of history's great wrongs.
"Pretty in Pink" is your basic hidden-object/puzzle game, a casual game that revisits the movie's yarn while tasking players with finding lists of items hidden within still images. Sprinkled between the seek-and-find scenes are various mini-games — puzzles, logic games and memory tests.
But as casual games go, this one is mediocre at best. The seek-and-find scenes feel cluttered rather than carefully crafted and the mini-games are not particularly unique. Meanwhile, the music and dialog is a shadow of its former glorious self.
In the movie, Duckie said things like: "Drinking and driving don't mix, that's why I ride a bike," and "I'm off like a dirty shirt." In the game, he says things like: "Don't you hate that? When those 'richies' treat us 'freaks' that way?"
Gag me.
That said (spoiler alert), if you find more hidden ducks during the game than you find hidden toy sports cars, then Andie ends up with Duckie instead of Blane at the end … and sweet sweet justice is served at last.
Dangerous high school girl power
As shallow as the "Pretty in Pink" game is, you'll be happy to hear that an independent game called "Dangerous High School Girls in Trouble!" is merrily diving into the deep end.
This smart, stylish, wonderfully original and somewhat controversial computer game was recently nominated by the Writers Guild of America for the 2009 best writing in a video game award (competing against the likes of "Fallout 3" and "Star Wars: The Force Unleashed" — which ultimately won).
"DHSGIT" is a casual role-playing/puzzle game set in a 1920s small town. Here players assemble a gang of feisty high school girls, each with different strengths (popularity, savvy, glamour and rebellion).
"The girls are based on archetypes: the athletic girl, the princess, the organizer, the social butterfly, the party animal, the stoner," says designer Keith Nemitz. "They are all bold, strong-willed, clever, and basically good. They are young women out to make their mark on society."
But "this is the game where good girls get better by being bad," goes the "DHSGIT" motto. That is, rebellion against the stifling social norms of the era is the running theme here and these girls will have to use their wit and their wiles to get what they want.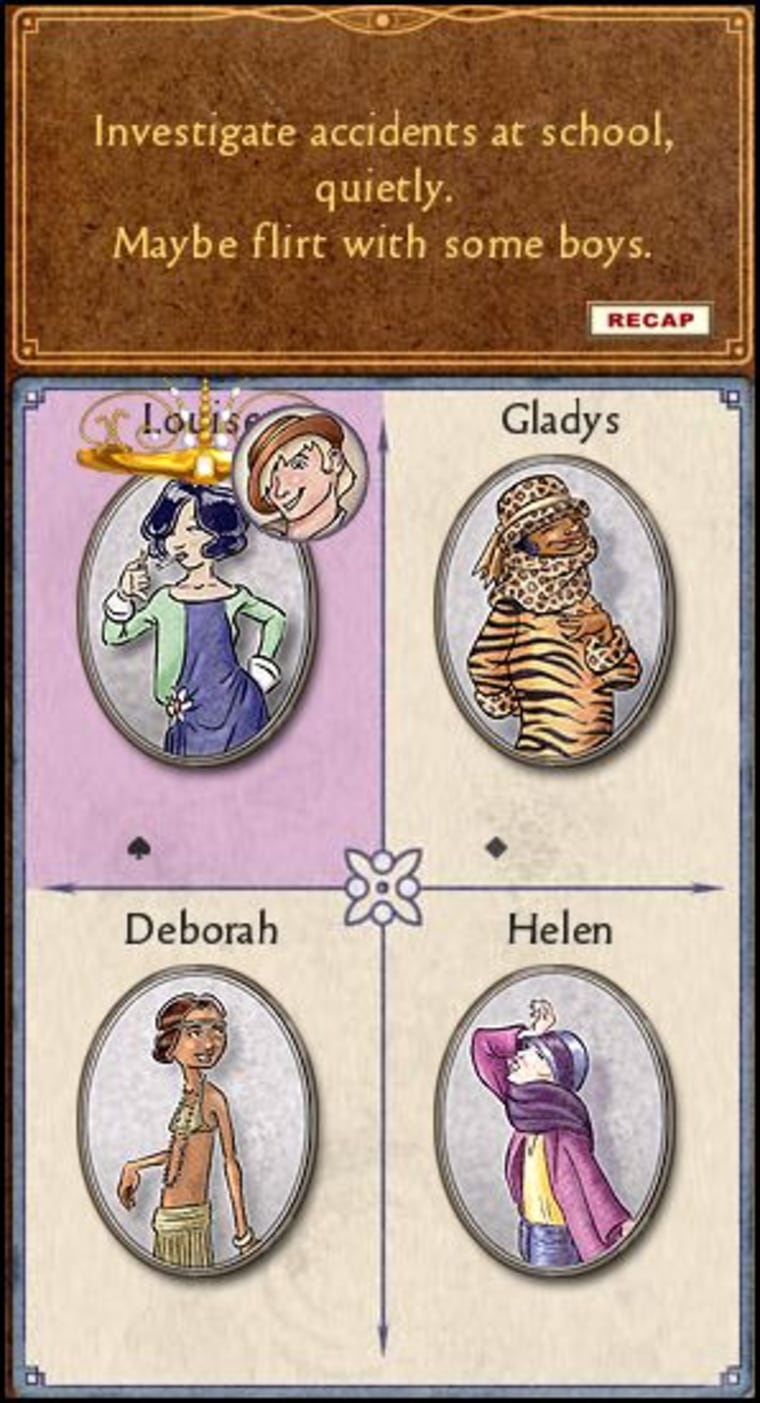 Too bad then that Big Fish Games decided "Dangerous High School Girls" was too dangerous for their online game distribution portal and yanked it. Nemitz says a few players complained about a moment in the game when the girls must save one of their friends from being raped. They do so by shooting the assailant. Gasp! Imagine that — an assault and a shooting in a video game!
The game is still available for download through its own Website and Steam. But a note to squeamish publishers: High school sucks. Sometimes bad things happen. And many of us mature players are happy to see games dig into deeper, darker territory. Speaking of which …
If you thought high school was hell …
... then you'll love "LIT" as much as I do. Because in this game … high school really is hell.
What a beautiful metaphor this action/horror/puzzle game weaves. Available for download on the Wii via the WiiWare service, "LIT" finds emo-boy Jake trapped in his high school, only this school has been transformed into the dark maw of hell — a place where shadowy creatures lurk in pitch-black classrooms and possessed members of the faculty wait to take our hero down.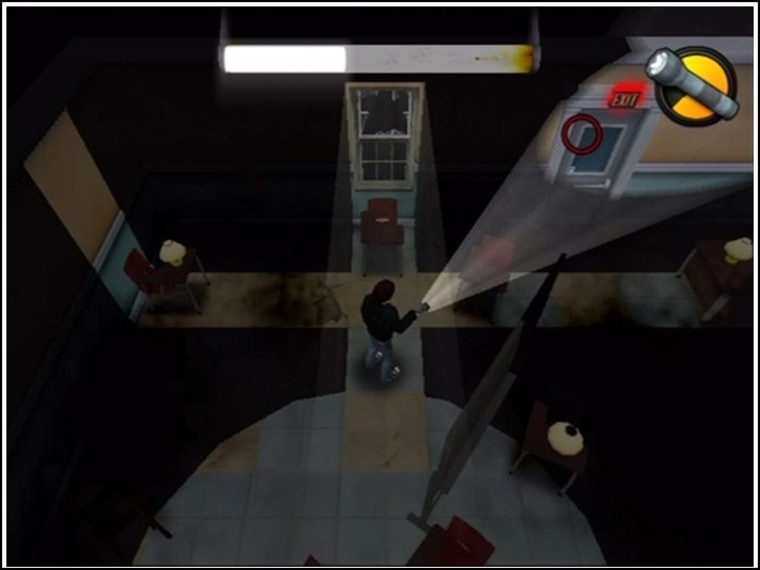 Certainly the moral of the story is one every high school student (and even those of us who graduated long ago) should keep in mind: There is light at the end of the tunnel. It's just up to us to find it.