/ Source: Forbes Traveler.com
For travelers, it was more bad news: According to tracking service FlightStats.com, 2008 marked the fourth consecutive year that flight delays increased, with the average wait climbing to 57 minutes. If anything, the announcement gives beleaguered voyagers yet another reason to have a drink.
Typically, weary air travelers toss back beers in sports saloons, an experience about as relaxing as napping on a highway median. Recently, though, there's been a groundswell of upscale airport bars offering wines with charcuterie, microbrews and even exquisite bourbon.
"We're moving away from uncomfortable institutional lounges with very mundane offerings," says Paul McGinn, president of MarketPlace Development, a Boston-based airport retail developer. "Since people are arriving at airports earlier and experiencing more delays, they're looking for distractions and entertainment."
One of McGinn's favorite havens is Vino Volo—Italian for "wine flight"—a chain of sleek, modern lounges located in cities including San Antonio and Seattle. "They're detached from the hustle and bustle of the airport," McGinn says. "In contrast to many wine bars, the service is not intimidating and caters to people who understand wine."
Another favored wine way station is Cibo Bistro and Wine Bar, situated in the Philadelphia International airport. The Concourse B branch is stunning, outfitted with a 45-foot-long onyx bar, 32 wines by the glass and the convivial atmosphere of the finest Italian trattoria.
Should you prefer beer, Denver's New Belgium Hub Bar & Grill is a microbrew sanctuary. In the eclectic bar decorated with bicycle paintings, travelers sip superb brews from Colorado-based New Belgium, including the easy-drinking Fat Tire amber ale.
At the PDX airport in Portland, Oregon, local brewery Laurelwood has several laid-back branches dispensing their delectable organic brews, such as the caramel-nuanced Free Range Red. For bourbon with the beer, detour through Louisville, Kentucky. There, the Woodford Reserve Bar & Grill serves excellent, oak-aged spirits to customers reclining in leather chairs.
But the boldest experiment in upscale bars is underway at NYC's JFK airport. Jet Blue's gleaming Terminal 5 is a return to jet-set glamour, packed with steakhouses, wine-sipping bistros and luxe lounges better suited to Broadway, not the runway.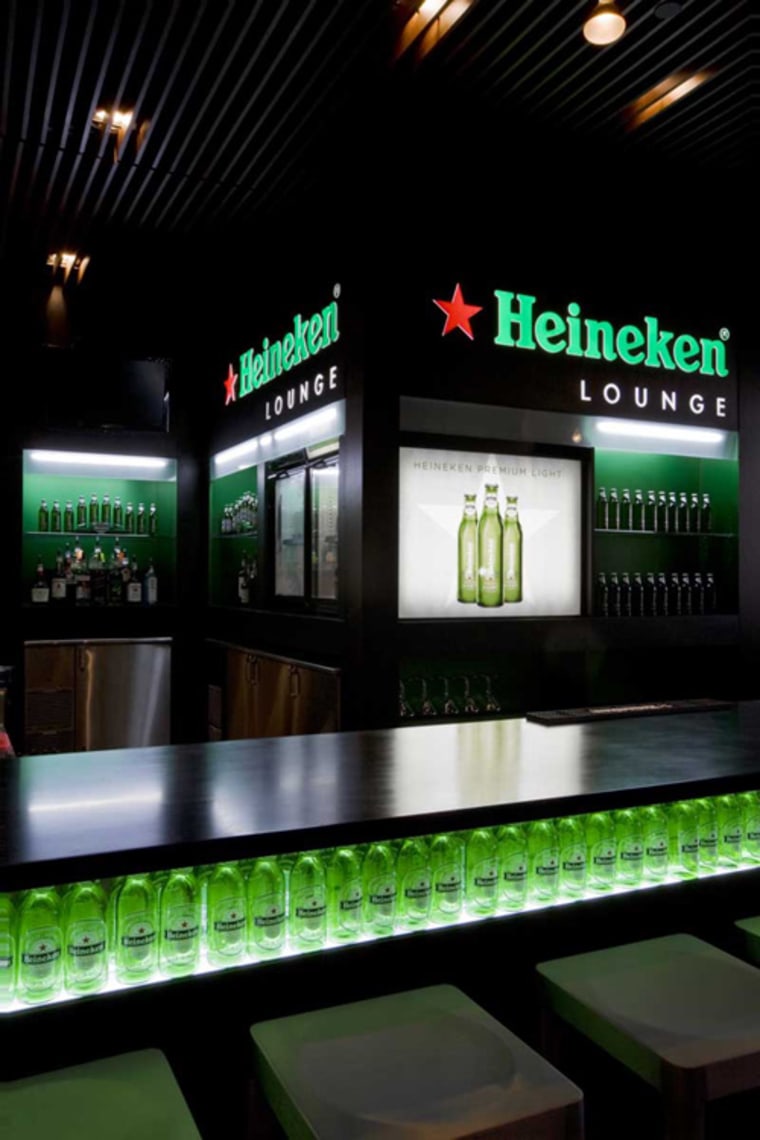 "We want our restaurants and bars to rival the bars and restaurants you see on the street," says Rick Blatstein, CEO of airport food and beverage operator OTG Management. "We want to deliver a want, not a need, to go to the airport early."
To attract early arrivers, the stylish, tin-ceilinged Loft Kitchen & Bar re-creates Manhattan's SoHo cool, serving killer cocktails and comfort food. New York Sports Grill gives the tired sports bar a contemporary tweak, serving 48 beers on tap including local brews from Brooklyn outfit Kelso. And then there's the re:vive bars, located near the gates.
"You can have a nice cocktail and snack and wait for the plane," Blatstein says. "We thought it would take some time to take off—no pun intended—but customers took to it like fish to water."
Furthermore, Blatstein says, the new breed of airport bars and lounges remind passengers that travel should be about pleasure, not hair-pulling anxiety. "People going on vacation should enjoy themselves," Blatstein says. "If you're going to Cancun or the Dominican Republic, why not start the trip with a mimosa or a bloody Mary? It's a great way to start your travels."