/ Source: Tribune Media Services
Ready to party?
Birthday, anniversary, wedding, good report card, Mother's Day, being back home safe after a military deployment ... whatever you want to celebrate on your next vacation, you'll not only get feted like a VIP but also save some significant bucks.

Thank Mickey and Minnie for starting the let's celebrate parade of freebies and discounts now cropping up at hotels and resorts everywhere. Disneyland and Walt Disney World have offered free admission throughout 2009 for anyone celebrating a birthday — a $75 value for adults, a $63 value for kids at Disney World. More than 2 million people have registered on the Web site and while Disney won't say exactly how many people have taken advantage of the offer, clearly the promotion has proved a home run in what has been a very challenging year, drawing everyone from Southern Californian Frances Taylor, celebrating her 100th birthday at Disneyland to the Sandman quadruplets, who drove 24 hours with their family from Grand Rapids, Mich., to celebrate their fourth birthday at Walt Disney World.
"The free deal was why we went, and they felt so special," said Melissa Sandman, whose family of eight saved more than $250 that one day.
Mrs. Taylor and her family, meanwhile, were greeted with 100 balloons, a marching band led by Mickey and Minnie and personalized mouse ears. "It felt like we were at the Academy Awards," said her daughter Maggie Winn.
Especially in these difficult economic times, we need a reason to spend money on travel, and celebrations are still a big motivator, suggests researcher Peter Yesawich, who has studied the trend. In a national survey of some 4,600 people last year, almost three-fourths said they had taken a vacation primarily to celebrate a special occasion and many say they will spend more to do so.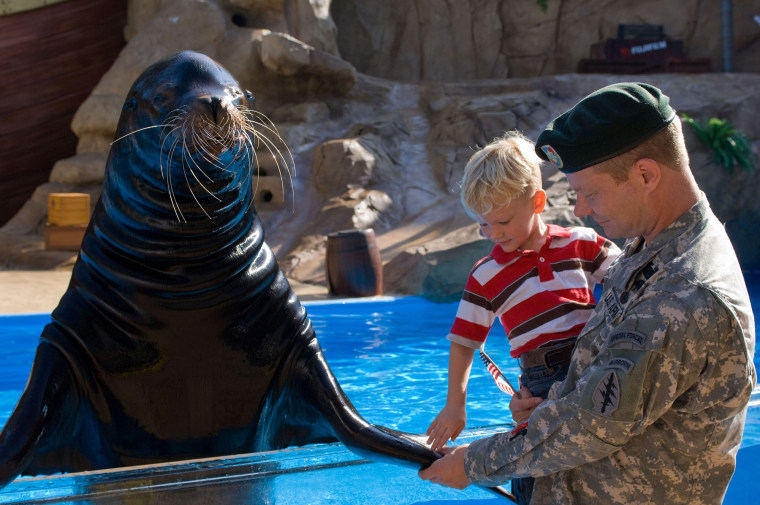 "If anything, guests want to make these vacations even more memorable and special," says Dan Austin of Austin-Lehman Adventures noting that he's off in a few weeks on a parent-child trip to the Galapagos in which the entire boat will be filled with parents and new graduates. Plan a custom trip for 10, he says, tailored to your group, and the celebrant goes free.
"People traditionally turn to family in times of increased uncertainty," Yesawich observes, "And celebration vacations provide a wonderful way to satisfy this desire."
Maybe that's why there are so many "copycats" out there, he suggests.
Take your pick. If you are going to Orlando to cash in the free Disney birthday ticket, for example, you can get a free night on your birthday at the Walt Disney World Swan and Dolphin Resort a free night and a special birthday party with SpongeBob (who is celebrating his 10th birthday this summer) at the Nick Hotel near Walt Disney World or free one-day Disney tickets for the whole family, if you book a five-night stay at an Imagine Vacation Home in Orlando.
And besides the free tickets, there are all kinds of add-ons too, from the chance to join "Celebration" s street festivities in Disneyland or Disney World's Magic Kingdom, where your birthday button may get you an invite to dance and play with the characters (free!) to a customized birthday cake (yes, Goofy and Mickey will sing happy birthday and pose for pictures) to a new Celebrations BBQ area at Disneyland and Walt Disney World, a "Pirates & Pals" Fireworks Voyage," debuting this summer at Walt Disney World, and enhanced fireworks at Disneyland in California. Even more fun, "Guests find all these other people celebrating their birthdays on the same day," says Brewer Lister, the Disney executive overseeing the campaign, adding that every Disney employee you meet will wish you a happy birthday.
No worries if you aren't going to Orlando. Starwood Hotels & Resorts invites you to pay the year of your birth ($60 if you were born in 1960, for example) for a second and third night at participating Sheratons, Westins, Four Points by Sheratons and other Starwood properties.
Make a reservation for your birthday at the Loews Lake Las Vegas Resort and get the Loews best rate, minus your age. Also, Loews Hotels' kids clubs offer Fisher-Price Little People's 50th birthday with weekly birthday parties this summer, complete with arts and crafts and special cupcake decorating.
St. Croix's Buccaneer Resort, which offers free breakfasts and kids activities this summer, will fete your kids on their birthday with a free trip to Buck Island, a private island off the coast. The Hotel Esencia, the former estate of an Italian duchess in the Riviera Maya, promises a free spa treatment. (Kids love the chocolate massage.) And if you visit on the duchess' birthday — Aug. 24 — everyone stays and eats free.
Get free admission any time during the month of your birthday at one of the nine Medieval Times dinner theaters or play golf free at the tony Fairmont Chateau Whistler in British Columbia.
Book your honeymoon at one of the upscale Elite Island Resorts in the Caribbean and they'll throw in your wedding free, an $899 value. If it's your anniversary, Gaylord Hotels promises a free night and upgraded accommodations. (Just call the resort you want to book.)
Military families can celebrate family time with free admission to SeaWorld or any of the other Busch Gardens parks. Celebrate a good report card with discounts at the Ohio State Park Resorts — $10 off room rates for each A, up to $50. Gant Condominiums in Aspen offer an "A Grades That Pay" package with discounts up to 24 percent — even for those in grade school!
Moms get a free Mother's Day kayak tour in La Jolla or free admission to the Franklin Park Zoo in Massachusetts.
Wherever you go, and whatever the occasion, talk it up. Tell everyone what you're celebrating. At the very least, you should get a free dessert — and a lot of high fives.
"It was the best birthday of my life," wrote newly single L.A. mom Maggie Storm in an email to me. She'd just taken her 4-year-old twins to Disneyland on her birthday. She not only got in free, but her big birthday button, designating her a "birthday girl," made her queen for a day.
"Hundreds of strangers all wished me a happy birthday," wrote Storm. "What more could a woman want? I wish I had another birthday this year just so I could experience that again!"
(For more Taking the Kids, visit takingthekids.com and also follow "taking the kids" on twitter, where Eileen Ogintz welcomes your questions and comments.)
For more Taking the Kids, visit takingthekids.com and also follow "taking the kids" on twitter.com, where Eileen Ogintz welcomes your questions and comments.