/ Source: The Associated Press
Phetsile Ndwandwe, short, skinny and 23 years old, accepts an apple from a development worker and nibbles at it, stripping the peel with her teeth before handing the fruit to Siphokazi, her baby daughter.
Siphokazi manages a bite of the apple, the first fruit she has had in months, then thanks her mother with a kiss.
Ndwandwe allows herself only the peel.
The mother's sacrifice, say health authorities, is typical, and creates a problem across the developing world. In hard times, these women tend to think of themselves last. This puts their families at risk, the experts say, because malnourished mothers become malfunctioning mothers.
Ndandwe lost her sugar cane plot after falling behind in payments to a village cooperative. So she supports 15-month-old Siphokazi and her 4-year-old daughter, Setsebile, by working in a neighbor's garden in this village in southern Swaziland, taking her payments in vegetables.
'We eat whatever we can get'
Ancient traditions and modern circumstances often combine to place the burden on women to feed their poor families. Researchers say women do as much as 80 percent of the farm work in poor countries. And, with food and fertilizer prices rising, and AIDS and the global financial meltdown taking their toll, women like Ndwandwe are straining under growing responsibilities.
"We eat whatever we can get," said Ndwandwe, after describing a breakfast of corn meal porridge. She said her husband had gotten sick and died but wouldn't say what illness he had. When asked what the family would have for lunch, she said she had no idea.
She has seen the price of an apple rise 50 percent in recent months to the equivalent of about 15 U.S. cents. She used to take the bus to town to buy a bag of apples to sell to her neighbors, the small profits supplementing her garden work.
Now, she can't afford the bus fare — and few of her neighbors can afford fruit.
The consequences of women having to scrape together food for their family, often on their own, can be far-reaching. They may not be there for their children at all, as a poorly fed woman is more likely to die in childbirth. And their babies are also more likely to grow up physically and mentally stunted. It's a vicious circle that deepens misery in Africa and other lands of hunger.
The U.N. estimates women and girls account for 60 percent of the world's nearly 1 billion undernourished people.
Sometimes, it's sudden shocks that hurt. During Indonesia's drought and financial crisis of the late 1990s, for example, children's weight remained steady while their mothers wasted away. That indicates women were "sacrificing their own rice consumption" to feed their children, said Tufts University researcher Steven Block.
'Women are hardest hit'
"It doesn't matter whether it's a humanitarian crisis or an economic crisis or a food price crisis, women are hardest hit. Women are always hardest hit," said Catherine Bertini, a farming specialist with the Seattle-based Bill and Melinda Gates Foundation. A woman "feeds her husband, and then she feeds her children, and then she feeds herself if there's anything left."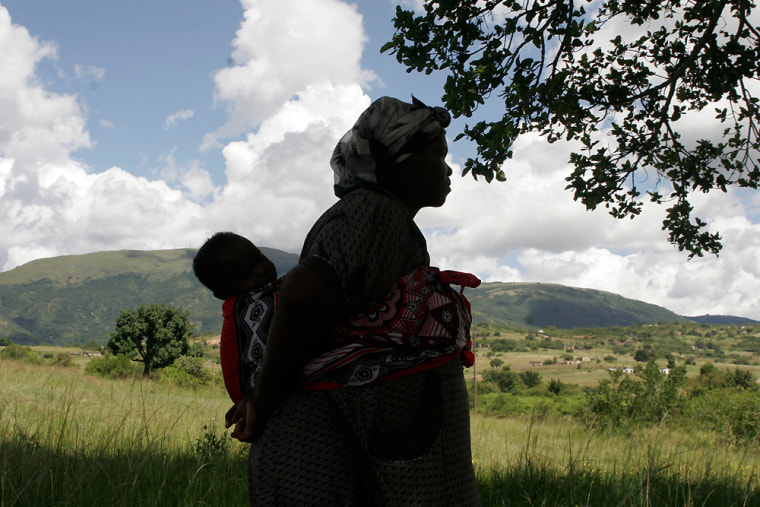 Travels across the tiny, landlocked kingdom of Swaziland show that the parched vegetable plots and kitchen gardens are often tended by women raising their families alone. In the past, women farmed subsistence farm plots while men hunted. These days, they have been widowed by AIDS or left on their own by men who spend most of the year in the cities of neighboring South Africa searching for work. They are grandmothers raising grandchildren, the parents beset by illness or poverty.
About 100 miles over winding roads north of Bulawayo, in the village of Motjane, Fikile Dlamini shakes her head at a stand of stunted corn, the leaves spotted and pallid.
She couldn't afford fertilizer or high-yield hybrid seeds at planting time.
"Maybe this year (the harvest) will be OK. The rain has been quite OK," she said. "Here, when you talk about having enough food, you talk about maize. When you've got enough maize, you eat, you sell."
Dlamini, raising corn and garden vegetables in Swaziland, and her husband, working the mines of neighboring South Africa, put five children through high school.
Then, seven years ago, her husband came home, too sick to work. Now, Dlamini isn't sure she'll be able to keep her youngest child in school, in a country where the government is too poor to provide free education. Instead of going to college, her older children are weaving and selling grass mats to contribute to the family's meager finances.
Education is a central factor in Africa's poverty trap. Educated children will almost certainly earn more than their parents when they grow up, and be able to do more for their own children. Pulling children out of school all but condemns them to poverty.
The women of Motjane, just outside the main Swazi city of Mbabane, know each other's woes. One young mother has taken her child out of nursery, choosing food over school fees. Another stopped taking her AIDS medication — provided free by the government — because she couldn't keep it down on an empty stomach.
"She passed away in the end," Dlamini says softly. Now, the woman's mother is caring for the orphaned children. "Had we known it earlier, there could have been something we could have done."
Dlamini once kept chickens, but a neighbor's dogs ate them. She doesn't blame the dogs, she said — they were hungry.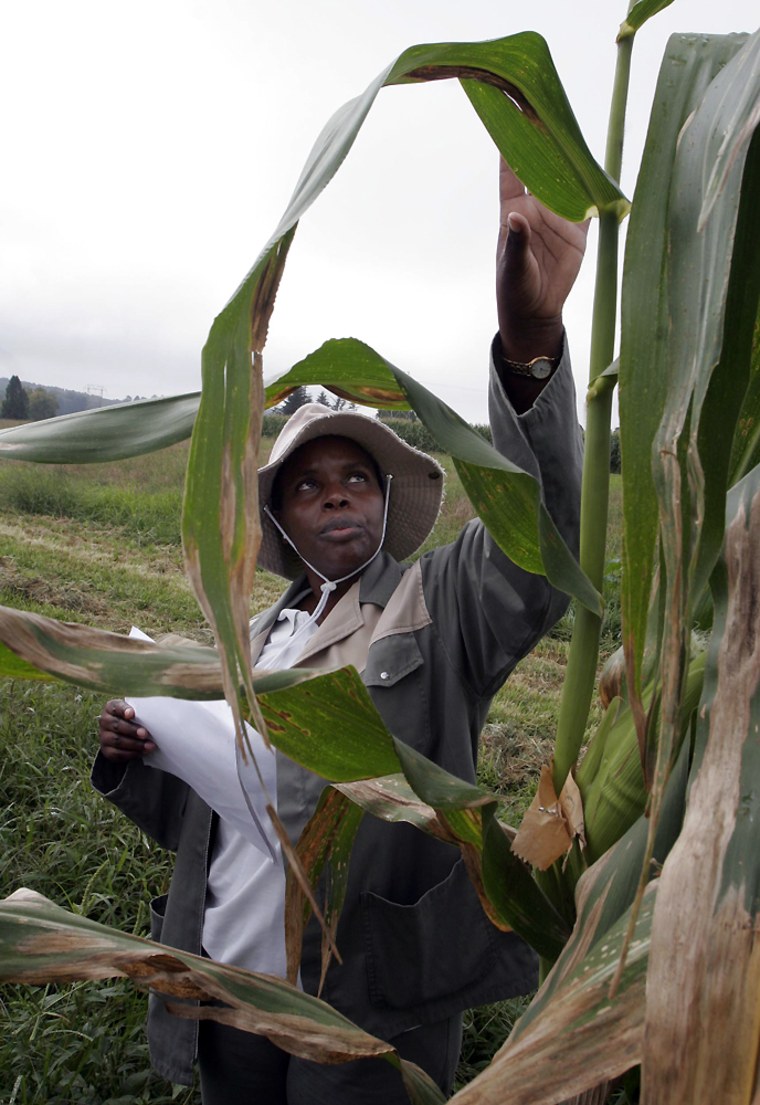 In central Swaziland's Egebeni region, Annah Hlophe harvested little from her corn and peanut fields last year because of poor rains. But her children, grown and moved to the city, still sent two young relatives to live with her to cut down on their expenses. She manages by buying the cheapest food — corn meal, beans, cabbage — and negotiating with teachers at the local school to waive fees for the girls living with her.
Hlophe's teeth were aching, and she was trying to raise enough money selling woven grass mats to afford a 90-emalangeni (about $9) dentist visit and a 40 emalangeni (about $4) bus ride into town. Illness and age are sapping her strength, she said. She can't read, never went to school. Asked her age, she fetches her identity book. It says she was born in 1944, but gives no birthday.
"When you are a farmer, you have to be strong," said Hlophe, who said she learned what she knows about farming from watching her late husband. "If I had a job, I would be retired by now, and getting a pension."
Frail, elderly women farmers
Agriculture scientist Julia Sibiya worries about the numbers of frail, elderly women farmers taking on more and more family burdens. She knows it is happening in South Africa, where she is working on a doctorate at the University of KwaZulu-Natal, and in Uganda and Zimbabwe, where she has sent the seeds she studies for field tests.
She finds women farmers eager for advice on using fertilizers, insecticides and hybrid seeds, but often baffled by technical instructions; many fall back on traditional ways that don't always meet modern challenges.
Growing up in Zimbabwe, Sibiya recalls spring break from school as planting time, fall break as the harvest. Her mother grew corn on the family's plot outside Harare, the capital.
Her mother "was a successful farmer ... her crop always looked quite good," Sibiya said. But with drought, AIDS and rising prices conspiring to hit farmers hard, modern techniques have become essential.
"I don't think she would be successful now," she said.
'Female hoes'
Bertini said aid efforts too often overlook specific needs of women farmers. Bertini once visited a project in Angola where tools were being handed out, and the women complained about being given "male hoes" — with long handles that were used like rakes.
"Female hoes," shorter, used more like spades, are easier for women working in the fields with babies on their backs.
In Swaziland, years of drought had made food scarce even before the price hikes. Four out of 10 Swazis live in extreme poverty, many in rural areas where farming is the only work. The country of just over 1 million has the highest HIV prevalence in the world — 25.9 percent of Swazis between ages 15 and 49 have the virus that causes AIDS. Average life expectancy is just 37 years.
But in the face of adversity, solemn-faced Ndwandwe shows resilience.
A development group recently offered her a small plot of land, and she plans to grow vegetables that she hopes to sell to a hotel being built for visitors at a nearby game reserve.
"The vegetables will bring money," said Ndwandwe, who learned simple farming techniques during her elementary school education. "I am a good farmer."
More on Africa