In this job-starved city where President Barack Obama last month made a public appeal for his economic stimulus plan, hundreds of volunteers — and an agency that specializes in handing out food — worked together Tuesday to feed 5,200 hungry families.
Roughly 300 local volunteers worked with Feed the Children to distribute more than $2.1 million worth of food at Concord Mall as part of the nonprofit relief organization's "Feeding Americans Emergency Caravan."
The caravan of semi-trailers is visiting small cities and towns across America hit hard by the economic crisis. No area in Indiana has been hit harder than Elkhart County, where the jobless rate skyrocketed to 18.3 percent in January.
Residents who have been facing tough times eagerly picked up free canned goods, baked goods, candy and even Avon products.
Larry Jones, the founder and president of Feed the Children, was at the event, as were televangelist Joel Osteen, pastor at Lakewood Church in Houston, and his wife, Victoria.
Jones said Elkhart had received a lot of attention, and hoped it would continue, but in a more positive light.
"When I heard that President Obama had been here three times and that you had the fastest growing unemployment, I'm praying that you are the fastest coming down from that," he said.
"What we want people to know," Jones said later in an interview, "is that in this time of despair, there is hope. People haven't forgotten you."
Falling on hard times
Elkhart County, which bills itself as "the RV capital of the world," has seen its fortunes fall with the economy. Factory buildings now lie idle, with rows of unsold motor homes lined up outside.
Obama visited Elkhart on Feb. 9, using the town's plight to urge Congress and the nation to back his plan for economic revival. "People in Elkhart need this right now," he said, speaking at a town hall event at Concord High School. "They cannot wait on Washington to get things done."
On Tuesday, the line of recipients often wrapped around the parking lot and onto surrounding roads as people waited to get to one of at least 15 trailers to pick up food, personal care items and other products.
Patricia Smith of Elkhart waited for over an hour to get her supplies, and was appreciative of what she did receive.
Smith has been unemployed since last July when she left her waitress position at Callahan's Restaurant to care for her 11-year-old daughter, Brandi, who had recently been diagnosed with a cancerous brain tumor.
"It's been a struggle," Smith said. "We're surviving and we're going to make it through this."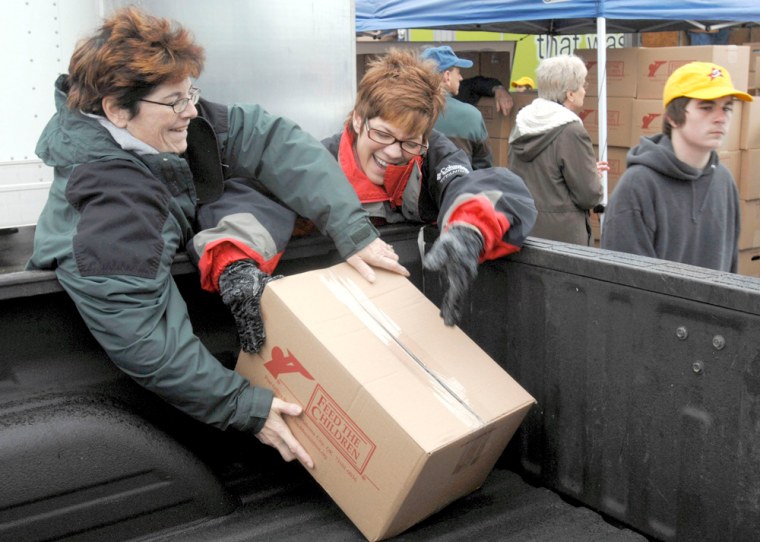 Terry Beverly, who has been laid off from Damon Motor Coach, a manufacturer of motor homes, since August, also waited for more than an hour and was surprised by the number in line.
"I'm thankful for the help, but seeing all the other people who need help — that's crazy," he said.
Roughly 1,600 families picked up food and supplies from Concord Mall. Feed the Children also arranged for deliveries to be shipped across the county to 3,600 other families.
On Goshen's south side, several hundred families picked up food at Grace Community Church and at Maple City Chapel.
"It's going great," said Kathryn Miller, one of the volunteers at Maple City Chapel.
Long lines
Gene Troyer, administrative pastor at the chapel, said things started out with "a mad rush. We opened at 12. It was solid for an hour."
Troyer said the people receiving the food weren't the only ones blessed. "It's been a really good experience for us, the volunteerism," he said.
In Bristol, coordinator Vickie Myers said the distribution was "fantastic." Between 325 and 350 people, some of whom waited in a line as long as a football field, were served.
Two churches in Middlebury, Pathway Assembly of God and Crystal Valley Missionary, distributed food to more than 300 families. Roughly 50 to 60 volunteers worked from the two churches.
Steve Whetstone of Feed the Children said community involvement was essential in making the food drive a success. Local businesses such as Martin's Super Markets, UPS and Utilimaster provided trucks that helped deliver food and supplies across the county.
'I know what it's like'
Volunteers included motorcyclists from the Star Touring Club, high school students who are part of a leadership development group called Five Star, and Goshen College students. Churches were essential in finding the families who would benefit from the food drive the most.
Several of the volunteers were also unemployed, including Randy Kiefer of Elkhart, but wanted to help those in similar situations.
"I know of the need in the community," he said. "I was part of the Monaco layoff. I know what it's like."
Tuesday was Feed The Children's second stop in a country-wide trek. Last month the group was in Wilmington, Ohio, holding a similar food drive. Next month they'll be in Greenville, Miss.
Whetstone said FTC will be keeping an eye on Elkhart and will be prepared to return if there's a need.
"I'd be real surprised if we weren't back," he said.
Truth reporters Tom Lange, Marlys Weaver and Justin Leighty contributed to this story, along with correspondent Miriam Nowak.