/ Source: a href="http://www.etruth.com/know/" linktype="External" resizable="true" status="true" scrollbars="true" fullscreen="false" location="true" menubars="true" titlebar="true" toolbar="true" omnitrack="false" hidetimestampicon="false" hidecontenticon="false" contenticononly="false">The Elkhart Truth</a
William Edmondson knows well the route from Albertville, Ala., to Elkhart County, Ind.
For the last five years, he and his wife have driven a semitrailer over the 650 miles of roads to northern Indiana to pick up building materials that he then resells in the family business, Edmondson & Sons in Alabama.
Early Friday morning, he pulled his rig into the Ameri-Camp RV complex off S.R. 13. Although he was not sure what he would buy, Edmondson says the trip is too long and too expensive to only ride around sightseeing.
Ameri-Camp RV, which shut its doors in October with the loss of hundreds of jobs, is the latest recreational vehicle manufacturer to go on the auction block, forced to stop operations by the economic recession that has crippled the recreational vehicle industry.
"It's pitiful," Edmondson said. "People say, 'Let's go to that auction and we'll get some good deals.' But you just sit down and think about it, it'll just turn your stomach that that many people are out of a job."
Elkhart County, which bills itself as "the RV capital of the world," has seen its fortunes fall with the economy. Factory buildings now lie idle, with rows of unsold motor homes lined up outside. The jobless rate skyrocketed to 18.3 percent in January.
President Barack Obama visited Elkhart on Feb. 9, using the town's plight to urge Congress and the nation to back his plan for economic revival.

More than 700 bidders registered to attend the auction Friday, which was filled with representatives from other RV makers, small business owners, mechanics and curious bystanders. Up for bid were all the materials and tools once used to build the travel trailers and fifth wheels along with the office equipment, as well as the seven buildings on the 30-acre campus. 
With so many items to sell in just one day, Brad Hooley, owner of Bartel & Company, told his auctioneers to "keep the bids on the money and sell." To help counter the undercurrent of melancholy, he told his crew to be enthusiastic and be positive. Remind the bidders often that today is the first day of spring, he said.
'It will help us appreciate what we got'Floyd Miller, an operations manager for Forest River RVs, came to the auction with a specific plan. He knew the pieces his company wanted and remembered to bid no more than a third or a half of the value of the item. The Ameri-Camp auction was the fourth RV auction he's attended since January.
"In a lot of ways, I think it will be good for us," Miller said of the industry's contraction. "It will help us appreciate what we got and help us be better. I reluctantly say that because to people laid-off, that sounds cold. I don't mean it to. This is probably a correction needed for a long time and not just in the RV industry."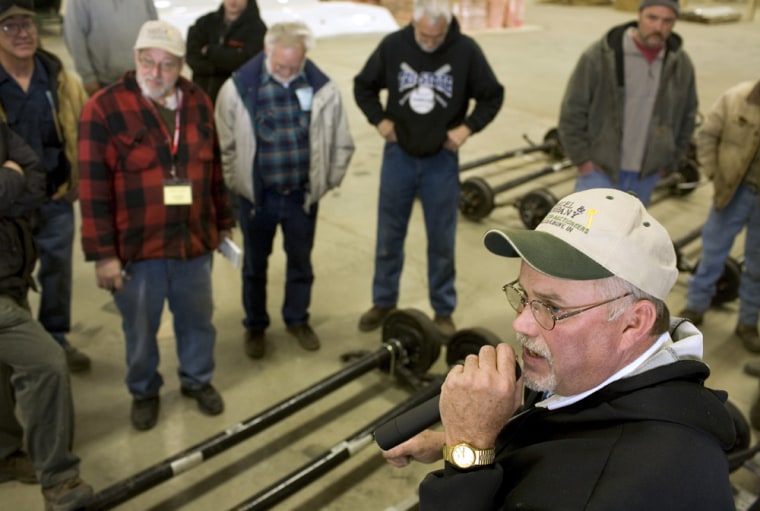 That correction is coming at a high cost for many families in Elkhart County. Earlier in March, 5,200 families lined up distributed by Feed the Children. The nonprofit relief organization's "Feeding Americans Emergency Caravan" of semi-trailers filled with essential items is visiting small towns and cities across the U.S. hit hard by the economic crisis.
Esther Borntrager, who browsed the Ameri-Camp auction, said she only has enough work to fill three or four days a week, but she's grateful for even that — during the entire month of December, she only logged nine hours.
Borntrager is a production worker in a woodworking plant in Kosciusko County and said her company had shipped products to Ameri-Camp but the orders had dwindled and then finally stopped.
She wandered through the cavernous Ameri-Camp buildings, looking at the piles of wood and stacks of cushions and even joking she could drive one of the golf carts, which were for sale, to work.
In her native Wisconsin, Borntrager had clerked at quilt auctions but Friday was her first time attending as a bidder. She had come to look for a washer and dryer.
"It's not that I really need it," Borntrager said. "I wasn't working today and thought I might be able to pick something up."
'Never seen anything like this'
Eighty-four-year-old Joseph Stump did not come to the auction to bid. He came to watch and to look around the facility he often drove past.
"I've never seen anything like this," hae said. "This is how people made their living here and they made a good living because if you worked in one of these factories, you made a good wage."
Stump is a veteran of the RV industry, having worked during the 1970s and early 1980s when the oil embargo, inflation, high interest rates and then the severe recession ravaged the manufacturers, suppliers and dealers. But these times are worse, he said.