/ Source: Forbes Traveler.com
According to an old Chinese proverb, "Tea is drunk to forget the cares of the world." Not so for the hundreds of people showing up to the Tax Day Tea Parties throughout the nation; for them, it recalls the Boston Tea Party in 1773 that also protested a form of taxation. What is there to get riled up about?
Now the second most popular drink in the world after water (coffee's number three), tea is currently being sipped by 127 million Americans sipping tea on any given day, says The Tea Council of the USA. The World Tea Expo forecasts a $3 billion increase in the tea market by 2010, which puts a single plant species, Camellia Sinensis, in an enviable position.
Vast tea estates and gardens add to the allure of eco-tourism in Sri Lanka, China, India and Japan. Linda Villano, co-founder of the Manhasset, New York-based Serendipitea, describes the countless varieties of tea with enough passion to convince even the most devout coffee drinker to set sail to, say, Bolivia to see what a working tea plantation is like.
Without traveling to exotic locales, demanding tea lovers can, of course, savor the flavor of exotic white, green and black teas just by visiting serious tearooms around the world, such as Mariage Freres, founded in 1854 and France's oldest tea importer. Located on Rue de Bourg-Tibourg in Paris, this fragrant institution features an exhaustive tea menu that is more like a book, the pages of which promise leisured lingering over cups of hot White Tip Oolong, Moulin Rouge Chai and many more. The tea rooms are the places that preserve the art of tea with precise albeit historic rituals.
And those rituals may be dainty, but tea doesn't have to be. In fact, "Tea is sexy," says Beverly Rorem, author of "A Passion for Tea". "The fragrance, the flavor, and a little soft music will soothe your soul," she says. Hot or iced, loose or compressed into a tea bag, caffeine free or not, tea implies variety.
According to Dr. Itaro Oguni, author of "Green Tea and Human Health", there are added health benefits of sipping tea beyond the social spin; these range from preventing flu and cavities to stopping memory loss. The idea of this fountain of youth makes the journey to a tea plantation even more enticing. David Walker, president of Walker Teas, a bulk distributor of Kenyan teas in the U.S., grew up in the tea world and is based in Kenya — a country responsible for 19% of the world's tea crop — and has been called the Indiana Jones of the tea world by those in the know.
"Tea arrived in Kenya in 1903 when the Caine brothers first planted a Manipuri hybrid at Limuru," he says, and the future holds "the emergence of specialty markets for exotic leaf teas." He feels tea tourism is on the brink of discovery. And there are many lush plantations yet to be explored by intrepid travelers.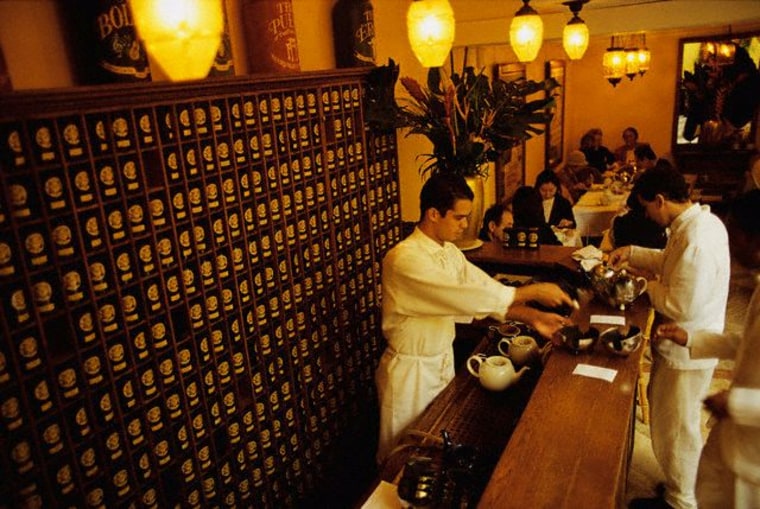 While tea produced in the verdant hills of Sri Lanka can be visited on organized tours, some countries on the tea map, such as Bolivia, Turkey, Argentina and Malaysia, haven't cultivated tourism to the degree you'll find at the Charleston Tea Plantation in Charleston, South Carolina — America's only tea estate at the moment.
In any event, whether you sip a cup of "bright" green such as Honyama Sencha from Japan or Red Peony from China, or Ceylon tea in Sri Lanka you are furthering the tradition of a healthy cultural lifestyle. If your cup of steaming mint tea is poured from a Moroccan samovar or served politely from a commemorative teapot portraying Queen Victoria and Prince Albert, it's proof positive of the tie between tea and travel that ceremoniously prevails to this day. Point your compass in any direction and there is a tea plantation with a story to tell and flavors to savor.