In a house as full of sorrow as it was empty of belongings, Gabriela Aguirre described how she and her husband, Alfredo, reached boldly for the American Dream, clutched it tightly for three years and then watched it slip from their grasp along with Alfredo's job.
"I'm very sad," she said softly in Spanish, tears welling in her dark eyes as she surveyed the cozy, two-bedroom tract home. Its walls, carpet and gleaming appliances were nearly as spotless as the day the family bought it, brand new, in 2005. The hardest thing, she said, is her three kids "asking how long before we come back home."
A few miles away in Elkhart, Terry Gonyon was knee-deep in piles of everything from clothing to tools, preparing to leave the imposing red brick house on South Main Street that he and his family had called home for three years.
"This was our dream house," said Gonyon's wife, Desiree. "It was a huge turning point for us, moving here."
The Gonyons and the Aguirres are but two of hundreds of families in economically devastated Elkhart County who are losing their homes to foreclosure. And some local real estate experts say the trend — more closely tied to job losses here than plummeting prices and reckless lending associated with the crisis in California and Florida — could get worse before it gets better.
"It's just outside of my experience," said Barb Swartley, president-elect of the Elkhart County Board of Realtors.
Swartley, who has 30 years' experience selling homes in the area, has observed a huge increase in the number of homeowners attempting to make "short sales," or get their lenders to accept less than what they are owed on the mortgage. "If the short sales don't sell, then that's the next step," Swartley said. "They're headed for foreclosure."
Twice as many foreclosures as '06?
Precise statistics on foreclosures are hard to nail down, but the numbers that are available show a dramatic increase in Elkhart County. Homes offered for sale at monthly sheriff's auctions, which requires approval of the foreclosure by a judge, increased from 721 in 2006 to 928 in 2007 and 1,150 in 2008. They're on a pace to surpass 1,500 this year, or more twice as many as in 2006.
First American CoreLogic, one of the nation's largest providers of real estate data, estimated the Elkhart area's foreclosure rate on outstanding mortgage loans at 2.7 percent for February. The rate was not nearly as high as foreclosure hotspots in Florida, California and Nevada, but it was well above the national average of 1.7 percent reported by CoreLogic.
Residents, business owners and local officials who have watched a meltdown in the recreational-vehicle and associated industries push Elkhart County's unemployment rate from below 5 percent to 18 percent in a year wonder how high the foreclosure rate will climb.
"Often the job component is the first one to fall, and then it eventually equates to losing your home," said Brian Gildea, Elkhart's economic development director.
That's just what happened to the Aguirres and the Gonyons. With one breadwinner an immigrant wage-earner and the other a self-employed local native, their paths to ownership were as different as the houses they wound up losing. But their stories illustrate that economic devastation in the region — and the nation — isn't playing any favorites when it comes to foreclosure. In a growing number of cases, it's all about the lack of jobs.
Alfredo Aguirre, 30, and Gabriela, 29, followed her father, stepmom and brother to the Elkhart area from Mexico in 2000. Jobs were plentiful in the region's booming manufacturing sector and employers welcomed Alfredo with open arms despite his undocumented status. He was earning more than $40,000 a year — enough to easily afford the $880 payment on the family's home —until he was laid off in July by a company that made utility trailers. In fact, overtime and bonuses had allowed him to pay down the principal on the loan, building about $30,000 equity. Gabriela stayed home with the couple's children, Alfredo Jr., 10, Britany, 7, and Eduardo, 5.
Because of his immigration status, Aguirre could not collect unemployment. He could find nothing that paid anywhere close to his previous wages and settled for a half-time job washing dishes at an Elkhart restaurant for $8 an hour. Within six months, though, the family had run through its savings and was unable to make the mortgage payment.
Gabriela Aguirre tried without success to work out a deal with the lender. Again because of their immigration status, the family was not eligible for help from federally sponsored counseling agencies.
They made a last-ditch call for help to real estate agent Sergio Velasco, but it was too late to list their home as a short sale. "They want always the American Dream, to have their home and work for it," Velasco said. "But at the end they have lost their home."
The family's pain is especially dear to Velasco, who emigrated from Mexico himself about 14 years ago. He worked at first in manufacturing, then learned English and built a successful real estate and mortgage business with his wife, specializing in serving the Hispanic community. Today, the couple are facing their own struggles as they try to liquidate their portfolio of a dozen rental homes and two commercial buildings.
After voluntarily surrendering their home to the lender to avoid eviction, the Aguirres moved into a rental in Elkhart with Gabriela's father and his wife, and her brother and his wife, who have a 3-year-old son and are expecting a new baby in September. The six adults and four children share a single bathroom in a small, almost impossibly neat three-bedroom home crowded with religious icons and family photos.
Gabriela's father, Andres Garcia, 59, and her brother, Juan Garcia, 22, also both lost jobs in the manufacturing industry last summer. Andres earns what he can as a mechanic, but jobs have fallen way off, and Juan has found part-time work at a fast-food joint. By pooling meager resources, the family hopes to make the monthly rent and keep this home, owned by a friend, from foreclosure, although they are currently behind on payments.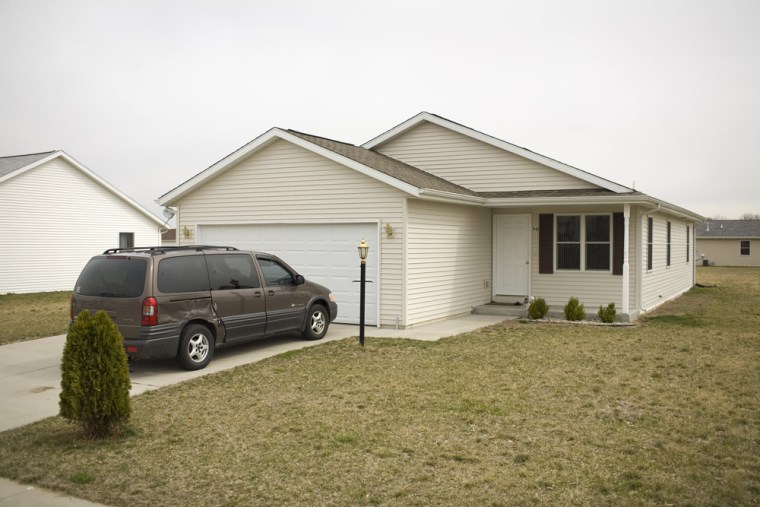 If they can't make it, they'll move back to Mexico, a prospect that patriarch Andres Garcia said grows more likely in direct proportion to the area's jobless rate. "There's no work," he said. "That's the main thing. If you have work, you have everything."
A different tale
Terry Gonyon, 37, was born in Elkhart and graduated from high school there. He had four kids from two previous marriages when he met Desiree, 28, who had a daughter of her own. The couple, together for nine years, have since added four more kids to their blended family, which now comprises nine children ages 22 months through 18.
In 2005, after years of living in "a little tiny two-bedroom house," so cramped that their marriage was threatened, Desiree said, they spotted the big brick house that became theirs. "We were in awe at how much space there was."
At $124,355, "it was a fairly good deal," Terry said. However, as they closed on the house, they were switched into a much higher interest rate than they had been told they could get, he said. And after they moved in, they found they had been misled about the condition of the building, which needed a new roof, foundation work and many other costly repairs, he said.
Their insurance company refused to cover the house and the lender added $400 a month in "forced-placed" insurance premiums to their mortgage payment, driving it from $800 to $1,200 a month.
Since Terry was getting plenty of small construction jobs as a jack-of-all-trades, often bringing home $2,000 a week, the family made the payments and moved ahead. "We paid it for a long time," Terry Gonyon said.
By fall 2007, however, work had slowed. In 2008, Gonyon found no jobs at all for five months. "We had an overabundance of RV people here," he said. "That's who I worked for. They made good money. When they lost their jobs, I lost mine."
Since January, he has been working 20 to 30 hours a week, mostly repairing winter plumbing problems and water damage. "I'm lucky if I bring home $500 a week," he said. Desiree's part-time job at a fast-food restaurant brings in a bit more.
Put up for auction in January
But the family fell behind on their mortgage payments and could not catch up. Attempts to work out a modification of the loan and obtain help from federal programs went nowhere, Terry said, and in January the lender bought the home back at the sheriff's sale after receiving a foreclosure judgment for about $109,000.
The Gonyons, who also have Desiree's mother and sister living with them, have now moved to a rented three-bedroom mobile home. "They'll be five deep in a bedroom," Terry said of the kids, who must also change schools. "It's not going to be real too fun," said daughter Breana, 9.
Terry is angry that the federal government spent hundreds of billions bailing out lenders who so far have done very little to modify mortgages for troubled borrowers like himself. So he put a big sign in the front yard of his foreclosed home as the family was in the process of moving out: "Government bailouts don't work – Foreclosed — We lost this home — Family with 9 children put out."
Although Terry sometimes follows Desiree's more optimistic lead, saying that "life is what you make it and we've just got to do whatever we can to make it happy and healthy," he does not believe the foreclosure pace will slow any time soon. "I can't see any way it's going to get better," he said.
His opinion is echoed by those who are trying to help troubled borrowers in the area save their homes.
"It seems like it's going to keep working its way down," said Joseph Zielinski, an attorney with Indiana Legal Services of South Bend who is representing a dozen Elkhart homeowners in foreclosure proceedings. Although his office was already seeing a spike in foreclosures due to poor lending and borrowing practices, it has been exacerbated by the spike in unemployment, he said.
"First you have the RV people gone," he said. "Now you'll see the support people gone. That's going to trickle into restaurants and general things. It's just going to go and spread its way out from the top to the bottom."
Larry Gautsche, president of LaCasa of Goshen, a nonprofit housing agency that is federally certified to counsel troubled borrowers, said his agency also saw plenty of foreclosures due to subprime loans before the jobless rate surged. Now, "We've got both. We still have these adjustable rate mortgages that are maturing and coming up for resetting, but on top of that with our 20 percent unemployment, we've got people that are just unable to make the payments."
Foreclosures push values down
It's a vicious cycle for the real estate industry, Gautsche said: "When you have a lot of foreclosures in an area and the properties do start selling, you lower the values of everything around it because the only comparables out there are foreclosures." At the same time, buyers disappear.
Statistics provided by Swartley of the Realtors' board show that sales fell by 31 percent in numbers of homes sold, from 2,292 in 2006 to 1,579 in 2008, and by 36 percent in dollar volume, from $287.9 million to $184.3 million. Over that period, the median price of a home in the county has fallen from $117,350 to $107,000, a 9 percent decline.
Velasco, the mortgage broker and real estate agent who with his wife once sold 20 homes or more a month, hasn't sold a single one since last May. For now, he has turned to a new business: making long-haul vehicle deliveries.
But some agents are seeing glimmers of hope. Among them is Cory White of Elkhart, who specializes in the distressed property market. Lately, he said, lenders are much more willing to agree to short sales, which could help stem the foreclosure tide.
"It'll rebound," he said. "It's very, very cyclical. (Prices) will only come down so far until it's such a good deal someone will buy it. The thing to remember is the banks do not want to own the homes. That's not the business they're in."
$2.3 million to clean up foreclosure mess
In the meantime, the City of Elkhart has awarded Gautsche's agency a $20,000 contract to provide counseling services to homeowners facing foreclosure. But that's a tiny fraction of a $2.3 million federal grant the city recently secured to clean up after people have already lost their homes by buying foreclosed and abandoned properties for redevelopment.
A long-term solution will only be found by addressing the root cause — unemployment, said Gildea, the city's economic development director. "We need to focus on jobs There may be people who can stay in their homes while they get unemployment, but what happens when that runs out?"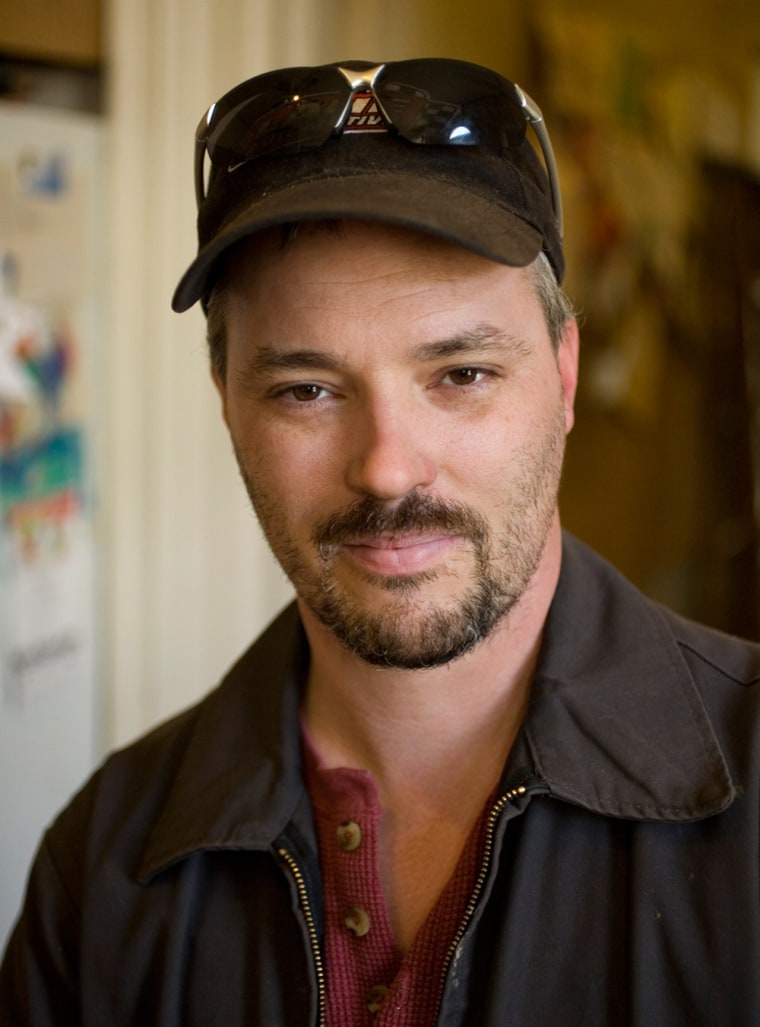 Although Terry Gonyon was not eligible for jobless benefits because he was self-employed, he got the most painful answer to the question of what happens when the money runs out on March 31, when deputies from the Elkhart County Sheriff's Department showed up to order him out. On a chilly, overcast morning, a uniformed officer circled the brick house banging on the doors until he and Don Poore, a contractor from Valparaiso hired by the bank to clean up the house for sale, found an open door.
The Gonyons, busy taking a final load to their new place, arrived after the house had been reclaimed and Poore was about to set his crew to work. Terry Gonyon briefly questioned the process. Neither Poore nor the officer could produce any documents that authorized the eviction, but Gonyon, who had seen this coming for months, accepted his fate.
"It's yours," he said, "you can have it."
Poore, a Vietnam veteran with a graying ponytail, commiserated for a time with Gonyon over the lack of government help for foreclosed homeowners. "I understand their plight," he said, "I understand their anger."
Even though foreclosure-related business pushed his revenue to record levels last year, Poore said he is as disturbed as anyone about what is happening in northern Indiana and across the nation.
"It's a plague," he said as he prepared to change the locks on the Gonyons' house. "It's a plague."