/ Source: The Associated Press
Three men charged in London's 2005 suicide bombings — Britain's deadliest attack since World War II — were acquitted of the most serious offenses against them Tuesday in the latest terrorism case to frustrate prosecutors.
A jury found Waheed Ali, Sadeer Saleem, and Mohammed Shakil not guilty of conspiring with four suicide bombers who blew themselves up on three subway cars and a bus on July 7, 2005, killing 52 people. Ali and Shakil were convicted of a lesser charge — conspiring to attend a terrorist training camp — and will be sentenced Wednesday.
The men were the only people ever charged in the attack. A different jury failed to reach a verdict in their case last year.
Andy Hayman, a retired senior police office who previously led the inquiry, said the trial was the "last throw of the dice" for investigators. There are no new leads and police say their inquiry has been thwarted by the reluctance of potential witnesses in Britain's Muslim community to come forward.
It was unclear why jurors came to their decision. British jurors are barred from speaking about their deliberations, even after a trial ends.
Lawyers pointed to the complexity of terrorism trials, which can last more than a year and involve detailed and sometimes confusing evidence gleaned from cell phone records and e-mail traffic.
Evidence of connections between suspects and convicted terrorists is often withheld because of fears that would prejudice jurors against the suspects.
Body of evidence
Law-enforcement officials also say their need to protect the public can limit the evidence they gather because plots are thwarted before final targets have been selected.
"Many of these cases take months, and juries get to know and like the defendants," said Geoffrey Robertson, a lawyer who was not involved in the latest case. "They begin to think they're not so bad and they doubt the strength of the evidence against them."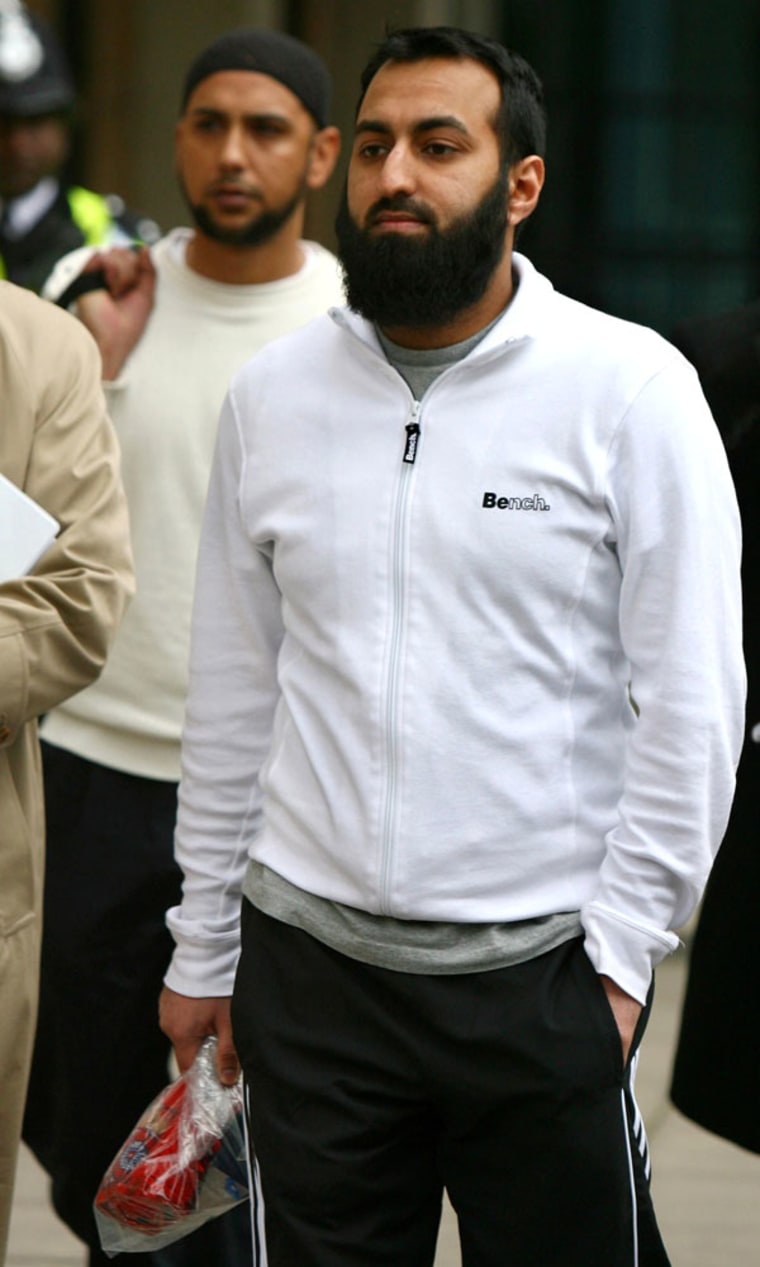 Prosecutors in the latest case said the three men were friends with the 2005 suicide bombers. Mohammed Siddique Khan, the alleged ringleader of the July 7 plot, called Ali an "uncle" to his daughter and the two men traveled together to a Pakistani terrorist training camp in 2001. Ali was also regarded as bomber Shehzad Tanweer's closest childhood friend.
Shakil joined Khan on a visit to Pakistan in 2003, where they received weapons training.
The jury were not told that the men had links to another major terrorist, because — unlike many other countries — Britain does not allow intercept evidence to be used in court.
During their 2003 visit to Pakistan, Shakil and Khan held a meeting at Islamabad airport with Omar Khyam, a British man jailed for life in 2007 for leading a plot to launch major bomb attacks on nightclubs and power plants. Their conversation was captured on secret listening devices.
High-profile acquittalsIn court, prosecutors alleged the three acquitted men took part in a test run for the London attacks in December 2004, when they joined three of July 7 bombers on a visit to the British capital.
But the prosecution could not prove the suspects had toured London's subway system, or refute their claim that the trip was an innocent sightseeing expedition.
Tuesday's case follows other high-profile acquittals in key cases.
A trial over an alleged plot to down several trans-Atlantic airliners collapsed in October, and a Jordanian neurologist was cleared in December of involvement in botched car 2007 bomb attacks on Glasgow and London.
There is also growing public skepticism in Britain relating to counterterrorism operations, partially fueled by the failure of recent major police raids on Muslim communities to result in charges.
From Sept. 2001 to mid-2007 around 200 people were convicted in Britain of terrorist offenses out of about 1,450 people arrested during the same period under terror laws, Britain's Home Office said.