/ Source: NBC News and news services
Veteran Republican Sen. Arlen Specter disclosed plans Tuesday to switch parties, bringing Democrats closer to the 60-vote supermajority they need to push Barack Obama's agenda through the Senate.
"This is a painful decision," said Specter at a Tuesday afternoon news conference. "I know that I'm disappointing a lot of my friends and colleagues...the disappointment runs in both directions."
Specter would give Democrats and their allies at least 59 Senate seats. One vacancy remains from the state of Minnesota, where Democrat Al Franken holds a narrow lead in a race being disputed in courts.
With 60 votes in the 100-seat chamber, Obama's fellow Democrats would have the three-fifths majority necessary to stop Republican filibusters, a stalling tactic used to delay or defeat legislation .
Under Senate rules, a single senator can object to consideration of a bill, which then requires that 60-vote majority to bring it to the floor or to end debate — therefore allowing a final vote to be taken.
However, there is no guarantee that the Pennsylvania senator will vote with the Democrats on every issue. "I will not be an automatic 60th vote," asserted Specter.
With the presence of moderate Democrats and contested regional issues, the risk of a fractured caucus is always a reality on Capitol Hill.
"In our caucus we don't have any automatic votes for anything," said Senate Judiciary Committee Chairman Patrick Leahy. "I expect him to be as just as independent as ever."
"Anyone who says the president's agenda can slide right through here is wrong," added New York Sen. Charles Schumer. "But the really good news for us is that the Republican sort of knee-jerk filibuster at every whim cannot happen."
Political philosophy at odds
Specter, 79, a veteran of 29 years in the Senate, has found his party dominated by conservatives and himself becoming one of a handful of Republican moderates remaining among the 535 members of Congress.
"I now find my political philosophy more in line with Democrats than Republicans," Specter said in a statement posted on a Web site devoted to politics in his home state, Pennsylvania, and confirmed by his office.
"It has become clear to me that the stimulus vote caused a schism which makes our differences irreconcilable," he added.

Several officials said the White House as well as leaders in both parties had been involved in discussions leading to his move.
Specter faced an extraordinarily difficult re-election challenge in his home state of Pennsylvania in 2010, having first to confront a challenge from his right in the Republican primary before pivoting to a general election campaign against a Democrat.
The state is mostly Democratic.
"I am unwilling to have my 29-year Senate record judged by the Pennsylvania Republican primary electorate," he said in the statement.
"I don't have to say anything to them. They've said it to me," Specter said, when asked in a Capitol corridor about abandoning the Republicans.
'Threat to the country'
Not long after Specter met privately with Republican senators to explain his decision, the party's leader, Sen. Mitch McConnell, said the switch posed a "threat to the country."
The issue, he said, "really relates to ... whether or not in the United States of America our people want the majority party to have whatever it wants, without restraint, without a check or balance."

Republican National Committee Chairman Michael Steele said in a statement, "Let's be honest — Sen. Specter didn't leave the GOP based on principles of any kind. He left to further his personal political interests because he knew that he was going to lose a Republican primary due to his left-wing voting record."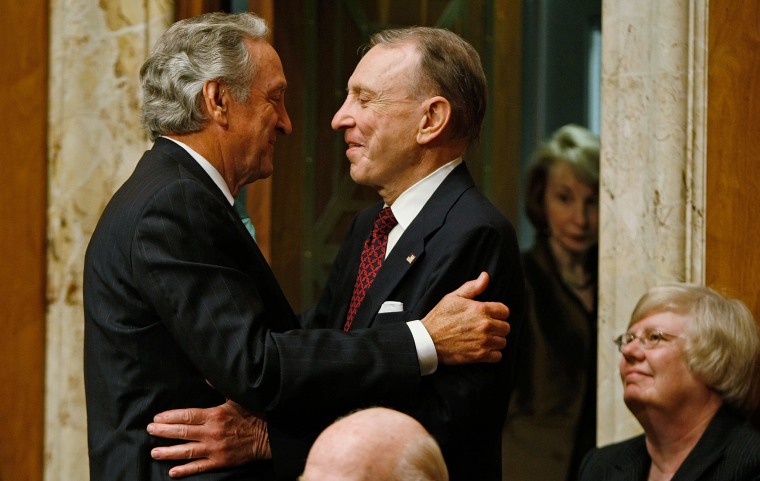 Texas Sen. John Cornyn, chairman of the National Republican Senatorial Committee, called Specter's move, " the height of political self-preservation."
There were kinder words from Senate Majority Leader Harry Reid: "I welcome Sen. Specter and his moderate voice to our diverse caucus, and to continuing our open and honest debate about the best way to make life better for the American people."

"Sen. Arlen Specter is one smart senator," added Sen. Robert Byrd, D-W.Va. "He is an independent thinker of the type that the framers of the Constitution had in mind when they conceived the office of U.S. senator."

100 days
Specter's move came a day before Obama' marked 100 days in office.
A senior White House official, speaking on the condition of anonymity because no announcement has yet been made, said Obama was handed a note while in the Oval Office during his daily economic briefing.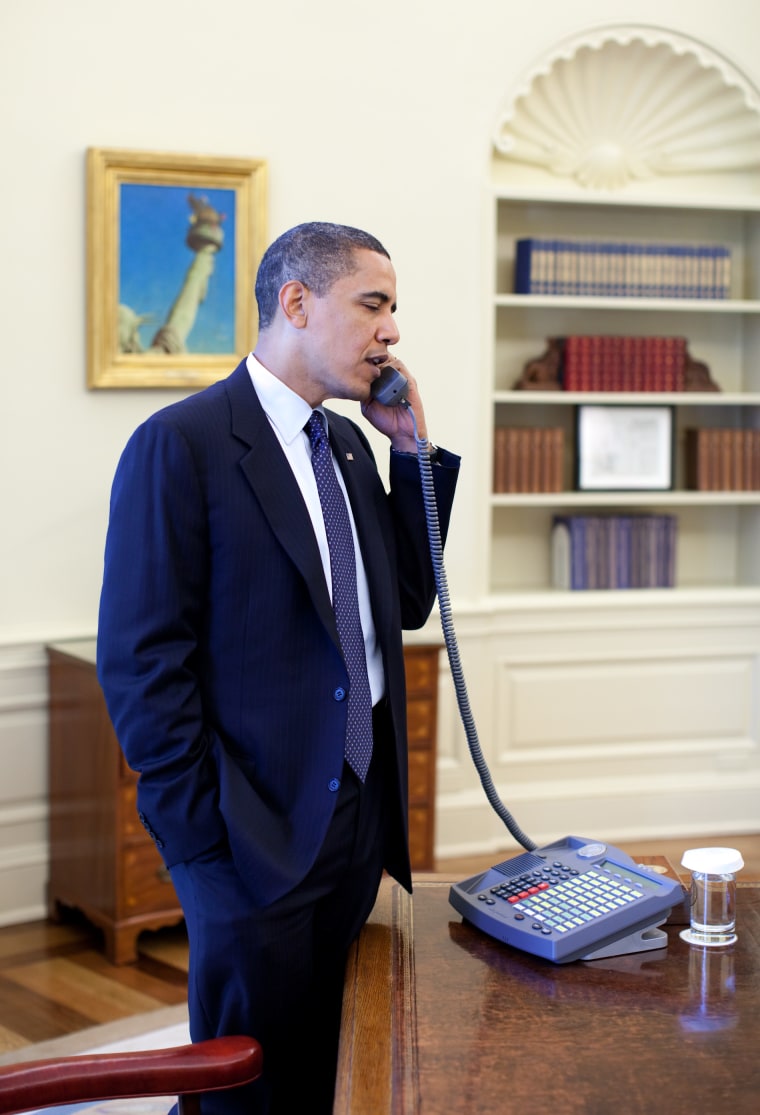 The note said: "Specter is announcing he is changing parties." A few minutes later, Obama reached Specter by phone and told him "you have my full support" and that the Democratic Party is "thrilled to have you."

Specter said Obama has promised to campaign for him in next year's Democratic primary.

White House press secretary Robert Gibbs said the president would be "happy to do it."
Specter had publicly acknowledged that to win in 2010, he would need thousands of Pennsylvania voters who switched from Republican to Democrat last year in order to vote for Obama to now flip back to the Republicans to cast ballots for him.
Powerful panel positions
As one of the most senior Republicans in the Senate, Specter held powerful positions on the Judiciary and Appropriations panels. It was not clear how Democrats would calculate his seniority in assigning committee perches.
Specter has long been an independent Republican, and he proved it most recently when he became one of only three members of the Republican party in Congress to vote for Obama's economic stimulus legislation.
As recently as late winter, he was asked by a reporter why he had not taken Democrats up on past offers to switch parties.
"Because I am a Republican," he said at the time.
But even before Specter announced he was switching parties, he attended a Senate subcommittee hearing on the swine flu outbreak and took a seat on the Democratic side of the dais.
He made no overt mention of his decision, but said, "Sorry I can't stay longer, but this is a complicated day for me."

NBC's Ken Strickland contributed to this report.