/ Source: The Associated Press
My 20-year-old daughter Emma has been following me on strange trips all her life — Beijing on a bike, rural Romania, the frozen Boundary Waters in January and campouts at 10,000 feet that left her sick and dazed because of the altitude.
Now that she's in college and her own wanderlust has kicked in, it's my turn to traipse after her.
But my trip to visit her while she spent a semester abroad in Costa Rica turned into a three-generation adventure when her grandmother and aunt decided to join us. And it was there, on a jungle beach, that I learned a lesson about backing off. But I didn't learn it from Emma; it was my mother handing out that lesson — her and her unlaced tennis shoes.
After one year on campus Emma couldn't wait until the typical junior year to study abroad. So as a first-semester sophomore she left for Costa Rica in August to study ecology and Spanish.
Her college doesn't encourage family and friends to visit the students in Costa Rica. But how do you resist the lure of traveling with your child in a tropical setting? In December. Did I mention she was on the Pacific coast near great beaches?
I found reasonably-priced airfare. Emma found me really reasonable lodging in a wildlife refuge a short bus ride from the home of the family she was living with near the grungy surf haven of Dominical.
I mentioned the weeklong itinerary to my sister, Cecelia, and my mother, Mary, and presto, another strange trip took shape; three generations together in the rainforest. No one, except Emma, speaks Spanish. But we're all pretty hardy. In fact, when Mom read about Hacienda Baru, where we would be staying, she said she'd forgo the canopy zip line over the jungle. But not out of fear.
"I just did one a few months ago in Mexico," she said. Sure she's 78, but, so is Clint Eastwood.
All sorts of neurotic mayhem ensued from the moment we landed. There was the usual bickering and simmering that happens when people with too much shared DNA spend a lot of time together in a hot place with unreliable transportation.
But things didn't get ugly until one morning — I think it was Day Three — when we took the public bus from Hacienda Baru to Marino Ballena — a national park with a beautiful, deserted stretch of beach.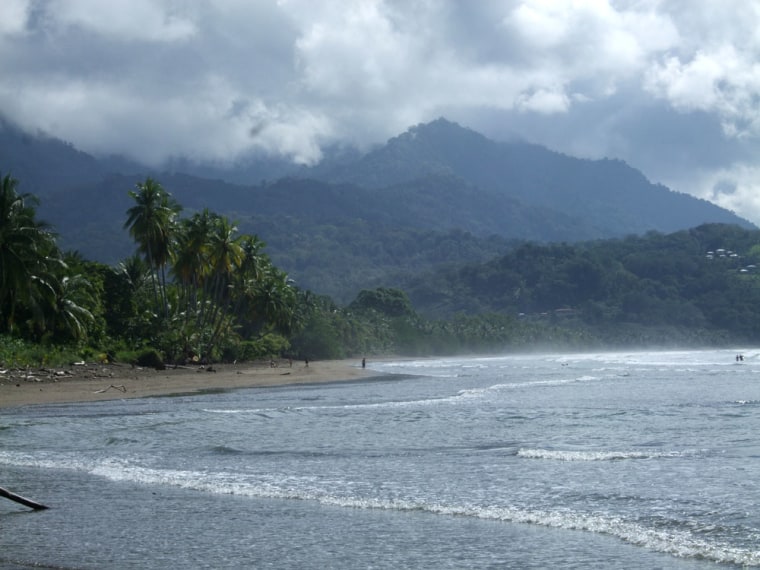 Mom hadn't slept well the night before, and her energy seemed to be sagging. We had stocked up at a tiny store on sardines, crackers and water, which revived her some. But by noon, we needed real food.
Mom stood up, seemed a little shaky, and pulled on her pink and white tennis shoes. She looked like she was struggling with the laces.
"Here," I said. "I'll tie them."
Note to self and any other people with go-get-'em aging parents: Don't offer to tie their shoelaces. Ever.
From the consternation and mumblings that only an irritated grandmother can muster, it was clear that instead of offering to tie her shoelaces, I had actually told her I was going to put her in a nursing home, tether her to the bed and have Gustav the nurse feed her peas the rest of her life.
"You are not tying my shoes!" she said. "Some day, your children may be tying YOUR shoes. But you are NOT tying my shoes!"
I don't remember what we had for lunch at the little restaurant about a five-minute walk from the beach. But I know there were red table cloths, and the food came with beer and a side of loathing from me to her and back. My sister Cecelia, brainy soul that she is, steers clear of our dust ups. Her lifelong motto is something like "tie your own damn laces."
Things got worse when Mom said she wanted to take the early bus back to Hacienda Baru rather than wait for the 4 p.m. bus the rest of us were taking.
You'd think I would have learned, but I offered to go with her. I don't know what possessed me. Chalk it up to the sun. I thought she was tired. Blah. Blah. Blah. Wrong again.
"You have GOT to be kidding!"
Mom got on her 1 p.m. bus alone. Emma, Cecelia and I walked back to the beach, with me offering expletives about what Mom could do with her indignation. I spent the rest of the day in awe of the beach, its emptiness and perfect waves, and of the confusion mothers and daughters can summon.
I had wanted to help. But instead I insulted. How I missed the cues to give my mother room, to wait until asked, I will never know.
I doubt Clint's kids offer to tie his shoes. Of course, I don't know this for sure, but it's a safe bet, right? After all, who wants people who are supposed to look up to you think you could use a hand? If you're traveling the world, zipping around the park on your bike, studying French and basically yanking as much out of life at 78 as you ever were, you can probably tie your own laces and might even bristle at someone with half your energy offering to do it for you.
Figuring this stuff out may be part of aging and watching people you love age. But it's not the easy part.
The rest of the trip was a hodgepodge of bickering and delight. A thigh-sized green iquana fell from a tree, landing next to Emma with a splat. We played Hearts before dinner. When Hacienda Baru ran out of vodka, Mom took up tequila. Capuchin monkeys navigated the canopy above us. Toucans flew from our backyard trees.
On the last afternoon in Dominical, after leaving Emma at a spot where she could catch a bus back to her home, I joined Mom and Cecelia on a shuttle bus crammed with young people and surfboards for the four-hour ride to San Jose. Our flight home was the next day.
But just as the shuttle was leaving, Emma came walking up the road.
"I missed the bus," she said, clearly exhausted. "And, I can't find a taxi."
Dominical is a fun place. But it's not somewhere you want your daughter to be stuck at night without a ride home. Emma — like her grandmother — is very independent and asks for little. Every now and then she wants her back rubbed or some cash. But not often. And here she was tired, a little worn out — most likely from too much time with her mom, aunt and grandmother.
The shuttle driver said he wasn't going her way. I got out and unloaded my luggage.
"We'll figure something out," I said.
We were both relieved, I think. Emma wasn't asking me to tie her shoelaces, but I could still help — even if it meant just standing by as she trolled for transportation.
And Mom could happily find her own way home.