/ Source: The Associated Press
The Hermitage Hotel has afternoon tea in the grand lobby. Down-filled duvets (that's a fancy word for comforters). A presidential suite with 2,000 square feet. And a really nice toilet.
So nice, in fact, that it's been voted (drum roll please) America's best restroom.
Flush in the middle of downtown Nashville, the luxury hotel and its ground-floor men's bathroom are definitely the head (so to speak) of the class.
The redoubtable restroom is art-deco style with gleaming lime-green-and-black leaded glass tiles, lime-green fixtures, terrazzo floor and a two-seat shoeshine station.
"You just can't find anything like it anywhere else," says Janet Kurtz, director of sales and marketing at the hotel.
The restroom won the honor in online voting sponsored by Cincinnati-based Cintas Corp., which supplies restroom hygiene products and services. The company says "tens of thousands" of people voted over two months last summer. Precise numbers are kept, well, private.
Criteria were hygiene, style and access to the public. The highfalutin honor has earned the restroom entry to "America's Best Restroom Hall of Fame."
"People see it and fall in love with it," Kurtz said.
It has four stools, three urinals, four sinks, spotless mirrors and a Sultan telephone that connects to the front desk.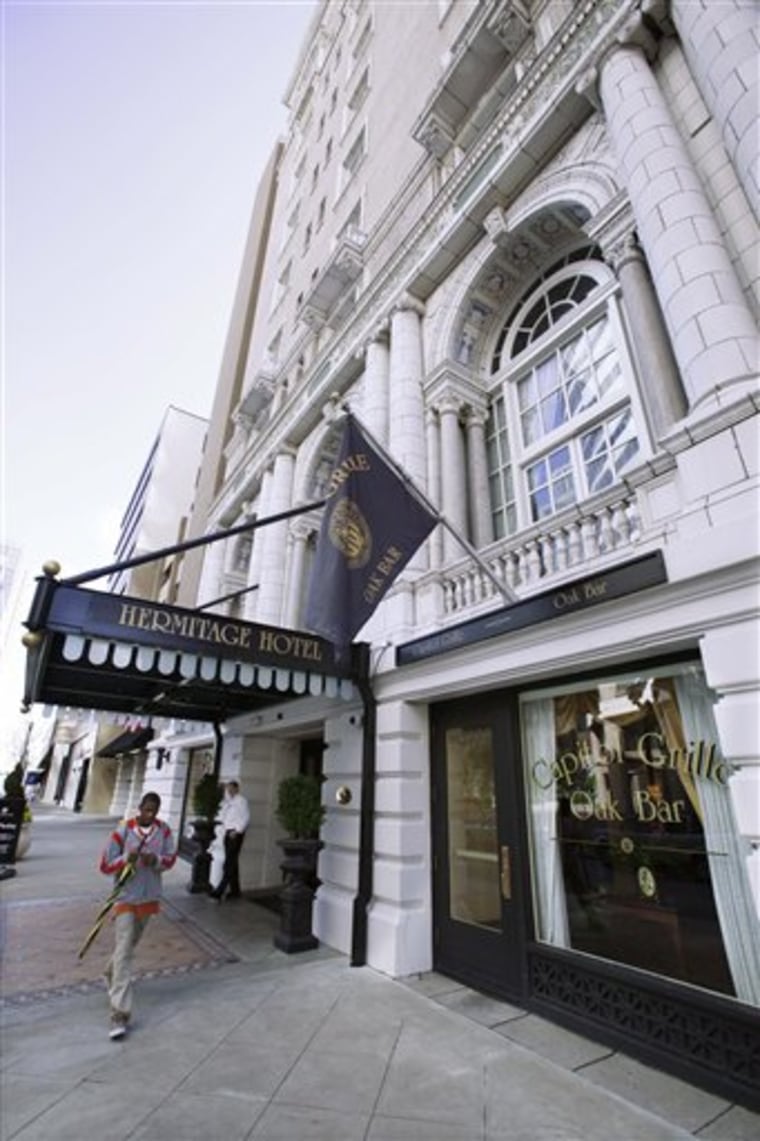 And, (how do you put this delicately?) women seem attracted to it.
Lita Esquinance of Bradley County, Tenn., guides friends to the restroom for a discreet peek just about every time she visits Nashville. One of them, Sonja Luckie, jokingly summed up her visit with this discerning observation:
"For men, it's very stimulating."
The hotel, built in 1910 and renovated in 2003, has 122 guest rooms and suites. The restroom, down the hall from the hotel bar and restaurant, dates back to 1939.
Do they leave the light on for you? Not necessarily, but the famous restroom is cleaned hourly.
In her six years at the hotel Kurtz has never used the men's restroom. But just wait.
"I hope they have a ladies' night sometime."