/ Source: The Associated Press
A roadside bomb killed nine Turkish soldiers in an armored personnel carrier Wednesday in southeastern Turkey, making it the deadliest attack by suspected Kurdish rebels in six months, officials said.
In a separate ambush near the border with Iraq, guerrillas fatally shot a Turkish soldier, local media reported.
Officials suggested both attacks were done by rebels of the Kurdistan Workers' Party, or PKK, which has been fighting since 1984 for more autonomy for Turkey's Kurds, who makes up a fifth of the country's 70 million population and live predominantly in the impoverished southeast.
Many PKK guerrillas shelter in the mountains of neighboring Iraq, crossing the border for hit-and-run assaults. The group is considered a terrorist organization by both the European Union and United States.
The vehicle targeted in Wednesday's bomb attack had been accompanied by a tank to secure an area near Lice, a town in the southeastern Diyarbakir province, before a larger military convoy passed, military chief Gen. Ilker Basbug said.
There was no immediate claim of responsibility for the bombing, but Basbug said the attack — 125 miles from the Iraqi border — made the military even more determined to fight terrorism, and he urged Iraq's semiautonomous Kurdish region to crack down on the rebels from Turkey.
"Our security forces, our armed forces, our police will press ahead with the struggle against terrorism with more determination and tenacity than ever," Basbug said.
Turkey's Kurdish conflict
Meanwhile, suspected rebels opened fire on a military unit in Semdinli, near the borders with Iraq and Iran. An injured soldier died later in a hospital, and the military launched a new operation in the area, according to Turkey's Anatolia news agency.
Tens of thousands have died in Turkey's Kurdish conflict. In recent years, the government has taken fitful steps to provide more economic help and cultural rights to Kurds, including lifting a ban on the Kurdish language in 1991.
But as the PKK campaigned has continued, Turkey last year staged a ground offensive against suspected rebel targets in northern Iraq, and has launched aerial attacks across the border with the help of U.S. intelligence.
On Oct. 3, Kurdish rebels attacked a Turkish military outpost at Aktutun near the Iraqi border, killing 17 soldiers.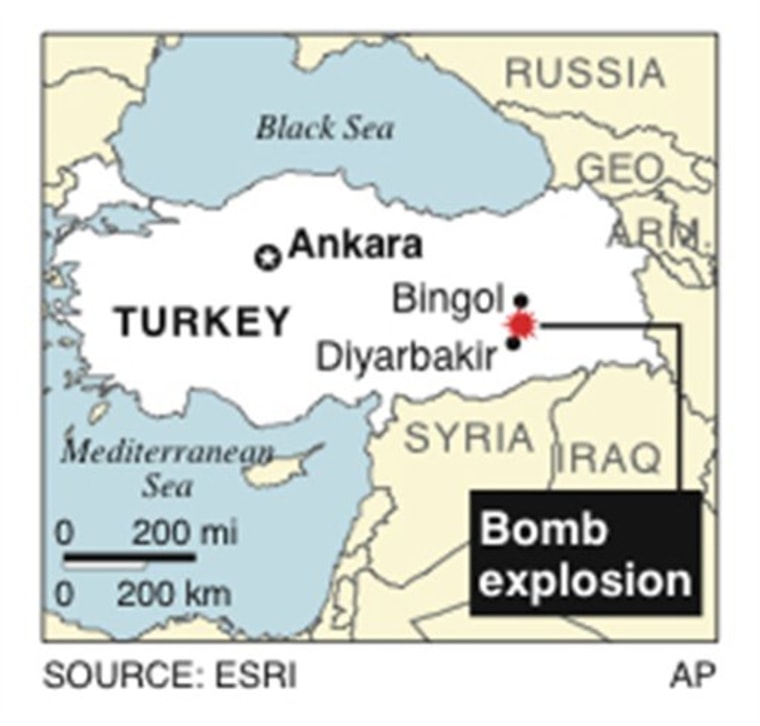 In recent weeks, Turkish authorities arrested dozens of members of the Democratic Society Party, a pro-Kurdish party in parliament that is suspected of having ties to the rebels. The party alleges it is the target of persecution, after winning a majority of votes in areas of southeast Turkey in March local elections.
In a third incident Wednesday, authorities said a woman set off a small explosion, killing no one, in a botched suicide attack targeting a former justice minister condemned by leftist militants for his treatment of prisoners.
Bodyguards of former Justice Minister Hikmet Sami Turk, who was preparing to teach a class at Bilkent University in Ankara, overpowered the alleged assailant. Turkish media said a second attacker was arrested as he tried to flee.
The PKK and leftist militants have cooperated in the past, though attacks by leftist militants have diminished since the 1990s. The Kurdish rebel group was initially Marxist, but now focuses exclusively on Kurdish rights.
The leftists blamed the minister, Turk, for mistreating prisoners, after he presided over the transfer of inmates in 2000 and 2001 from large wards housing up to 100 to new maximum-security cells housing one to three people each.
The government said the big wards had become virtual training centers for underground groups, but the transfers sparked deadly prison riots and hunger strikes by leftist extremists who said small cells isolated prisoners and left them vulnerable to guard abuse.