/ Source: The Associated Press
Consumer spending fell more than expected in March after two straight monthly gains, a stark reminder of a fragile economy that has pushed a record number of Americans to draw jobless benefits.
The Commerce Department said Thursday that consumer spending dropped 0.2 percent in March, worse than the 0.1 percent decline economists expected. Incomes, reflecting persistent mass layoffs, dropped 0.3 percent, also worse than expected.
The personal savings rate rose to 4.2 percent from 4 percent in February. It stood at 4.4 percent in January, the first time in more than a decade the rate has been above 4 percent for three straight months.
Households have been cutting back on spending and boosting savings during the recession, worried that they need to replenish depleted nest eggs as job cuts mount and investment values plunge.
The fact that spending turned negative in March after two straight gains is a worrisome sign. Consumer spending in the first quarter grew at a 2.2 percent annual rate after two consecutive quarters of declines, but some analysts said that may be just a blip. Economists closely watch consumer spending because it accounts for 70 percent of total economic activity.
Procter & Gamble Co., the world's largest consumer products maker, on Thursday reported a dip in its quarterly profit and trimmed its full-year outlook, expecting slow sales through June. P&G has been promoting Tide detergent, Pampers diapers and its other products by emphasizing their value to consumers and cutting costs, but sales fell across its broad portfolio.
Meanwhile, the Labor Department said new applications for unemployment aid fell to a seasonally adjusted 631,000 last week. That was down from the prior week's 645,000, which was revised slightly higher from the government's initial estimate. Economists had expected a small increase in new claims.
The four-week moving average of initial jobless claims, which smooths out volatility, dropped last week to 637,250. That was the lowest level since late February and a decrease of about 20,000 from the high in early April. Goldman Sachs economists have said a decline of 30,000 to 40,000 in the four-week average is needed to signal a peak.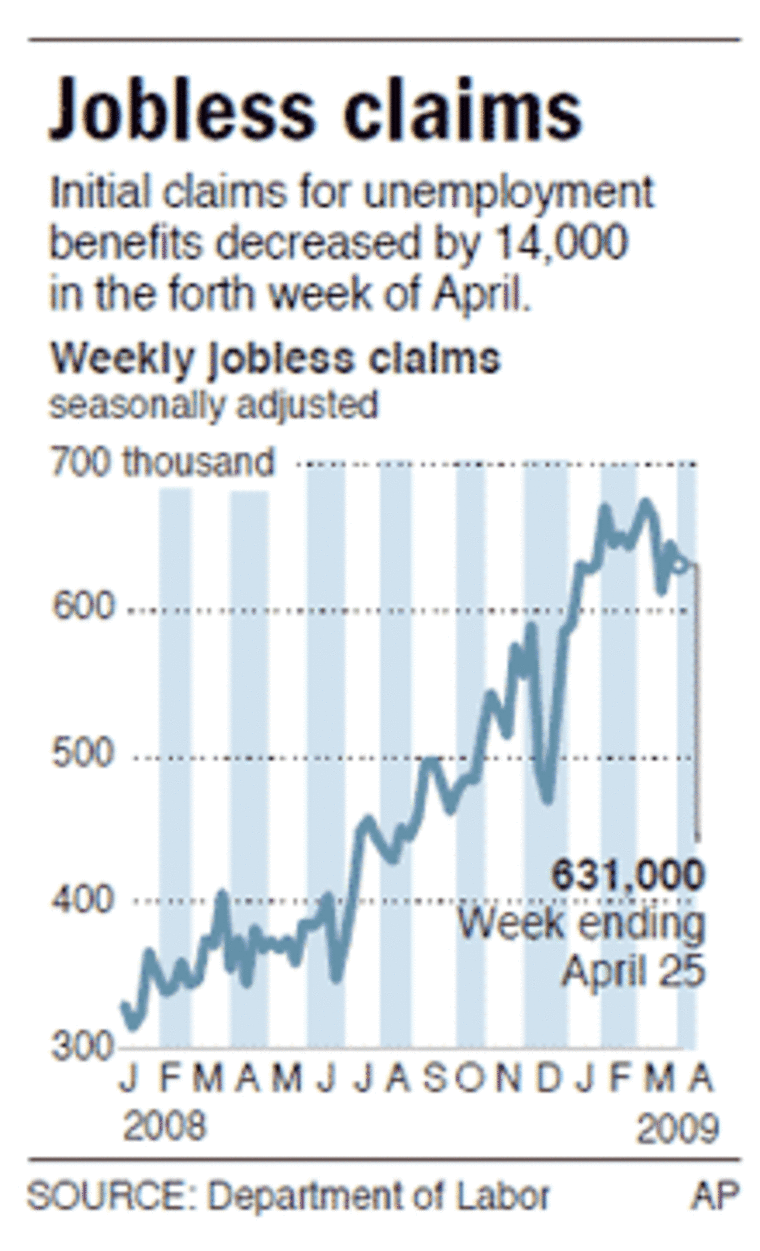 "We are seeing a mixed picture with the data. Now we have shades of gray, which is an improvement from the fall and winter when it was uniformly black" said Stuart Hoffman, chief economist at PNC Financial Services.
Christina Romer, chair of President Barack Obama's Council of Economic Advisers, predicted another economic contraction in the second quarter and delivered a downbeat assessment about unemployment. But she said the pace of the decline will moderate sharply over the next several months.
"Whether the recovery begins later this year, as most private forecasters predict, or takes a bit longer is hard to know," she told Congress' Joint Economic Committee. "The recovery will almost surely take a long time."
Hoffman predicts the economy will shrink in the current quarter at a 2 percent pace, far less than the 6.1 percent annualized drop in the first three months of this year. Consumer spending for the quarter probably will be fairly flat, he said.
Still, the number of people continuing to draw unemployment benefits jumped to more than 6.27 million, the highest on records dating back to 1967. That was steeper than economists expected and a 13th straight record-high.
New jobless filers — as opposed to those who remain on the unemployment compensation rolls — also are closely tracked by economists for clues about the future direction of the economy. Analysts want to see a sustained decline in new applications as a sign of improved conditions.
Although last week's drop in new claims was welcome, the level remains elevated and signals a troubled jobs market. The labor market usually doesn't recover until well after a recession has ended. That's because companies won't want to ramp up hiring until they feel certain any recovery has staying power.
Hoffman called the drop in initial filings "mildly encouraging" and said he expects some of the big increases logged to taper off as the year progresses.
Still, the record number of continued claims suggests that many laid-off workers are having trouble finding new jobs.
As a proportion of the work force, the total jobless benefit rolls are the highest since late December 1982. The continuing claims data lag initial claims data by a week.
Besides the continued claims, the report said there were 2.4 million people receiving benefits, as of April 11, under an extended unemployment compensation program enacted by Congress last year. That provides an additional 20 to 33 weeks on top of the 26 weeks typically provided by states.
On Wall Street, the Dow Jones industrial average traded flat Thursday afternoon after President Barack Obama confirmed that Chrysler LLC was filing for bankruptcy protection. The Dow had been up more than 100 points earlier in the day.
Workers and companies have been hard hit by the recession, which began in December 2007. It has snatched 5.1 million jobs and pushed the unemployment rate to a quarter-century high of 8.5 percent. It is expected to top 10 percent by early next year before it starts to slowly drift downward.
Companies have laid off workers and resorted to other cost-saving measures to survive the recession, which has eaten into sales and profits.
More job losses were announced this week. Textron Inc. said it will expand layoffs, eliminating 8,300 jobs, or 20 percent, of its global work force as the recession weakens demand for corporate planes. The maker of Cessna planes, Bell helicopters and turf-maintenance equipment earlier this year said it would reduce its work force by 6,200 jobs, or 15 percent, mostly at Wichita, Kansas-based Cessna. Elsewhere, General Motors Corp. laid out a massive restructuring plan that includes cutting 21,000 U.S. factory jobs by next year.
Still, many analysts predict the recession is easing in the current quarter.
The economy is still expected to shrink from April to June, but not nearly as much as it has been. In the first quarter of this year, the economy tumbled at an annualized 6.1 percent drop. That followed a 6.3 percent annualized decline in the final quarter of last year.
Another report showed that the recession is making employers more frugal when it comes to workers' compensation packages. U.S. workers' wages and benefits inched up just 0.3 percent in the first quarter of this year, the smallest gain on records dating back to 1982, the department said.
Among the states, California saw the largest increase in claims with 8,535 for the week ending April 18, which it attributed to more layoffs in the construction and service industries, according to the Labor Department. The next largest increases were in New York, Connecticut, Georgia and North Carolina.
Pennsylvania saw the largest drop in claims with 7,799, which it said was due to fewer layoffs in the construction, service and transportation industries. The next biggest declines were in Florida, Illinois, Ohio and Washington.