/ Source: a href="http://www.washingtonpost.com/wp-srv/front.htm" linktype="External" resizable="true" status="true" scrollbars="true">The Washington Post</a
The bulldozers are working overtime in Jesus's home town, where Pope Benedict XVI is scheduled to celebrate Mass in mid-May with a crowd expected to be in the tens of thousands.
Road and other improvements long planned by the city are being finished in rapid fashion. A small amphitheater is being expanded for the papal mass into a concert-size facility that local leaders hope will eventually steal major acts from Tel Aviv and Jerusalem.
The pope's upcoming trip to Israel is not planned as an economic development tool. But the mood in this Arab city, which has felt short-changed in its share of the tourist trade, is that Benedict's day-long itinerary here will be an important boost.
"People will be told, 'Nazareth, Nazareth, Nazareth.' We believe this is the most important Christian city in the world," said Tareq Shehada, general manager of the Nazareth Cultural and Tourism Association.
"Nazareth has been a day-tripper's site," where tour buses often stop for a few hours before delivering passengers to hotels in other cities, he said. "We feel it should be a tourist city. Not a tourist site."
Symbolic, political overtones
The pope's trip from May 10 to 18 -- half of it to be spent in neighboring Jordan -- is centered on visits to places important to Christian history and faith. In a region central to three religions that have had their share of conflict, the trip will also have symbolic and political overtones.
He is scheduled to visit the Yad Vashem Holocaust memorial -- a common stop for visiting dignitaries but particularly significant in light of recent Jewish anger over Benedict's decision to lift the excommunication of British Bishop Richard Williamson, a Holocaust denier.
A visit to the al-Aqsa mosque, one of the holiest sites in Islam, is planned as well. Benedict early in his tenure angered Muslims with remarks about Islam, and has tried since to clarify what he meant and encourage dialogue. He also is scheduled to visit a Palestinian refugee camp near Bethlehem, a reminder of the ongoing Arab-Israeli conflict.
Nazareth, meanwhile, is banking that the Pope's presence will promote the city as a place that is central to Christianity and a seat of Arab culture in Israel.
Arabs, Christians feel marginalized
On a national level, Israel's Arab and Christian communities are small and often complain of feeling marginalized -- neither integrated into the Jewish state nor fully identified with the national aspirations of Palestinians in the Hamas-controlled Gaza Strip and the occupied West Bank.
Comprising about 20 percent of the country's population, the average Israeli Arab earns roughly 60 percent of what the average Jewish worker makes, according to government statistics. About half of Arab families live below the poverty line, compared to 15 percent of Jewish families.
The country's small Christian population, which is overwhelmingly Arab, has been holding steady at about 142,000 people -- 12,000 more if the disputed neighborhoods of East Jerusalem are included. But with the lowest birth rates in the country -- about 2.1 children per woman compared to 2.8 for Jews and 3.9 for Muslims -- it has been shrinking as a percentage of the overall population, according to Israel's Central Bureau of Statistics.
Untapped potential
In Nazareth, however, there is a sense that the city's Arab and Christian heritage offers untapped potential. At 65,000 residents, it is the largest Arab city in Israel -- outside of East Jerusalem -- and a third of its citizens are Christian.
This should be the place, local entrepreneurs and officials say, where foreign visitors and Israelis come to enjoy Arab food, hear a traditional oud concert and explore northern Israel's Galilee region. Christians regard the area as the setting of Jesus's ministry and initial miracles.
Nazareth is experiencing a bit of a renaissance in its downtown and nightlife, with new inns, restaurants and art galleries starting to fill Ottoman buildings that offer a hint, on a small scale, of places like Damascus and Cairo.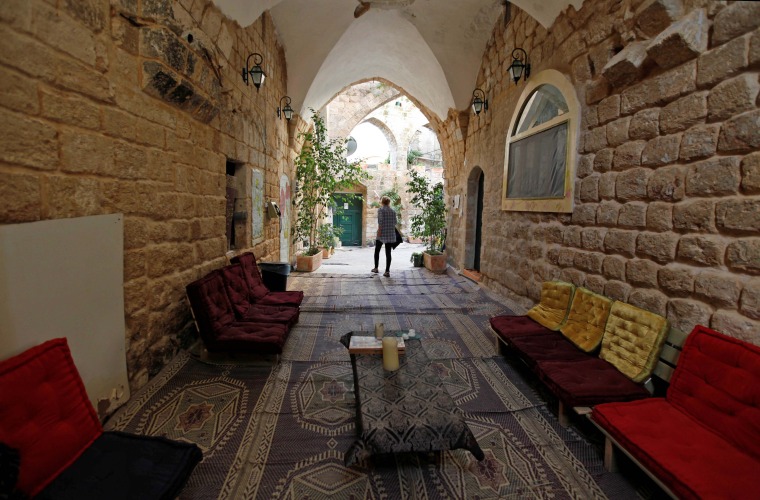 At night, "Nazareth was dead. To go to a coffee shop you had to go to Haifa," on the Israeli coast, said Suraida Nasser, whose family home -- a 200-year-old stone building in the center of Nazareth's old city -- has been renovated into the 10-room Fauzi Azar Inn, named after her grandfather.
The project is one of several that has started to breath life back into an old city whose narrow streets had been abandoned in some sections, or dominated by small retail shops that are shuttered by late afternoon.
Other investments have doubled the number of hotel rooms in the city from 500 to around 1,000 in recent years. While that helped Nazareth participate somewhat in a boom year for Israeli tourism in 2008 -- the number of local visitors jumped from 114,000 in 2007 to 166,000 in 2008 -- officials such as Shehada argue that the city still is somewhat of an afterthought in Israeli tourist marketing.
Competing with Tiberias
The busloads of visitors that clog Nazareth's streets at midday, for example, typically leave in time for dinner and an overnight stay elsewhere. Often, that is in the nearby, predominantly Jewish city of Tiberias, whose location on Lake Kinneret attracts Israelis looking for a weekend escape as well as Christian visitors who know the body of water as the Sea of Galilee.
Oren Drori, deputy director general and head of marketing for Israel's Tourism Ministry, said the draw of the lakefront might be hard for Nazareth to match. But he agreed that, as a Christian and "ethnic" destination, the city has room to grow.
"Nazareth is an important component of the package," Drori said. "But it is step by step. You have to have a product. You have to have businesses to have people stay and spend there."
For the town as a whole, Benedict's visit is already paying off in the form of about $6 million in infrastructure that the Israeli government is funding to handle the expected crowds.
Pope John Paul II largely skipped Nazareth during a 2000 trip to the Middle East, stopping briefly at a Christian shrine before moving on to other parts of the Galilee. Nazarenes considered it a costly slight, given that cobbled roads in the old city had been refurbished in anticipation of a papal stroll.
This time, the Vatican booked a full day in Nazareth -- including the main Mass of the trip at the newly expanded amphitheater on the slope of Mt. Precipice, another important Christian site. The pope will also visit local shrines, have lunch and hold meetings, including a session with Israeli Prime Minister Binyamin Netanyahu.
Controversy
The trip may not be free of controversy. A local Muslim group had hoped to build a mosque next to the Basilica of the Annunciation, one of two places in town associated by Christians with an angel's announcement to Mary of Jesus's conception.
The idea was rejected several years ago -- the Vatican was vocally opposed -- but a large banner marks the spot with a quote from the Koran that challenges basic tenets of Christianity.
The northern branch of the Islamist Movement in Israel, which promotes religious law and observance among Israeli Arabs, issued a statement recently saying that it opposes Benedict's arrival in Nazareth because of his earlier comments about Islam, and that the group was "offended" by his planned visit to the al-Aqsa mosque.
But for Ali Salem, Nazareth's deputy mayor and head of a crew of workers pulling multiple shifts to finish preparing the town, the upside is obvious.
"It is going to be great for the economy," he said.
Special correspondent Samuel Sockol contributed to this report.
More on: Nazareth