/ Source: The Associated Press
Turbaned Taliban militants seized government buildings, laid mines and fought security forces Monday in the Swat Valley, as fear of a major operation led thousands to pack their belongings on their heads and backs, cram aboard buses and flee the northwestern region.
The collapse of a 3-month-old truce with the Taliban means Pakistan will now have to fight to regain control of the Swat Valley, testing the ability of its stretched military and the resolve of civilian leaders who until recently were insisting the insurgents could be partners in peace. The government feared the refugee exodus could reach half a million people.
The developments brought Islamabad's faltering campaign against militancy into sharp focus as President Asif Ali Zardari was preparing for talks Wednesday in Washington with President Barack Obama and Afghan President Hamid Karzai on how best to counter an increasingly overlapping spectrum of extremist groups behind surging violence in the neighboring countries.
The Obama administration hopes to build a strong and lasting regional alliance, linking success in Afghanistan with security in Pakistan. Toward that end, the administration is encouraging Pakistan to confront — not make peace with — the Taliban and other militants.
"These violent extremists need to be confronted head on," State Department spokesman Robert Wood said. "We will be supportive."
Complicating matters: Some of these groups have enjoyed support from Pakistan's intelligence services.
"We need to put the most heavy possible pressure on our friends in Pakistan to join us in the fight against the Taliban and its allies," Richard Holbrooke, the U.S. special representative for Afghanistan and Pakistan, said in Washington. "We cannot succeed in Afghanistan without Pakistan's support and involvement."
Pakistan has waged several offensives in the border region against al-Qaida and Taliban militants in recent years. Most have ended inconclusively or with peace deals amid public anger over civilian casualties and distaste for taking on fellow Muslims. The army has long focused on the threat posed by longtime rival India and is not used to the demands of guerrilla warfare.
'Like doomsday here'
Fearing that war could consume the region, thousands fled the main Swat Valley town of Mingora on Tuesday. Refugees clambered onto the roofs of buses after seats and floors filled up. Children and adults alike carried belongings on their heads and backs.
"I do not have any destination. I only have an aim — to escape from here," said Afzal Khan, 65, who was waiting for a bus with his wife and nine children. "It is like doomsday here. It is like hell."
Shafi Ullah, a student, said the whole town was fleeing. "Can you hear the explosions? Can you hear the gunshots?" he said, pointing to a part of town where fighting was continuing.
It is far from certain that the Pakistani public has the stomach for a long battle in Swat. Given that the militants have had time to rest and reinforce their positions in the three months since the truce took effect, any operation would involve fierce fighting in an urban setting and almost certainly cause significant civilian casualties and damage to property.
In recent days, however, there have been signs of a turn in mood against the Taliban. Many commentators now say the movement's true nature was exposed by its refusal to go along with the peace deal despite the government's best efforts.
Pakistan agreed to a truce in the valley and surrounding districts in February after two years of fighting with militants who had beheaded political opponents and burned scores of girls schools in their campaign to implement a harsh brand of Islam modeled on their counterparts in Afghanistan.
As part of the agreement, the government imposed Islamic law last month in the hope that insurgents would lay down their arms — something they did not do.
Last week, the Taliban moved from their stronghold in the valley into Buner, a district just 60 miles from the capital. That caused alarm at home and abroad.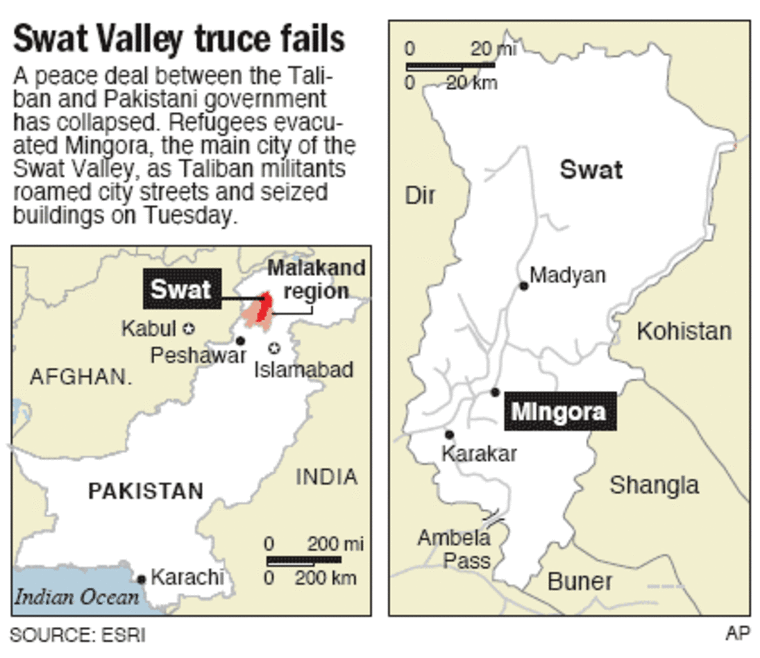 Offensive 'progressing,' army says
The army responded with an offensive it says has killed more than 100 militants and was "progressing smoothly" Tuesday, according to a brief statement.
Fighting, which had been rising in Swat in recent days, escalated Tuesday in Mingora and the neighboring town of Saidu Sharif, according to Associated Press reporters in the towns and an army statement. There were no immediate reports of casualties.
Black-turbaned militants were deployed on most streets and on high buildings in Mingora, and security forces were barricaded in their bases. Khushal Khan, the top administrator in Swat, said insurgents were laying mines in the town to hinder any army advance.
Late Tuesday, several dozen militants surrounded a police residential compound and an adjoining station in Saidu Sharif after occupying the offices of the police chief and the civil administration, said an officer who spoke on condition of anonymity because of the sensitivity of the information.
"The limited forces inside the police building cannot survive for long unless the militants are engaged from outside," he said from inside the station. "We are in war conditions and need reinforcements and supplies."
Mian Iftikhar Hussain, the information minister for the North West Frontier Province, said up to 500,000 people were expected to flee the valley. Swat is already struggling to house half a million people driven there by fighting from other northwestern regions over the last year.
Six refugee camps expected
Hussain said authorities were releasing emergency funds and preparing six new refugee camps to house them.
Neither the military nor the central government was available to comment Tuesday on whether a fully fledged offensive was planned in the valley.
Before the peace deal, the militants were estimated to have about 4,000 well trained and heavily armed fighters in the valley. It is unclear how many security forces are already stationed there. Under the terms of the truce, the army was not required to pull out of the region.
Taliban spokesman Muslim Khan said the militants were in control of "90 percent" of the valley. He said they were merely responding to what he called army violations of the deal — attacking insurgents and adding troops. He accused the government of caving to U.S. pressure in moving into Buner to counter the Taliban.
"Everything will be OK once our rulers stop bowing before America," Muslim Khan, the Taliban spokesman, told AP by cell phone, adding that the peace deal had "been dead" since the operation in Buner.
The United States and other Western nations have opposed the peace deal with the Swat Taliban, warning that other deals had broken down and given the militants time to regroup.
The Obama administration wants tough action against militants threatening both nuclear-armed Pakistan and neighboring Afghanistan.
U.S. officials said Obama would seek assurances from Zardari that his country's nuclear arsenal was safe and that the military intended to face down extremists in coordination with Afghanistan and the United States.
Although the administration thinks Pakistan's nuclear weapons are secure for now, concern that militants might try to seize one or several of them is acute. The anxieties have heightened amid the Taliban's recent advances and American worry about the commitment from Pakistan's government and military in battling the extremists, the officials said.
Judges rule on French slayings
Also Tuesday, the High Court in the southern city of Karachi upheld an appeal by two men sentenced to death for the 2002 slayings of 11 French nationals and four other people in a bombing outside the city's Sheraton Hotel.
The judges said they suspected that the confession of one of the men, Asif Zaheer, was "not voluntary" and that prosecution witnesses had been "set up" by authorities, said state prosecutor Saifullah, who goes by only one name.
Authorities were considering appealing the acquittal, Saifullah said.
Earlier Tuesday, a suicide bomber rammed a vehicle carrying troops near Peshawar, the capital of North West Frontier Province, killing one paramilitary soldier and four civilians, police official Ghafoor Khan Afridi said. Another 21 people, including 10 troops and police and two children, were injured, Afridi said.
Pakistani militants have threatened a campaign of suicide blasts in retaliation for U.S. missile strikes on al-Qaida and Taliban strongholds into Pakistan's northwest and for a string of military operations by government forces.
More on Pakistan