When the economic crisis hit here, it touched down with the force of a tornado. Tammy Gambill's job, then her husband's, were swept away along with thousands of others in the recreational vehicle industry.
"Here I am, 41 years old, and my husband is getting ready to turn 40, and we are back at square one," said Gambill, who worked 20 years in the RV industry. Now she is scraping by on partial unemployment benefits and a minimum-wage, part-time job and taking classes to learn insurance coding. She and her husband have given up on buying a three-bedroom home through a lease-to-own agreement. "The money is gone … Now the assets we have go to renting a one-bedroom apartment and a storage unit."
In a sense, the entire community is hitting the reset button. With the virtual collapse of the RV industry, long the mainstay of the economy, nearly 20 percent of workers in the area are unemployed, about triple the number a year ago. Meantime, the jobless benefits system, food banks and emergency assistance programs are struggling to meet demand, and home foreclosures are climbing. Elkhart and Elkhart County — dubbed the "RV Capital of the World" — are scrambling to attract new industries and to retrain its workforce for new occupations. The task is more daunting amid a national economic crisis.
"We've not had to do it, and I guess you don't do things when you don't have to," said Elkhart Mayor Dick Moore. "I think we've learned a lesson, and we've learned that we've got to be more diversified in the industry here."
Lucrative habit, hard to break
The town has had a good ride with the RV industry, so there has been little incentive to change up to now. Dozens of RV companies — making everything from tiny tag-a-long trailers to $1 million custom-made motor homes — and their suppliers have been the biggest source of jobs — offering a path to a middle-class lifestyle to workers right out of high school and making RV titans of the most resourceful. The industry accounted for about 25 percent of the total economy in Elkhart.
When demand was strong and financing flowed, dealers were able to fill their lots with RVs using lines of credit. But soaring gas prices and then the credit crunch dealt the business a swift one-two punch. With investments and home values in a continued slump, many middle-class Americans who might have felt wealthy enough to buy an RV have lost their appetite for big-ticket purchases.
In the past year, at least a dozen RV plants have shut down in the Elkhart area, shedding thousands of workers. The precise number of local jobs lost is unknown, but the Recreational Vehicle Industry Association estimates that the overall RV industry employed an estimated 530,000 directly and indirectly in June 2007, and that 53 percent of those workers had been cut by November 2008. With approximately 60 to 65 percent of all RVs manufactured in the northern Indiana-southern Michigan region surrounding Elkhart, that would work out to approximately 168,000 jobs.
Those layoffs have rippled through the economy, hitting retailers and restaurants. And week after week, factories and everything in them have gone on the auction block: piles of caulk guns, screen doors, forklifts and office furniture selling at pennies on the dollar. Steven Petitt, a broker for commercial real estate giant CB Richard Ellis, says that of an estimated 80 million square feet of industrial space in Elkhart County, more than 9 million square feet is listed for sale. And that doesn't include properties for sale by owner or just standing idle.
For many people here, it is an article of faith that Elkhart will pull through this crisis as it has in past slumps — that although it entered the slump earlier than other places in the country, it will emerge earlier as well, and more robust than before. But this time, some experts warn, Elkhart should not count on it.
"The long-term prospects for the RV industry are very, very uncertain," said Michael Hicks, director of the Center for Business and Economic Research at Ball State University in Muncie, Ind. He cites the glut of unsold RVs, the lasting psychological impact of $4 per gallon gas and the likelihood that when the economy does recover, the cost of fuel will increase again. "I think it's going to be very difficult to create the jobs that were lost in the RV industry, sad to say. That's the tough medicine."
As an interim solution, Mayor Moore has been zealous in his pursuit of federal stimulus dollars, trekking to Washington, D.C., on a regular basis to appeal for his stricken town.
Moore has requested $91 million for a long list of projects that he says could generate 2,300 jobs in the coming months. Many people in this largely conservative Republican area are skeptical of the massive spending bill and think Moore's projections are too optimistic, but they hope he is right.
"This (plan) isn't pie in the sky, this isn't pork," Moore says of infrastructure needs, including an expensive sewer and drainage project mandated by the federal government. "If we can get some stimulus money and get that done, think of the benefit to the community.  So I keep tying those things together — it's jobs, and it's also completing projects that we must do, will do, have to do — some of them mandated and unfunded."
Some federal money is beginning to flow. In late March, Elkhart was notified that it would receive $4.2 million to upgrade a runway at the Elkhart Municipal Airport and $2.25 million from HUD for neighborhood stabilization.
But Elkhart's problem remains: how to create long-term jobs and wean the community from its reliance on the RV industry.
For many workers here, the only hope of returning to the standard of living they once enjoyed is to go back to school — to get technical training or an associate degree, or at least a high school GED. So far, more than 1,000 dislocated workers, mostly from RV plants, have taken advantage of federal emergency retraining funds — $6,000 vouchers to train in areas like nursing, criminal justice, cosmetology and information technology.
As the layoffs swelled, Ivy Tech, a statewide community college system, launched a rapid-response program in an effort to reach workers early — preferably before they leave the factory floor.
The model for this approach was Monaco Coach, one of the biggest RV makers in Elkhart County until it closed several plants last July. Ivy Tech was able to get in and screen all 3,000 employees when the cuts were imminent and enroll some 600 in retraining programs.
"It's critical to reach them when they're motivated," said Ivy Tech President Tom Snyder. If they don't get counseling first, he said, older workers tend to become fearful about whether they can do college-level work. "Some just start waiting for their job to come back, or their family life issues take over."
One of the students Ivy Tech points to as a role model is Steve Chrisman, 39, who was laid off last July from Newmar RV, where he had been making $1,200 a week.  Like many people here, he had cut his college education short to work in the lucrative industry. Now that it has dried up, he is learning just how difficult it is to get a job without specialized skills.
Applying for 'anything and everything'
"When I was laid off … I thought it was temporary," said Chrisman. "Then you're out there for months looking for a job, and you find out there's nothing out there. … I've applied for anything and everything. … I've probably submitted 500 resumes."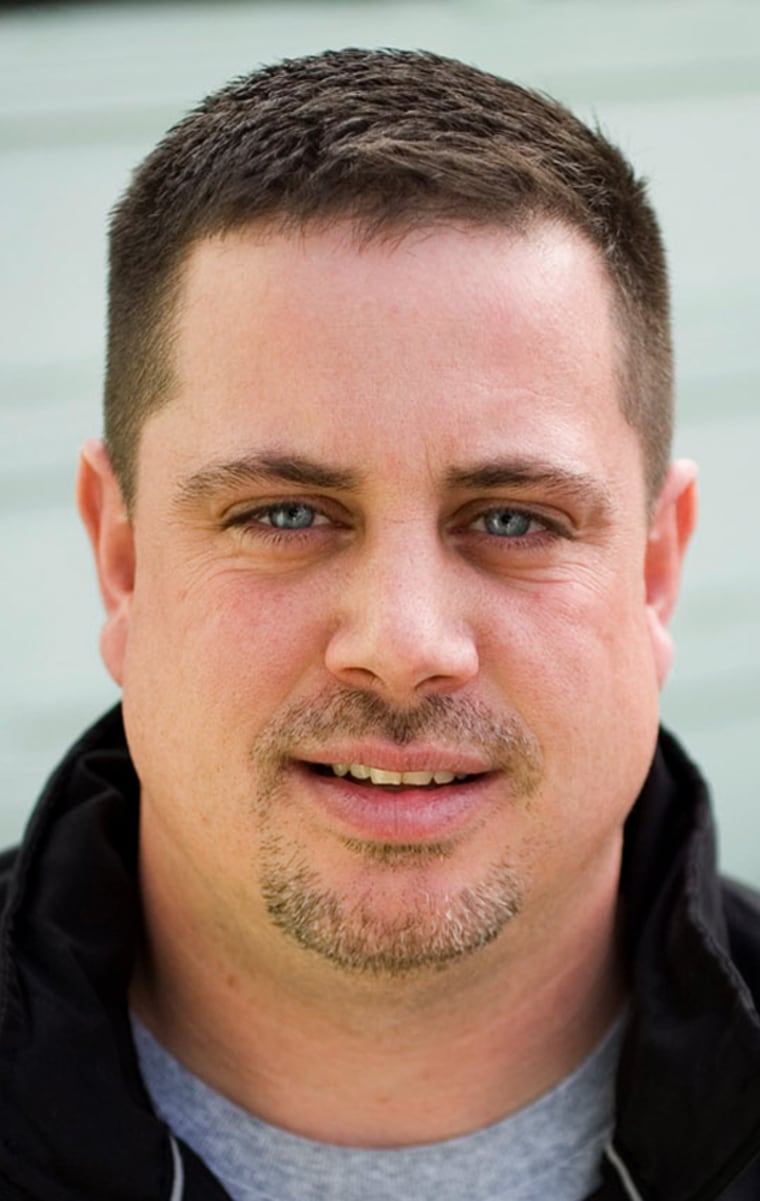 So Chrisman is taking advantage of the retraining opportunity, learning computer skills for the making of orthopedics, an industry that is still thriving in a neighboring county.
In the meantime, Chrisman is struggling to provide for himself and his 14-year-old son on about $300 a week. He sold his boat and other nonessentials. Between partial unemployment benefits, a part-time job in a homeless shelter and dwindling savings, he can cover his house payment and most essentials, though he had to seek Salvation Army help to cover winter utility bills. He also hunts and fishes to cut grocery costs. He has no health insurance.
But the toughest thing is uncertainty: What happens after the training, and after the unemployment benefits end?
"My worst-case scenario is: You do all this training, and you don't get a job," says Chrisman. "What if there are no jobs?"
The creation of jobs is the mantra for elected officials in Elkhart city and county governments. Along with various chambers of commerce, they are reaching out to tech companies and other non-RV businesses.
Mayor Moore has appealed to the University of Notre Dame for a piece of the nanotechnology research program the South Bend school is launching.
He also is writing personal letters to the heads of major corporations, urging them to use Elkhart as a production site, shopping the area's factory-ready workforce, inexpensive industrial space and railroad transportation system. It's not easy, he concedes, to get companies to spend money to relocate amid a recession.
"I'm telling them, 'This is where we are, this is what we have to offer. Come and tell us what your needs are to relocate here and we'll talk to you,'" he says. "And I'm hoping for the price of a stamp someone along the line will say, 'This is kind of unique. I got this letter from this mayor.'"
There's no shortage of brainstorming. Ever since President Barack Obama came here to push his stimulus package plan in February, the Elkhart government has been deluged with inquiries and business ideas.
Tinkerers and tilapia
"It's everything from random thoughts to formal business proposals," said Brian Gildea, economic development director for the city of Elkhart, who has been reviewing every email, voice mail and letter — in search of possible gems. The most promising ideas, he thinks, are those that take existing products and make them environmentally friendly. But there are plenty of duds to sort through.
"You'll find people who are trying to prey upon the community," Gildea said. "Or some others are trying to start a small business with multilevel marketing. That may work, but I'm not the guy to be your advocate and cheerleader."
One notion that seemed whimsical at first — to convert former RV factories into fish farms raising tilapia — is gaining some traction.
"Everybody laughed and thought it was a crazy idea," recounted Mike Yoder, an Elkhart County commissioner and dairy farmer. "It does diversify our economy a bit because it gets us into a food economy, and it actually makes some nice connections regionally. And we've really struggled with developing a regional economic development plan, so maybe something like this can help."
Other boosters say Elkhart should look inward. Some manufacturers in the area are already tapping into new industries, such as Lucid Energy, which makes wind and water turbines.
Even in the RV industry, innovation is well under way, some contend, as parts manufacturers have shifted their product lines to sell to other industries.
"The RV companies at the top have not really changed their way of operating, but their suppliers have," said Eric Kanagy, who runs a digital signage start-up called RedPost.
"The same facility that is used to make aluminum components for RVs — trim pieces, corner pieces — is producing wind turbine blades and frames for our digital signs," he said.
It is that sort of agile innovation that will enable Elkhart to thrive again, Kanagy said: "It's that mentality of 'let's try it, let's do it, let's get 'er done.'"