/ Source: The Associated Press
Britain's Prince Charles has enlisted an animated amphibian in his campaign to protect the world's rainforests.
The 90-second video was launched online and in London on Tuesday by the Prince's Rainforest Project, Charles' environmental charity.
Speaking during a live podcast from the National Geographic Store in central London, the prince joked that he was "aware princes and frogs have a long association."
"However our frog has come to symbolize something new. Our frog is a symbol for the world's rainforests, a symbol of action against climate change," he said.
The Prince of Wales said the goal of the video is to "build an online community to call, from the bottom up, for urgent action to protect the rainforests, without which we will most certainly lose the battle against catastrophic climate change."
Charles is joined in the video by celebrities and friends ranging from Daniel Craig to the Dalai Lama.
And a remarkably lifelike computer-animated frog, a reminder of some of the rainforests' residents, appears in each clip alongside the more famous faces, among them:
The Dalai Lama, who holds the frog in his hands and introduces himself as a "simple Buddhist monk."
Soccer great Pele, who has the frog resting on his World Cup-winning foot.
Actor Robin Williams, who identifies himself as a "frog translator".
Actor Harrison Ford, who has the amphibian on his shoulder and says he is both a conservationist — "and friend of frogs."
Kermit the Frog, who describes himself as "amphibian."
The video is designed to be used on social networking sites — which the technology-shy Charles was made aware of by his sons, Princes William and Harry, who also appear in the video.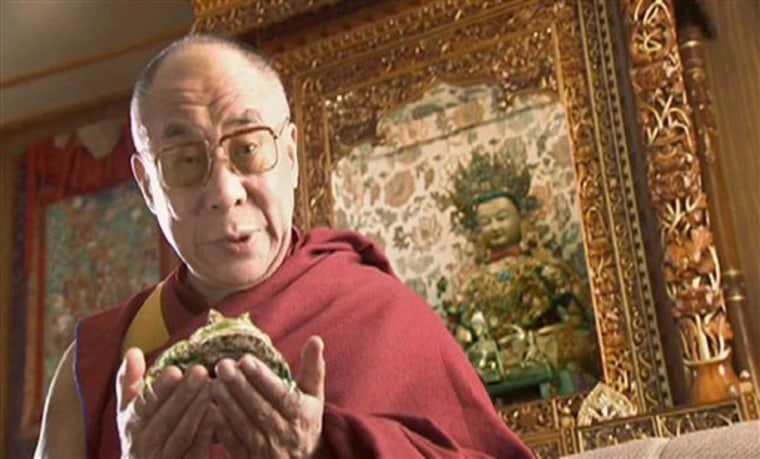 The brothers introduce themselves by first name, and are interrupted by a brief, eyebrow-raising "ribbit" as they speak.
Charles is well-known for his environmental work. In recent months, he has traveled to South America and spoken on the issue in both Italy and Germany.
Background on the campaign is online at www.rainforestSOS.org