/ Source: Forbes Traveler.com
The ranch vacation has long had a wholesome, almost therapeutic, connotation.
For decades, tired city slickers have gone west to unwind, see the Great Outdoors and spend hours a day in the saddle, on horses with names like Trigger or Zeke.
According to Gene Kilgore, founder of the virtual encyclopedia of dude ranches ranchweb.com: "Ranches allow people to disarm, to remove their cell phones and Blackberries, and find out what sage smells like, what a crystal-clear blue stream looks like."
For pampered travelers though, dude ranches are more likely to evoke thoughts of kitchen bells and campfires than fine dining and luxe accommodations.
The Resort at Paws Up, a ranch in Greenough, Mont., challenges that perception. The property's 3,200 Wilderness Estates, unveiled in summer '08, are more akin to private villas: Each comes with three large master suites, bathrooms with spa tubs and slate showers, a cook's kitchen, surround-sound entertainment systems, 42-inch flat-screen TVs, a private deck and hot tub and even an electric car.
Décor is Western-chic, featuring cowhide lampshades and rugs and lots of brown leather, the cuisine an upscale take on traditional cowboy fare (dishes include grilled elk loin served with pumpernickel-gruyere spaetzle).
More serious foodies, though, might prefer Triple Creek, an adults-only ranch in Darby, Mont., whose wine cellar boasts about 3,000 bottles, or Home Ranch in Clark, Colo. — both belong to Relais & Chateaux, a luxury hotel/restaurant association whose members are known for their outstanding cuisine.
The above properties belong to a growing number of dude ranches catering to a slightly sleeker breed of city slickers. "Dude ranches, in terms of luxury, are clearly catching up with their brothers and sisters in the hotel industry," claims Kilgore.
Likewise, the luxury travel movement is catching on to the dude-ranch bandwagon, as numerous high-end tour operators like Abercrombie & Kent and Off the Beaten Path now offer bespoke Western trips.
After consulting with Kilgore and several other experts in the field, Forbes Traveler rounded up North America's top high-end dude ranches. Like horses, each has its own unique temperament.
Vista Verde in Steamboat Springs offers a slew of healthy, kid-friendly activities, including hay wagon rides and teepee campouts, while adults-only Triple Creek is best for those seeking romance.
Some conflict with standard home-on-the-range images of ranches. At Clayoquot Wilderness Resort, a collection of 20 eco-friendly tents set on a Vancouver Island biosphere, guests can participate in conservation activities like bear mapping as well as go horseback riding.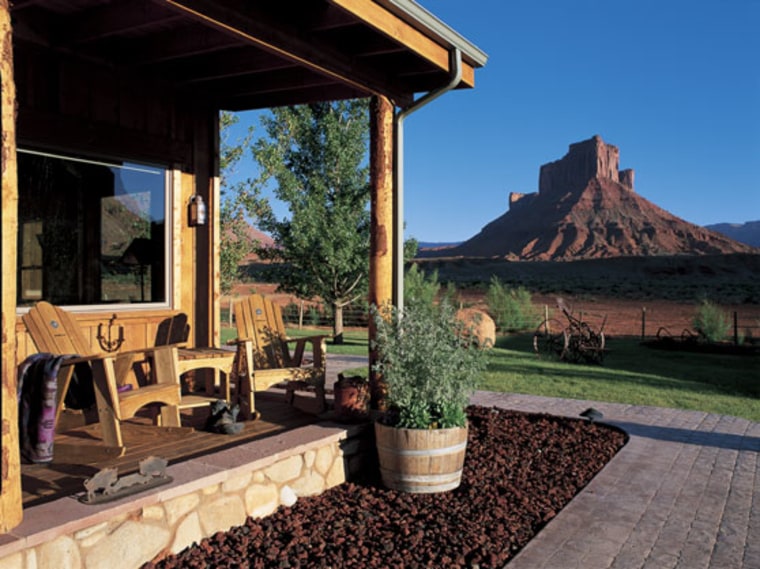 In the same vein, the rooms at Keyah Grande, a resort in the Colorado Rockies owned by two worldly travelers, ditch log beams and are instead decorated according to various countries (rooms include England, Spain, France, China, etc.).
Others properties, though, strive for a more bona fide Old West experience.
When Houston businessman John Poindexter purchased Cibolo Creek Ranch in 1990, his goal was to preserve the Texas property's 19th-century aesthetic, down to the very last detail. To that end, he brought in adobe specialists to re-create the original exterior, concealed any electrical conduits (he had antique lamp models electrified) and removed all anachronistic features like TVs or phones.
Still, with calfskin rugs, king-size beds draped with velvet and gourmet cuisine, Cibolo is more posh than rustic and the property has attracted its fair share of celebrity guests. Mick Jagger and Jerry Hall even liked this place so much they once tried to purchase its La Cienga Lodge. Said Poindexter comments: "Yes, I turned Mick and Jerry down. She was more interested than he."
Guy groups looking for more of a John Wayne gallop than a relaxed canter will also find some matches.
The "So You Wanna be a Cowboy" package at Lajitas Resort & Spa offers training with all sorts of guns, like single-action pistols, side-by-side shotguns and lever-action rifles, as well as horseback riding. For golfing getaways, the resort also has an Ultimate Unlimited Golf package where guests have unrestricted access to the 19-hole course (there's an optional hole by the Rio Grande).
But enough with the all alliterative alfalfa. In the wise words of Kilgore, "It's not about gimmicks. Ranches are the real thing — they're real nature served up in very exciting ways. In today's ultra-busy, paranoid world, the West is truly the best medicine out there."