/ Source: The Associated Press
Consumer borrowing plunged in March at the fastest pace in 18 years as Americans put away their credit cards and hoarded cash amid the worst recession in decades.
The Federal Reserve said Thursday that consumer borrowing dropped 5.2 percent in March, the biggest decline since an 8.1 percent fall in December 1990.
In dollar terms, consumer borrowing plunged by $11.1 billion. That's the largest dollar amount on records dating to 1943, and more than three times the $3.5 billion drop that economists expected.
The borrowing category that includes credit cards dropped 6.8 percent in March after a 12.1 percent plunge in February. The category that includes auto loans fell 4.2 percent after rising by 1.2 percent in February.
The Commerce Department last week said that the personal savings rate edged up to 4.2 percent in March, marking the first time in a decade that the savings rate has been above 4 percent for three straight months.
Households have been spending less and saving more as they seek to replenish nest eggs in the face of massive job layoffs.
Consumer spending, which accounts for about 70 percent of total economic activity, fell 0.2 percent in March, ending an otherwise strong quarter. Consumer spending grew at an annualized rate of 2.2 percent in the first quarter, according to government data.
And while economists believe shoppers are still cautious, many retailers on Thursday reported April sales results that beat expectations. Wal-Mart Stores Inc., T.J. Maxx owner TJX Cos. Inc. and others reported bigger sales gains than expected, and mall-based clothing stores including Gap, American Eagle and Wet Seal reported smaller dips than analysts had forecast.
Still, the overall economy was contracting at an annual rate of 6.1 percent in the first three months of this year following a 6.3 percent fall in the final three months of last year. That marked the worst six-month performance in a half-century.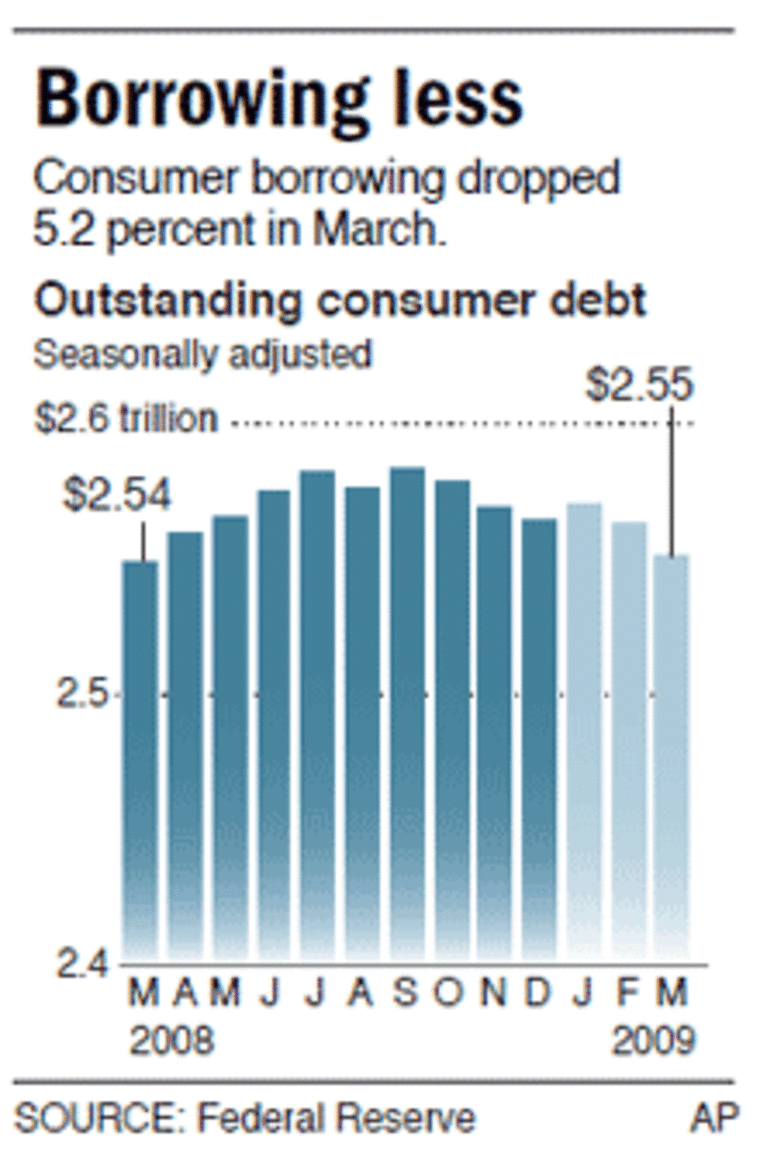 Economists are counting on President Barack Obama's $787 billion stimulus program with increased government spending and tax cuts for individuals and businesses to boost growth in coming months and get the country out of the recession.
Many analysts believe the economy is declining in the current quarter by around 3 percent, and could turn slightly positive in the third quarter.
The $11.1 billion drop in consumer borrowing in March left total consumer credit at $2.55 trillion. The Federal Reserve's measure of consumer credit does not include home mortgages or other loans secured by real estate.