/ Source: The Associated Press
The U.S. government told a federal judge on Tuesday that it did not want to use seized Iraqi funds to compensate 17 Americans held as prisoners of war during the 1991 Gulf War.
SHANNEN COFFIN, a deputy assistant attorney general at the Justice Department, said the government preferred to spend the money on rebuilding postwar Iraq.
"It really is unthinkable that in the end that the reconstruction of Iraq should be done on the backs of the POWs who were brutally tortured (there)," said Stephen Fennell, attorney for the 17 former prisoners of war and their families who are trying to recover the nearly $1 billion in damages they were awarded earlier this month.
"We need to deter the continued torture of American POWs," he said.
U.S. District Judge Richard Roberts has put a hold on the balance that remains of about $1.9 billion in frozen funds the White House earmarked in March for Iraqi infrastructure and economic development projects.
The account has been drawn down to about $722 million and Roberts blocked further transfers while he considers a proposal by the prisoners that they should be paid from the fund.
Earlier this month Roberts awarded $653 million in compensatory damages and $306 million in punitive damages to prisoners of war and their families who have sued the Iraqi government, Saddam Hussein and the Iraqi Intelligence Service for pain and suffering.
Iraq never responded to the suit which was filed in April 2002.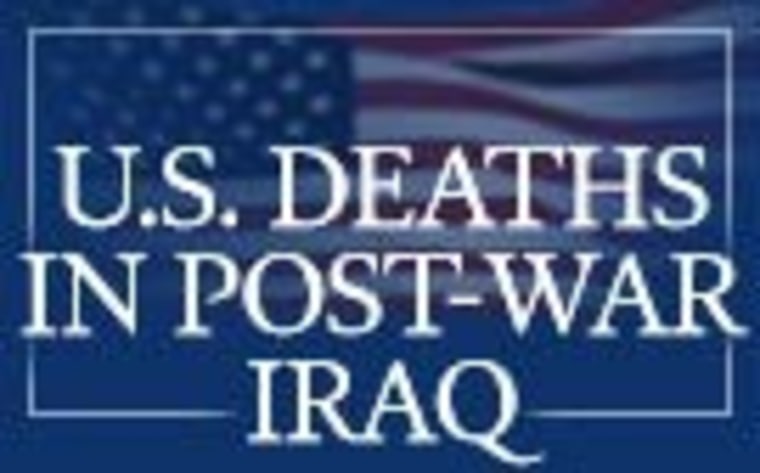 Attorneys for the prisoners want their clients to be paid from blocked Iraqi assets held by the U.S. government.
But Justice Department officials said President George W. Bush's March order seizing the assets makes it clear the funds should mainly be used in Iraq.
"The United States does not have an obligation to pay these claims to plaintiffs," said Coffin.
Col. David Eberly, the senior American POW who was held captive for more than six weeks in 1991, criticized the government for failing to stand by its own troops.
"It's not about the money," he told reporters outside the courtroom. "It is rather ironic that we have come to a point that a representative of the government is now arguing for a government ... that our government sent us into combat for."
The U.S. government says the award should be set aside and the lawsuit dismissed due to changes in Iraq since May. With Saddam no longer in power, provisions in U.S. law that allow for compensation for victims of state-sponsored terrorism do not apply, Coffin argued.
© 2003 Associated Press. All rights reserved. This material may not be published, broadcast, rewritten or redistributed.