/ Source: Forbes Traveler.com
According to legend, Alexander the Great scaled Mount Olympus to prove for himself that the gods were a hoax. As he suspected, Zeus and Athena were not waiting for him in the clouds around the summit. Still, it's likely the Macedonian king found a different, more personal kind of spiritualism in the act of climbing the mountain's peak, one that has been enticing climbers up into thin air for millennia.
Among the myriad forms of outdoor adventure travel, mountain climbing holds a pride of place. Physically exhausting and mentally exhilarating, it is arguably the most demanding yet rewarding way to spend a day (or a week) in the wild.
It is not for nothing that famous mountaineering pioneers like Sir Edmund Hillary occupy an exclusive pantheon beyond the reach of their counterparts in, say, kayaking or cross-country skiing.
"All you need to do is reach a summit once to understand the hard-won but immense happiness that reaching a summit brings," says Vinicio Stefanello, editor-in-chief at Planetmountain.com.
"The fatigue of getting there, the delicious expectation of the approaching summit view—it's all part of the experience. Discovering the horizon from atop a conquered mountain is a unique and powerful memory that will never leave you."
While mountain climbing is not for the pregnant or the faint of heart, it is also not true that you need to be a triathlete or expert climber weighed down by hundreds of pounds of equipment to scale a world-class mountain. Nor do you need to risk life and limb. "The world is full of exquisite climbs fit for the novice," says Stefanello.
To ascend many of the world's most famous peaks, you just need to be in possession of sound health, a few bags of GORP (good old-fashioned raisons and peanuts), and a pair of good comfortable hiking boots.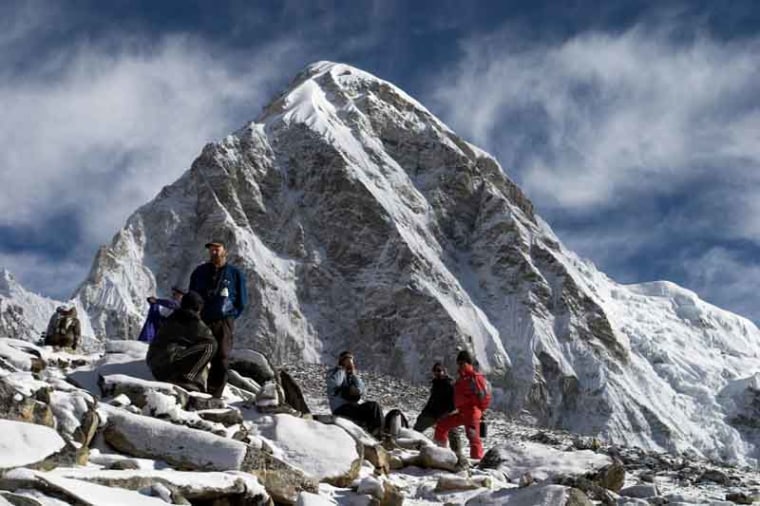 Depending on how serious a mountain you want to tackle, it might be a good idea to take a mountaineering course, such as the one offered by the famous National Outdoor Leadership School. And if you have health issues, it's always a good idea to consult your doctor first.
A classic introductory peak is Mont Blanc in the French and Italian Alps, which is generally considered the 18th-century birthplace of modern mountaineering. It is also surrounded by some of the best trekking trails in Europe.
In the United States, majestic summit views within the reach of amateur climbers include Mount Olympus in Washington State, and Mount Washington in New Hampshire. These two mountains are generally considered the best climbs their respective coasts have on offer.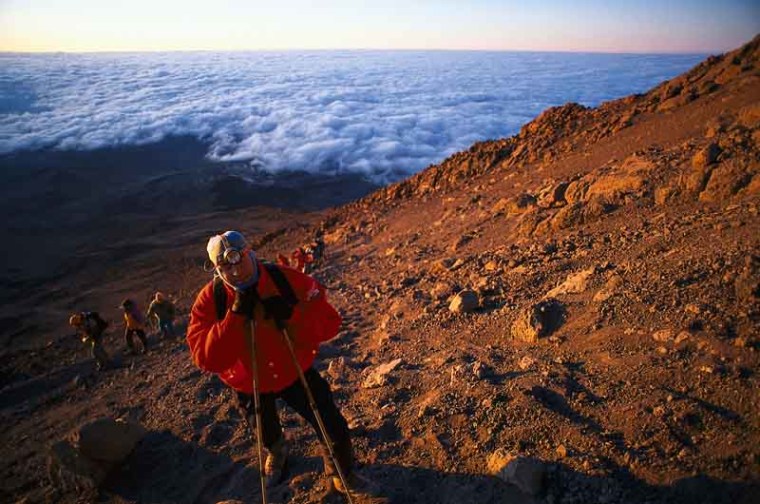 For those looking for a more exotic mountaintop experience, Mount Kilamanjaro in Tanzania is accessible to amateurs.
For now, it is also the only snow-capped peak in Africa (but it is quickly melting due to global warming, so hurry). Kala Pattar in Nepal, meanwhile, offers beginners the chance to get full up-close view of Mount Everest, which is about as close as most of us will ever get.
For those who can't climb mountains for reasons of health or temperament, there are even some majestic peaks best appreciated from their base.
"There are some mountains that shouldn't be climbed and are meant to be savored from below," says Vinicio Stefanello, of Planetmountain.com. "These are mountains considered sacred by the locals." Such peaks include Uluru (Ayers Rock), a sacred mountain for Australia's Aboriginal people, and Kailash mountain in Tibet, a holy mountain for Buddhists.