While some see Internet gambling as a scourge, Nelson Simon is possessed by its promise as he gazes at the new technology center being built amid the rolling, golden hills in this Caribbean island's free-trade zone. "From this one nucleus, so many things can grow," says the 27-year-old Antiguan charged with nurturing the online betting industry as the island attempts to transform itself from Cyberspace Vegas to Silicon Shangri-la.
The technology center is the keystone of Prime Minister Lester Bird's strategy to position Antigua and Barbuda - the main island's smaller sister - as the e-commerce center of the Caribbean. The sprawling office complex in the 100-acre Free Trade and Processing Zone will include an information-technology training center to ensure that a skilled workforce is available.
"If you're going to come to the Caribbean, bring your high-tech industry to Antigua," says Simon, the island's director of offshore gaming, standing just down the hill from the base of an old sugar mill - a remnant from the island's era as a slavery-based contributor to the British economy. "Everything we're doing is geared toward that."
Antigua's effort to broaden its e-commerce base will at least partly depend on the continued success of its online gambling industry, which island leaders hope will attract ancillary businesses like payment processors and customer support centers as it matures.
Questions about island's prospects
Some observers aren't so sanguine about Antigua's prospects, predicting that increasing competition from prestigious jurisdictions like Great Britain and moves by the island's leadership to tighten gambling regulations at the same time it is imposing a new 3 percent tax on betting operations will undermine its leadership position.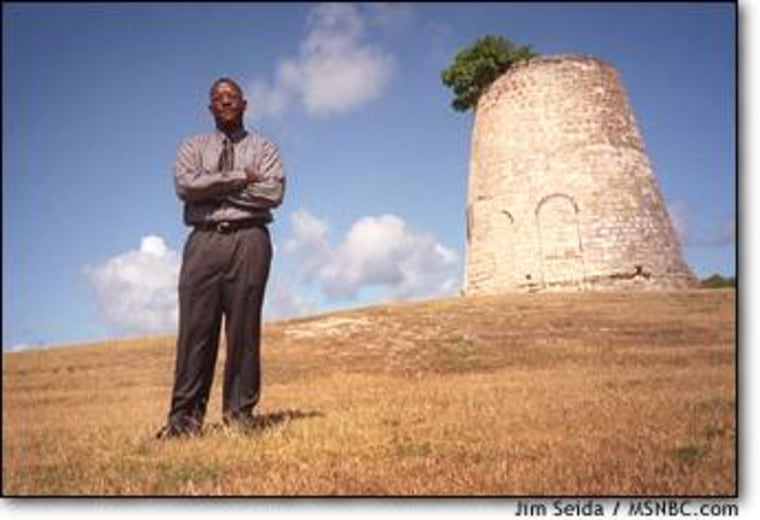 But it will take some doing to erase an industry that has grown at an astounding pace since 1996, when Antigua became one of the first nations to legalize and license Web sites offering games of chance.
Today, the eastern Caribbean island - 108 square miles of lightly forested and scrub-covered hills edged by sparkling white beaches - is the world leader of "regulated" online gambling, as opposed to jurisdictions like regional rival Costa Rica, which requires only a standard business license.
Nearly 100 online sportsbooks and casinos operate from nondescript office buildings, shops and even shopping malls in and around St. John's, virtually the same number of gambling establishments in Clark County, Nev. - home of Las Vegas.
But while online betting is a substantial contributor to Antigua's tourism-driven economy - generating about $7 million in license fees and creating hundreds of high-paying jobs - there is little sign of its presence.
No need to advertise
That's because there is no reason for the gambling operators to advertise: They can't take bets from Antiguans because their status as trade zone corporations precludes them from producing products for domestic consumption.
Besides, one worker confided, robbers might target an online gambling operation in the mistaken belief that mounds of cash would be found inside.
Despite the occasional hurricane and the high cost of telecommunications services — $15,000 a month for a T-1 line vs. about $1,000 in the United States — operators interviewed by MSNBC.com said they consider Antigua an almost ideal place to do business.
"It's English-speaking, the people are friendly … the infrastructure is here," said Michael Mãrz, bet manager for Austrian bookmaker Intertops.com.
The laid-back pace of island life and the wide array of top restaurants and nightspots also make it easy to attract skilled foreign workers.
"Partywise, the island of Antigua is good," says Dutchman Bouke Beint "B.B." Siebenga, manager of Intertops' online casino.
Despite such assets, skeptics say the island's wagering industry is vulnerable for several reasons.
Competition from new prestigious rivals like Great Britain is expected to trigger at least a minor exodus, beginning with British bookmaker William Hill.
And several operators said they would at least consider moving off the island if the government decided to tax online gaming — an action that Prime Minister Byrd announced in March.
Stricture regulations too late?
Skeptics also wonder whether current moves by the Antiguan government to tighten gaming regulations come too late to salvage a reputation tarnished in the early days by a few fly-by-night operators and, more recently, by suspicions that its online casinos are being used for money laundering.
"When the Internet industry kicked off, they had very poor regulation and therefore have had a number of people go to Antigua who probably couldn't be licensed in other traditional gambling jurisdictions," said Anthony Cabot, a Las Vegas attorney and author of the "Internet Gambling Report." "Now they're trying ... to gain a little bit more respectability, but I think they're working from a big hole."
As for money laundering, a U.S. law enforcement source told MSNBC.com that there is no way of knowing whether the online casinos are being abused because Antigua shields the identities of corporate officials and shareholders and doesn't collect financial data that would enable its detection. But "logic would be turned on its head" if the offshore operations weren't being used to disguise the source of ill-gotten gains, said the source, who spoke on condition of anonymity.
A cozy relationship
Some say the Antiguan government's cozy relationship with the industry also gets in the way.
"Unfortunately, because the licensees have such ... involvement in their own regulation in the offshore jurisdictions, it's very difficult to pass regulations which they're going to agree with," said Gwyneth McAllister.
McAllister has first-hand experience with the matter. She abruptly stepped down as overseer of Antigua's gambling operators last year after proposing electronic monitoring of betting by the government to guard against money laundering and allegedly receiving death threats as a result.
Simon, the government's point man on Internet gambling, says proposed new regulations instead will require gambling site operators to submit audited books detailing betting and payouts. He also notes that the island's government is working with the United States to tighten its banking rules in response to the money laundering concerns.
At the same time, he says, "irresponsible" critics of the island's gambling industry are quick to suggest that criminals are involved, but slow to provide evidence.
Some criticism 'irresponsible'
"Yes, organized crime will look and say, 'Online gaming, that's lucrative.' But can they do it in Antigua? No, they cannot."
Despite the barrage of criticism, many industry observers believe Antigua can remain a player in Internet gambling if it adopts stricter regulations, even if its days as the industry leader are numbered.
"I think they are really attempting to do some improvements that will gain them some more stature," said Sue Schneider, president of the River City Group, which tracks the online gambling industry. "… I have to give them credit."
Standing on the hillside in the free-trade zone, Simon evinces no doubt that Antigua's future includes not only a thriving Internet gambling industry, but an array of information technology businesses that will improve the standard of living for his countrymen.
"As far as propelling Antigua forward in its use of technology … I think there is no limit to where we can expand upon this," he says.