For Staff Sgt. Nathaniel Porter, defending his country means a lot of hours watching a lot of tiny blips on computer screens, each blip representing an aircraft in the skies of the western United States. "When you consider that little dot you're looking at could be a 747," Porter said, "I'd say that's a lot of responsibility." Porter and his colleagues each watch up to 60 little dots at a time — some 80,000 every day.
He is one of dozens of tracking technicians, as they are known, at the Western Air Defense Sector (WADS), the military's center for tracking every aircraft from West Texas to the Pacific coast. Reporting to the North American Aerospace Defense, the soldiers at WADS must work with an alphabet soup of military and civilian agencies, sorting out the identity of anything in their skies. If they don't know who someone is, they find out — even if it means sending up a fighter jet to take a peek.
As Porter puts it, "We're the eyes, catching everything first."
For 54 years, NORAD and its outposts from Florida to Alaska have kept a constant watch on U.S. and Canadian skies. During the Cold War, missiles and long-range Soviet bombers were the prime concerns, but its mission after the fall of the Soviet Union grew ever less apparent. In 1997, its regional operations were turned over to the Air National Guard, managed by the First Air Force near Panama City, Fla.
Though its vigilance never wavered, its mission was increasingly questioned — until Sept. 11, when the prized sovereignty of U.S. skies was punctured in an unprecedented way.
At WADS, a sense of mission became immediately clear.
"Before, I had a line. I assumed that all the people who would cause us ill will, like the Timothy McVeighs, would be truck bombers and would be the FBI's problem," said Col. John E. "Junior" Bonner, director of support for WADS. "Now I have population centers, critical resources ... Instead of looking at a coastline now, or a border, I'm looking at a lot of different things."
Broad range of duties
WADS is staffed by several hundred members of the Washington State National Guard — both full-time officers and part-timers called up to serve. Yet they are just a tiny portion of the state's 8,000-strong Guard ranks, which have been deployed in almost every aspect of the U.S. counterterrorism strategy.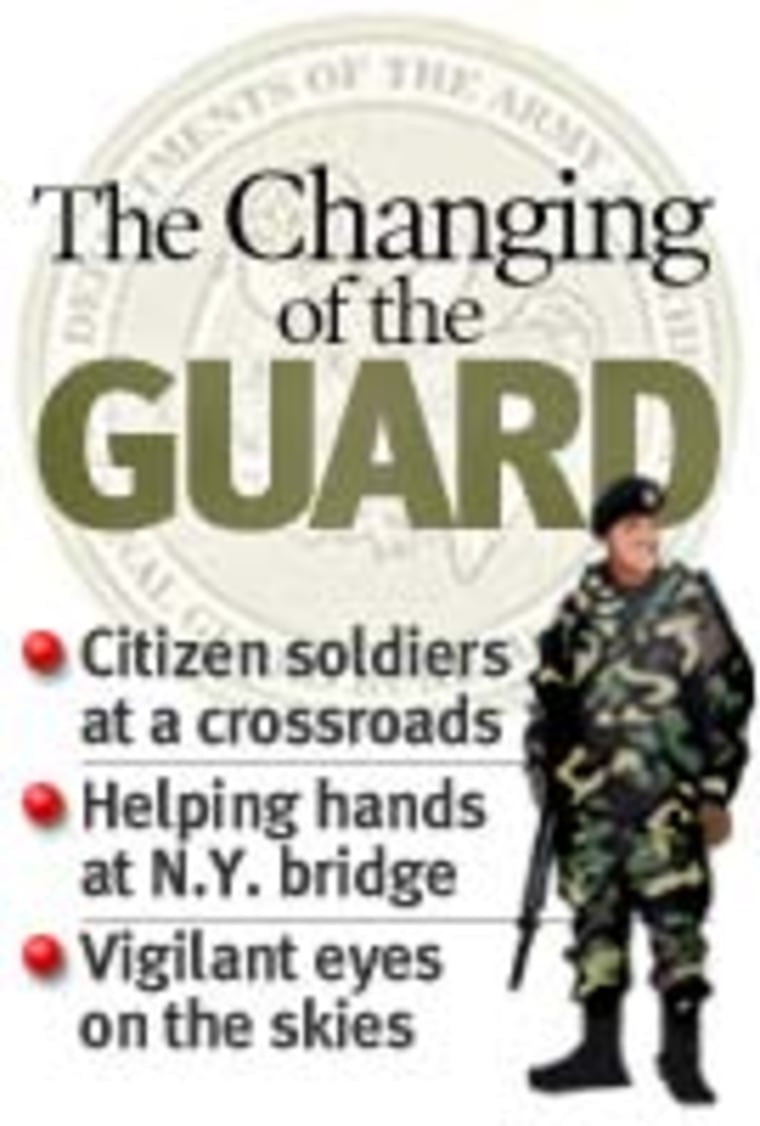 Overseas, some two dozen Army Guardsmen from the state have been deployed since last September — about 10 specialists in information warfare and another 15 with language skills and other intelligence specialties suited to the current war on terrorism. They joined nearly 500 Air Guardsmen from the state on regular overseas duties, including security at airbases, air traffic control and refueling.
There are other duties as well. Another 22 Guard members are assigned to full-time WMD Civil Support Teams, or RAID teams, ready for rapid deployment to the site of a nuclear, biological or chemical terror incident. The third of 17 such state teams commissioned by Congress, team members based at Camp Murray outside Tacoma are trained to assess and handle hazardous materials, do medical decontamination and set up communications with local and federal officials. Team members are trained to provide seamless coordination between civilian authorities and the military.
Civilian ties
That bridge between civilian and military worlds has become a trademark of the Guard's domestic duties.
WADS is operated by a broad patchwork: full-time officers, part-timers who keep their day jobs, representatives from the Federal Aviation Administraion and other civilian agencies, even members of the Canadian armed forces. Though WADS is a state unit, it operates on this Air Force base outside Tacoma in the same NORAD facility once used by the Air Force to cover the sector. The Guard staffs the facility, but it reports up through Air Force ranks — and ultimately, it likely will report to the new Northern Command for homeland security.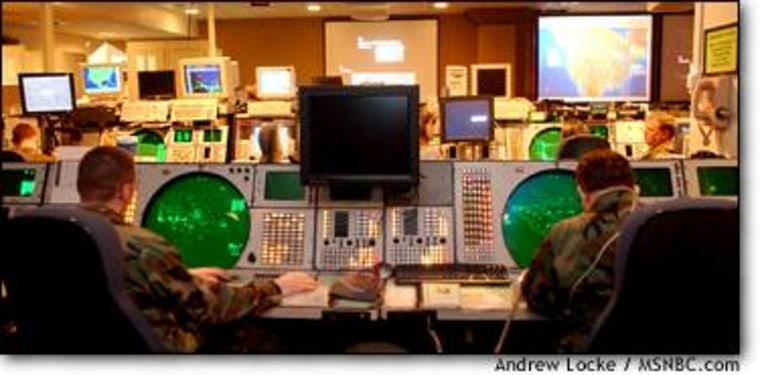 In the facility's nerve center, a large, crowded, low-ceilinged room, technicians and supervisors hunch over screens and flat-panel displays showing parts of U.S. airspace. It resembles nothing so much as a modern air-traffic control facility, though the men and women seated at terminals wear military uniforms and jumpsuits.
Each member on duty takes charge of a slice of the sky and ensures every aircraft is paired with a known identity and flight plan.
"We're tied into a wealth of law enforcement agencies, military agencies, the FAA," said Lt. Col. Dave Harmon, who helps run the sector's operations center. "And working with a wide variety of folks, they help us to identify all the airborne objects that are out there in our area of responsibility."
A clear duty
If other agencies can't explain an aircraft's flight route, WADS must find it out.
Before Sept. 11, only seven locations near U.S. borders had fighters ready to scramble. Now there are dozens spread throughout the country. Some operational details remain classified, but WADS has at its disposal some 100 F-15 and F-16 fighter jets at 30 locations throughout Western states. Regular jet patrols have been assigned two- to four-hour sorties, poised to act as ordered; more can quickly be in the sky if a potential threat arises.
"We understand the reality of it that anything can happen. Everybody's ready for whatever happens," said Staff. Sgt. Steven Peery, a tracking technician and trainer for new WADS recruits.
On the morning of Sept. 11, Peery said, "I was definitely thinking about here. I knew what was going on in peoples' minds here." Soon after, he was called up from his full-time job for an electrical company near Tacoma.
That was part of the Guard's appeal for Peery, who previously worked full-time at WADS. He could take a civilian job, go back to school and remain close to home while fulfilling what he felt was a crucial post.
As for Porter, a full-time Guard job came after a 12-year stint in the Marines. "Not quite as much equipment as I was used to wearing as a Marine," he said, plugging in a bulky headset. "No helmets or flak jackets."