/ Source: msnbc.com staff and news service reports
A former FBI interrogator who questioned al-Qaida prisoners testified Wednesday that the Bush administration falsely boasted of success from extreme techniques like waterboarding, when those methods were slow, unreliable and made an important witness stop talking.
Ali Soufan, testifying to a Senate panel behind a screen to hide his identity, said his team's non-threatening interrogation approach elicited crucial information from al-Qaida operative Abu Zubaydah, including intelligence on "dirty bomb" terrorist Jose Padilla.
Soufan said his team had to step aside when CIA contractors took over. They began using harsh methods that caused Zubaydah to "shut down," Soufan said, and his team had to be recalled the get the prisoner talking again.
Soufan appeared before a Senate Judiciary subcommittee holding the first hearing on extreme interrogation methods since the Obama administration last month released Bush administration legal opinions authorizing them.
Memos by the Bush Justice Department contended waterboarding, sleep deprivation and other extreme techniques were legal under U.S. and international law, but Democrats said they amounted to torture.
President Barack Obama has said he wanted to avoid partisan hearings over the interrogations, but the hearing turned partisan in its opening seconds.
Partisan snipingSubcommittee Chairman Sen. Sheldon Whitehouse, a Democrat, promised at the outset to unravel "our country's descent into torture" and vowed to expose "a bodyguard of lies" by the Bush administration.
Sen. Lindsey Graham, a Republican, asked whether "we would have this hearing if we were attacked this afternoon."
Graham called the hearing a "political stunt" and said Democrats were trying to judge officials who — soon after the Sept. 11, 2001, terror attacks — "woke up one morning like most Americans and said, 'Oh, my God, what's coming next?'"
He also joined in the frequent Republican criticism that members of Congress, including the leader of the House, Speaker Nancy Pelosi, were briefed on the interrogation program and raised no protest at the time.
Graham appeared irate, commenting at one point, "The people we're prosecuting didn't rob a liquor store."
He said former Vice President Dick Cheney has suggested there was valuable information obtained from the extreme methods. "I would like the committee to get that information. Let's get both sides of the story here," Graham said.
Ex-agent: Harsh tactics were 'slow'
Soufan countered that his personal experience showed that the harsh interrogation techniques did not work even when there was not a lot of time to prevent an attack.
"Waiting 180 hours as part of the sleep deprivation stage is time we cannot afford to wait in a ticking bomb scenario," he said.
Soufan said the harsh techniques were "ineffective, slow and unreliable and, as a result, harmful to our efforts to defeat al-Qaida."
Soufan testified that "many of the claims made" by the Bush administration were inaccurate or half-truths.
He cited these examples:
The administration said Abu Zubaydah was not cooperating before Aug. 1, 2002, when waterboarding was approved. "The truth is that we got actionable intelligence from him in the first hour of interrogating him" before that date.
The administration credited waterboarding for Zubaydah's information that led to the capture of Padilla, who received a 17-year, four-month sentence, although prosecutors did not present any dirty-bomb information. Padilla was arrested in May 2002, months before waterboarding was authorized, Soufan said.
Bush officials contended that waterboarding revealed the involvement in the Sept. 11 attacks of al-Qaida mastermind Khalid Shaikh Mohammed. Soufan said the information was discovered in April 2002, months before waterboarding was introduced.
Ex-Bush aide testifies
Another witness, Philip Zelikow, was a top adviser to then-Secretary of State Condoleezza Rice. He described his efforts within the Bush administration to argue that the harsh interrogations violated the Constitution.
In early 2006, Zelikow said, he circulated his own analysis that dissented from the Justice Department view that the methods were legal under U.S. and international law.
"I later heard the memo was not considered appropriate for further discussion and that copies of my memo should be collected and destroyed," he said. "That particular request, passed along informally, did not seem proper and I ignored it."
State Department spokesman Ian Kelly told reporters Wednesday that the memo has been found.
"We did locate a document that appears to be responsive to a request that came from Sen. Whitehouse... We've also received a request for the same document from other members of Congress. It is classified, so we are conducting a review, but we're unable to release it to the public because of its classification at this time," he said.
Earlier, an expert told senators that the legal memos used by the Bush administration to support harsh interrogation techniques represented an "ethical train wreck."
Professor David Luban, an expert in legal ethics based at Georgetown University, said that lawyers were required to give "candid and unvarnished advice."
However, Luban said, the memos "cherry-picked sources" that "twisted and distorted the law." He said cases suggesting waterboarding was torture were not mentioned in the memos .
Justice Department lawyers had a responsibility not to "rubber stamp administration policies" or "provide cover for illegal actions," Luban added.
'Toxic problem'When asked about the Obama administration's decision to close the Guantanamo Bay prison for terrorism suspects, Zelikow said some "far more dangerous" inmates were already being held on U.S. soil.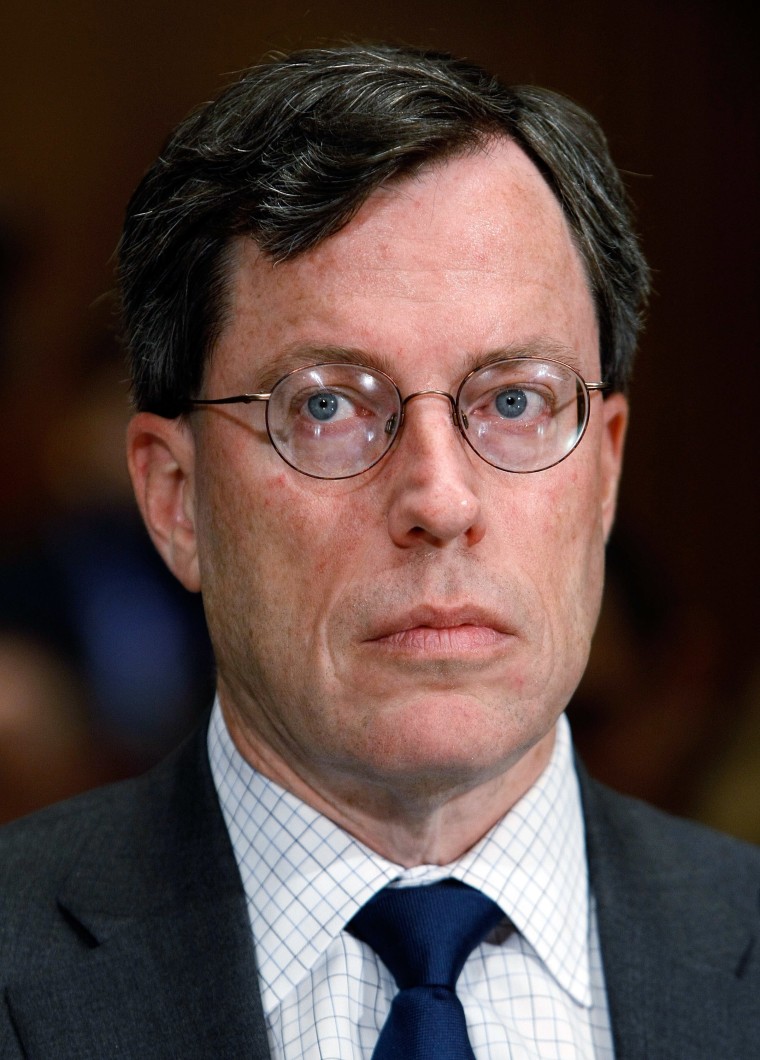 "Everyone in America had heard of Alcatraz," he said. "One reason it was closed was because it had become a symbol. Guantanamo Bay had become in world public opinion a toxic problem for the United States of America."
House Majority Leader Steny Hoyer has said investigations of harsh interrogation techniques should also include what Speaker Nancy Pelosi knew of the methods being used.
Pelosi insists she was never told about the actual use of such methods in a .
Republicans charge Democrats knew of the tactics but didn't protest.
More on