To the untrained eye, the forest looks healthy enough. Sturdy ponderosa pines and Douglas firs pack a green hillside dense with wild grass and shrubs. To Jim Agee's trained eye, though, the lush setting is an inferno in the making. "This is the mess that we've got over millions of acres in the West," he says.
Agee, A University of Washington fire ecologist, seeks to understand how forests evolve and survive through centuries of natural wildfires. Before the 20th century, most fire across North America was "friendly flame," a natural part of forest ecosystems that removed unhealthy trees, freshened the soil and preserved biodiversity.
But decades of well-intentioned efforts to squelch wildfires, selective logging that removed the most fire-proof trees for commercial sale and a century of rapid development throughout the American West have left millions of public acres and thousands of communities at risk.
U.S. forests and grasslands may look robust, but a growing number of public land managers, conservationists and scientists say human meddling has created a national tinderbox. In this new view, efforts to stop wildfires have left forests so thick with flammable underbrush that when blazes do occur and firefighters can't stop them, they become so massive that they ravage the landscape.
"It's very discouraging for me to see those, because each one of them is five to 50 to 100,000 acres of destroyed forest that didn't have to be," Agee says.
Summer 2002 a glaring example
The summer of 2002 demonstrates why the nation urgently needs a new fire policy.
It has been a season of vicious, unstoppable blazes that have already charred nearly 5 million acres — more than double the annual average.
After a similar season in 2000, President Clinton commissioned a National Fire Plan, whose goal is to return the nation's forests to, if not the thriving state they were in before the era of development, at least a biologically sound facsimile.
The strategy is based on thinning forests by removing some smaller, younger trees — perhaps a foot or less in diameter — and setting controlled burns to remove the underbrush that blankets forest floors and provides fuel that feeds wildfires. Larger, older trees — those that can best resist fire — would be left behind. The process is meant to emulate the forest thinning once accomplished by naturally occurring fire.
"I don't think that we've got to thin every acre," says Jerry Williams, director of fire and aviation management for the Forest Service. "We ought to be focusing on leaving the fire-tolerant species."
Resistance to thinning
The strategy has aroused plenty of suspicions, especially among environmental advocates who fear the government will use thinning as a shield for continued commercial logging of public lands. The Forest Service has a dual mandate to preserve forests and manage them for economic gain, and a culture of mutual distrust has grown up around those sometimes clashing goals.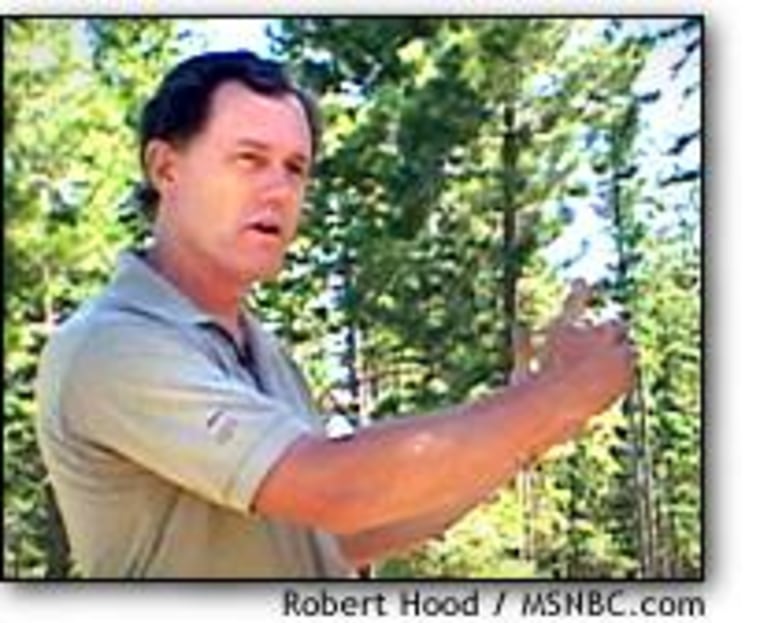 "The Forest Service has focused its money and organizational energy on promoting commercial logging," says Sean Cosgrove, national forest policy specialist for the Sierra Club. "They should define focus as a priority on protecting lives and communities."
But federal officials insist timber is not their hidden agenda. They're looking for economically valuable ways to use the smaller trees and branches that are removed, they say, but it's almost an afterthought. "We still use the same term — thinning," says John Lehmkuhl, a Forest Service wildlife ecologist. "But now our focus is not economic, primarily. We're thinking of ecosystem value and ecosystem restoration."
Laboratory in the cascades
That mission brought Agee and Lehmkuhl to the eastern Cascade mountains, where they are using patches of dry national forest as a living laboratory to find out how best to replicate what nature once did on its own.
Thinning has been used to manage forests almost since the advent of the U.S. Forest Service in 1905, and the practice has been controversial almost since the start. Massive blazes in 1910 prompted a fight between those who saw fire as essential to maintaining the landscape and those who hoped to stamp it out. Two decades later, research suggested controlled burns could be beneficial to forest health. But any fire became a bane after World War II, when flame and the burning of pristine land became a symbol of destructiveness. That war metaphor has largely endured.
All the while, a growing, prosperous nation whittled away at the American wild. The zeal to turn untouched terrain into usable land — with millions of acres sold for private profit — remains a specter for skeptics of thinning.
Clashing fire policies
Today, the nation's fire policy is as twisted as a thicket. The Forest Service remains the dominant U.S. land manager, but four Interior Department agencies — the National Park Service, the Bureau of Land Management, the Bureau of Indian Affairs and the Fish and Wildlife Service — each have different mandates for battling blazes on their land. The National Park Service seeks to preserve pristine habitats, for example, while the BIA manages land for many tribes that demand timber cuts for profit.
Dozens of local, state and tribal agencies also have fire responsibilities. With so many voices in the mix, little consensus exists about goals and methods.
"I don't know of anyone that doesn't think there needs to be more aggressive treatment of wild land areas," says Jay Thietten, a fire management specialist with the federal Bureau of Land Management. "What becomes a political hot potato is how we go about doing that, particularly on anything that's economics-based."
A picture of the past
Back in the Wenatchee forest, Agee and Lehmkuhl look over a newly thinned stand. Large-diameter conifer trees, some lightly scorched by fire, are robust and well-spaced. This particular patch was mechanically thinned in 2000 and burned the following spring. It has since filled in with low brush and small saplings.
The forest floor is covered with a light undergrowth of grass and shrubs. Snags from dead trees lie scattered. Agee and Lehmkuhl say the West was once covered with similar dry forests, open enough that 19th-century settlers could ride horses or drive cattle through them.
Their current research is part of the Fire and Fire Surrogate Study, a national government project to find the best ways to heal forests. The five-year study will examine dozens of forest patches from the Northwest to southern Florida that have been thinned by various means. Untouched control patches will be used for comparison. Researchers will measure every imaginable impact on the forests, from animal habitat to soil composition.
The 'wild land-urban interface'
The work comes at a crucial time in the debate over wildfires. Most environmental groups advocate limited thinning only in areas where commercial and residential development border on the wild, locations known as wild land-urban interfaces. Some 14 percent of Americans and more than 7 percent of U.S. land are within interface areas.
Jay Watson, western regional director for the Wilderness Society, suggests that the Forest Service and the Bureau of Land Management might start in the interface as a gesture to win the confidence of environmentalists. "That will be important as they move out into the more general forests — because there is a trust problem," he says.
Saving property at a high price
But fire managers see a need for programs that preserve not only property but also the surrounding land.
Williams offers as an example this summer's devastating Hayman fire in Colorado. Fire crews saved more than 1,000 homes, but because they focused solely on private property, the wildfire charred a vast landscape of trees, burned topsoil that no long absorbs water and filled parts of the Denver watershed with ash and mud.

In the end, although houses may be saved, the quality for residents may be ruined.
"That approach, by default, allows a lot of area outside the interface to burn," Williams says. "Whenever we have to defend houses, there's a hell of a lot of damage occurring in the back 40."
Signs of progress have emerged from the smoke. Federal officials formed a National Wildfire Coordinating Group to plan common goals. The Interior Department finally has an office to coordinate fire efforts and $10 million allotted to train rural firefighters who can help federal crews with wildfire duty. The Bureau of Land Management has stepped up nationwide efforts to coordinate dozens of planned burns, and the Forest Service has $107 million this year to help states and towns devise their own fire strategies.
Hope and mistrust
After decades of infighting and competition among agencies, any change is auspicious. "They have their own organizational cultures that have evolved over the years," says Scott Dalzell, budget officer for the Interior Department's fire office. "We're not all the way there yet, but one by one the differences are being addressed and resolved."
Still, fire politics remain volatile.
Though the federal government has spent nearly $800 million over the past two years to reduce wildfire risks, the General Accounting Office blasted project coordinators for lacking "effective leadership." Federal officials complain they are besieged by lawsuits filed by environmentalists, who continue to accuse the government of using fire dollars for commercial interests.
As tempers smolder, the land burns.