As a single woman in her early 60s living near San Diego, Calif. and making less than $40,000 a year, Nancy Ross is finding it harder to make ends meet these days. So she was hoping the recent federal income tax cut would make life a little easier. But with state and local tax increases more than offsetting her federal tax break, she's slipping further behind.
Nancy Ross won't get much help from the recently enacted Bush tax cut. She'll get a small break from the provision that expands the 10 percent bracket to cover the first $7,000 of income (instead of the current $6,000.) That works out to a $50 savings. After recently having her paycheck adjusted for the cuts, she is taking home about $3 more per pay check — or a total of $86.40 year.
But she'll see those tax savings wiped out — and then some — by higher state and local taxes. In October, for example, California auto taxes are due to triple. Her latest auto tax bill, for $98, is due in July. Next year, it goes up to $294.
The slowdown in the national economy has badly hurt state budgets across the country, but California is among the hardest hit. There are currently more than 100 separate proposals to raise state taxes and fees by an estimated $57.6 billion annually, according to CalTax, a watchdog group. The list includes higher sales and incomes taxes, along with new taxes on alcohol and tobacco, gasoline, credit unions, bottled water, guns and ammo, 911 phone calls and diapers, among others.
"I get taxed through the nose and can hardly make ends meet as it is," she said. "I live in a mobile home and pay rent space, which I can not write off. They say $60,000 (a year) is the median salary. If I made that I would be on easy street."
Ross says taxes are also driving businesses away from the San Diego area, adding a further drag on the local economy.
"I don't see any improvement in San Diego at all," she said. "A lot of companies have left San Diego and they've left California in fact because the taxes are so high here in the state."
As a healthcare risk analyst, Ross is well aware of the impact of the rising cost of health care on the economy — and her pocketbook. She considers herself fortunate to be working in an industry where job growth has remained relatively strong.
But being employed hasn't isolated her from the pressures of a weak economy. A self-described "numbers cruncher," she understands why companies have been forced to cut back. But that hasn't made it any easier.
"People are expected to do two peoples' jobs rather than the one person's job — and in some cases they're doing three peoples' jobs," she said. "As people leave they're not rehiring. It makes it hard to get the job done."
And though she's living in one of the nation's most popular retirement locations, she doesn't see her own retirement as an option.
"I will never be able to retire because I certainly won't be able to live on Social Security, and I lost most of my retirement [savings] on the Enron and other business scandals as my retirement plan is geared on the stock market," she said. "I'll probably be working until I'm 90 years old. But people that are on straight Medicare or Social Security — I don't know how they're going to fare."
Meanwhile, her budget just gets tighter.
"We're in rent control, but every year our space rent goes up. It doesn't go up that much. But when you're talking about somebody on a fixed income, $10 a month could be $100 a month as far as they're concerned."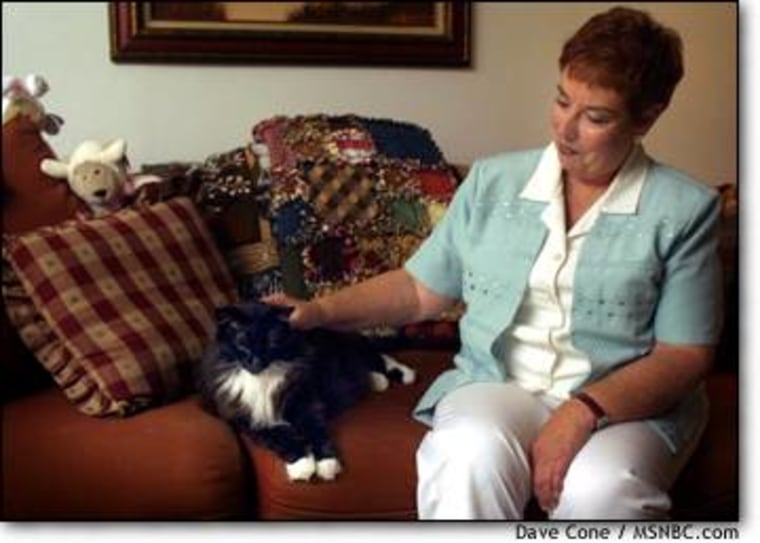 Ross is also being squeezed by higher-than-average gasoline prices and annual car registration fees that have jumped to $250 a year from $35, she said.
With little room to cut back, and feeling left behind by the Bush tax cut package, Ross wrote to the White House.
"I have never written to anyone before, but this time it really made me think about us single seniors in my age bracket and pay scale how we are the forgotten ones in all of this," she said. "I did write to President Bush and got the standard auto answer that due to so much e-mail he wouldn't have time to read it, but the staff would forward any questions or suggestions to the president. Well, you know where that will lead."
Ross also wrote to her senators, Dianne Feinstein and Barbara Boxer (both Democrats). She was told they would get back to her, but is still waiting for a reply.