A little gadget called Speedpass lets you pay for gasoline and snacks from your local Mobil and Exxon station in just seconds, and soon you could be using it at your neighborhood McDonald's. Speedpass is a radio frequency identification device that works like those electronic toll collection tags that attach to car windshields. In some cases Speedpass devices are even smaller: just one-and-a-half inches long.
Driving through Brookfield, Conn., this weekend, I found the Mobil station at the intersection of Highway 25, U.S. 7 and U.S. 202 was selling regular gas for $1.499 a gallon, about 15 cents less than the three other gas stations there. The station was decorated with banners and balloons and even a Mobil racing car in the parking lot — all to lure people to sign up for their own personal Speedpass.
Hundreds of people pulled up to the pumps to gas-up at those cheap prices and also sample the 25-cent hot dogs and popcorn. Each one of them was urged to fill out a Speedpass application. Mobil was spending a lot of money on a summer Sunday to make people aware of just how easy it is to use a RFID system. But I already knew that, as I've been using my Speedpass for almost a year.
What's inside
When the little plastic key tag is waved in front of a special area on a gas pump, a tag reader inside the pump finds a secret number embedded in the device's chip. That number corresponds to your Speedpass account. At that point an insignia lights up red (in this case the Mobil flying horse), signaling you to begin pumping.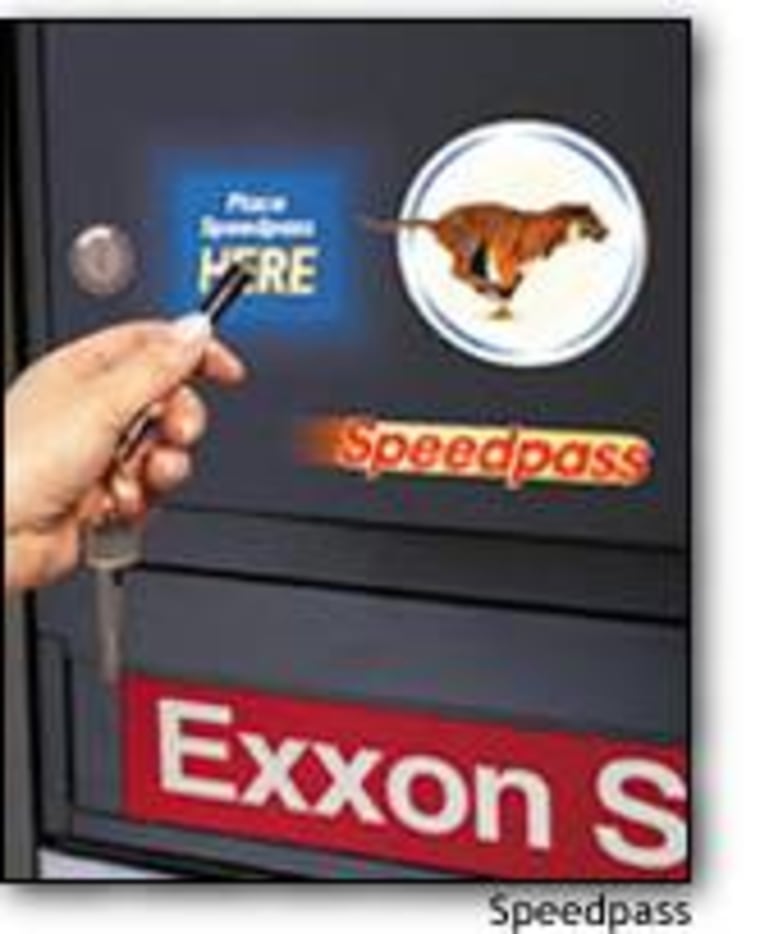 Your purchases are charged to a credit card connected to that Speedpass account. I've also purchased car washes at the pump and quite a few bottles of soda with my Speedpass.
Mobil is also rolling out a Speedpass car tag that is meant to be installed on a side or rear window of your car. It's very much like the automatic toll devices discussed earlier. The car tag has a battery inside that allows it to be used a few feet away from the pump, unlike the passive key tag which has to be held very close to the pump to activate it. The car tag's battery is supposed to last three to five years.
Exxon Mobile spokesperson Jeannie Miller told me that five million people have applied for, received, activated and used their Speedpass tags. The actual Speedpass program is handled by an Exxon Mobile subsidiary.
Speedpass McDonald's
The most exciting use for Speedpass is currently being tested in Chicago. The same RFID device you use at Mobil and Exxon gas stations can also be used at participating McDonald's restaurants, both inside and at the drive-thru.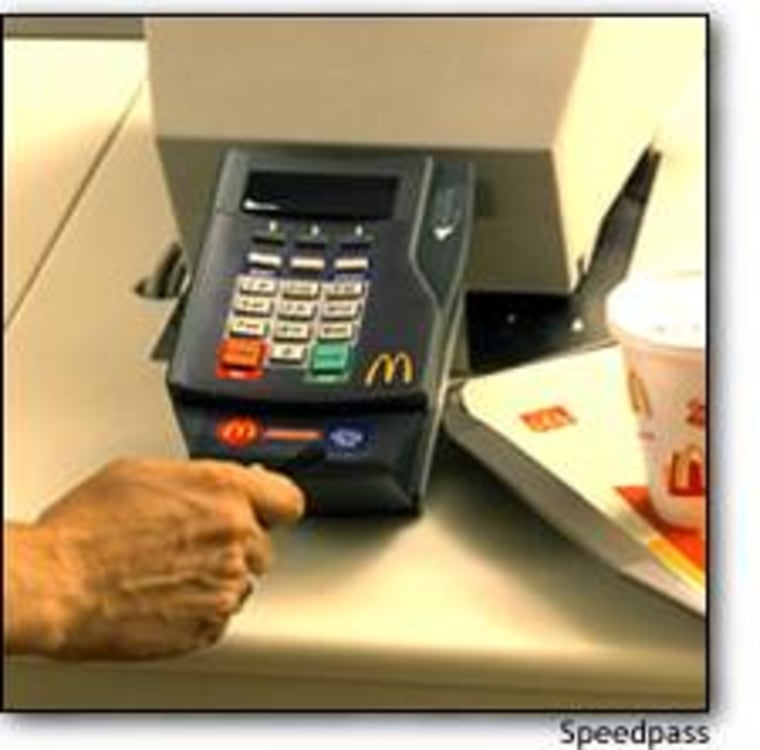 It works just like it does at the gas pump: customers place their orders, then wave their key tags in front of the counter or drive-thru window reader. If everything works as planned, the Golden Arches illuminate, you get your food, and you're on your way. McDonald's hopes to accept Speedpass payments at about 400 Chicago-area restaurants this fall.
The future
Mobil's Speedpass success has caused other companies to stand up and take notice. Shell Oil is rolling-out its version of RFID, called easyPAY. Shell's service will operate at different radio frequencies than Mobil's, so, at least for now, they won't be interchangeable at each other's stations. But that's where SAMSys comes in.
SAMSys Technologies of Ontario, Canada, is taking RFID to the next step. Basically, its readers can translate not only Speedpass tags, but also any company's RFID tags. The readers work regardless of frequency or protocol.
According to SAMSys Chairman and CEO Cliff Horwitz, what that means is with his company's reader technology you can not only use your Speedpass at McDonald's, but also use your Shell easyPAY or any other RFID that McDonald's enters into agreement with. Same for buying gasoline. Or anything else! You won't be restricted by carrying one particular company's key tag with you.
Horwitz envisions a world in which RFID competes with and replaces bar codes. His company's SmartShelf technology allows product tracking from the earliest steps of manufacturing to retail sales in a store. Unlike barcodes, which have to be applied before sale, SmartShelf RFID tags can follow the product at every step "throughout the supply chain." He says RFID "removes operator intervention" and makes product tracking "simple and efficient."
International Paper, Procter and Gamble, Revlon and Wal-Mart are among those companies currently involved in testing RFID technologies.